Flutter Is A Must-Read Gender-Swapping Story – Talking With Jennie Wood At Boston Comic-Con
By Shawn Perry
Alright, so before I even start this article I'm telling you all to read Flutter.
This might just be the most unique comic book I have read since…well, I honestly can't remember because there's nothing to compare it to in my personal lexicon. Admittedly, your zeitgeist might have a few to compare it to but for me this was a totally new kind of reading experience. The art by Jeff McComsey is incredible and suits the story perfectly with great color while Jennie Wood weaves one hell of a yarn.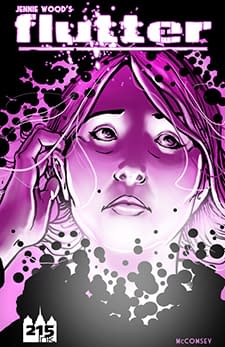 In short-form the story follows Lily – a girl with the power to morph her body into anyone kind of like Mystique but her standard form is that of a normal fifteen-year old girl. Well, a badass fifteen year old girl but due to the government conspiracy that is her origin she has spent her whole life moving from place to place without ever really experiencing life so she's pretty bummed at the start of the story.
That changes when she crashes face-first into the girl of her dreams – the only problem is the girl isn't interested in her so she becomes the person that girl is really dreaming of: a boy. Turns out she is pretty good at being a boy and soon finds herself the king of the school dating the girl of her dreams. She becomes the star of the basketball team and the apple of her girlfriend's eye and the only problem is that he isn't her.
My favorite character, aside from the protagonist, is a punky songwriter named Penelope that the Lily develops a strong relationship with both as a boy and as a girl. The big message gets encapsulated by her in a beautiful monologue near the end of the story that reminds us all that sometimes the biggest obstacle to understanding ourselves is in not letting the morons of life makes us feel bad and limit ourselves because of their small-minded attitudes. [Jennie Wood]
During Boston Comic-Con I had the good fortune of meeting this talented young writer. Just after a few minutes of speaking I had the unmistakable feeling that I had just met someone who is capable of great things as a storyteller and as a person. Now that I have read Flutter I am also certain of something that Wood is going to become a lot more famous for her work in comics before next year's convention. Shawn Perry: Flutter sounds like such an ambitious and unique story – what do you want people to take away from it?
Jennie Wood: Well I want it to be entertaining and a page-turner of course as a writer I always like to be a good host and show the reader a good time like a party, but also if I can get people thinking about just the way society looks at men versus women the way that society sees gender differences and why we do that then that's the icing on the cake. I thought about that when I was writing it and just want to get readers thinking too. SP: Most people agree that creative production has always been gender neutral however there has been a stigma associate with comic books in this culture where there have been a lot of male heroes and protagonists while a lot of the female characters have been portrayed as stereotypes or fridged altogether before they get developed. There aren't as many stories that center on females but I think that things are changing. Do you think that's the case and that we are seeing some evolution with today's comics?
JW: We are evolving. I think there has always been women behind the scenes in comics editing and writing…but its been a predominately male-dominated industry until recently where we're getting more and more women in different roles not just in Indie publishers but mainstream publishers, so I think that things are changing but I definitely can relate to your point because I grew up reading comics and there is definitely a male gaze in comics because they were predominately written by men. And I grew up with that male gaze and I still see the world through that male gaze and have to combat that and deal with a lot of those issues in Flutter. Because I grew up reading comics and seeing the world through that male writer perspective I could write about a girl who changes into a boy. So while it definitely helped me write Flutter its also something I have to adjust to as I read more female-driven stories because of how I grew up and came up in comics.
In closing, read this book and thank me later. Thank Wood and McComsey too.
Shawn Perry is a proud geek striving to be here now. He currently resides in East Hartford, Connecticut. Tweet him @thesperry and email him at Shawn.Perry88@gmail.com.