Free Comic Book Day 2014 – The Silver Books – Rocket Raccoon, Uber, Teen Titans Go, Bleeding Cool, Armor Hunters, Archaia Hardcover, Buck Rogers, CBLDF And More (UPDATE)
Last week, we saw the Golden books. Now we get the Silver books, comics that will be free from participating comic stores on Free Comic Book Day, Unlike the Gold books, these will be specifically chosen by individual stores to give away, and not all stores will have all the books.
I'd like to give a shout out first though to the Bleeding Cool Magazine FCBD Edition. Like last year, it will be dedicated to introducing comic books to new readers with a series of suggestions lists – and why. Last year, we recommended comics that no one else recommends, as well as comics that will change you life. I was inundated by people, new to comics who had picked it up, and then gone on to buy other comics in the same store. This year will have the same, as well as the controversial Free Comic Book Day Price Guide, where we list the current market prices of Free Comic Book Day titles from previous years. It could be useful. Oh and it's got Spider-Man on the cover, our first Marvel cover.
Other highlights include a new hardcover mini graphic anthology from Boom/Archaia, new Buck Rogers comics from Hermes Press, Fred Perry's Steam Wars, the story of Uber so far, two CBLDF comics, one for readers, one for teachers and parents,
Okay, all items and images updated…
DC Entertainment
TEEN TITANS GO! #1 FCBD 2014 SPECIAL EDITION
(W) Sholly Fisch, Merrill Hagan
(A) Ben Bates, Jorge Corona (CA) Daniel Hipp
This FCBD issue is the perfect place to start reading the sensational series based on Warner Bros. Animation's hit animated show featured on Cartoon Network's DC Nation Saturday morning programming block! Join Robin, Starfire, Beast Boy, Cyborg and Raven as they display their unique brand of hi-jinks, mayhem and justice! But giant pizza monsters aren't the only dastardly and delicious villains on the menu… so dig in, Titans! Includes two exciting, action-packed stories that readers of all ages will enjoy!
32pgs, FC FREE! Marvel Entertainment
ROCKET RACCOON FCBD 2014 EDITION
(W) Joe Caramagna (A) Adam Archer
(CA) Ron Lim, Richard Isanove
Spotlighting Marvel's BIGGEST star! No, we're not talking about Iron Man! Not Captain America! Not Thor! It's Rocket Raccoon! The madcap mammal takes on the cosmos in an all-new FREE COMIC BOOK DAY adventure!
32pgs, FC FREE!
BLEEDING COOL MAGAZINE BLEEDING COOL MAGAZINE FCBD 2014 ED
Retail Price: $0.00 US
Readership: All Ages
Color, 32 pages
Bleeding Cool Magazine celebrates Free Comic Book Day and the launch of The Amazing Spider-Man 2 film with an All-New issue dedicated to introducing new fans to comic books! We packed this special issue full of features that will turn FCBD visitors into comic shop regulars. This year's issue is the perfect tool for local comic shops to introduce new fans to the hobby. With features on collecting, shopping, preserving, and developing their collections, it is a must have for every Free Comic Book Day event. The features include new top Graphic Novel lists, Tips and Tricks for growing your collection, and a guide to your friendly neighborhood comic shop! This perfect entry point into Bleeding Cool Magazine is ideal for giving readers tons of extra FCBD content and to introduce our hot comics, speculation, and unique brand of entertainment to a host of new customers. It's not just cool…it's Bleeding Cool!
AVATAR PRESS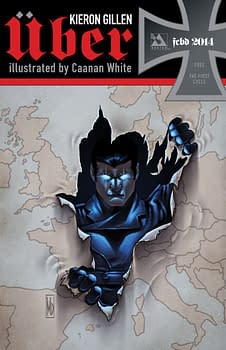 UBER: THE FIRST CYCLE FCBD ED
Retail Price: $0.00 US
Readership: Mature Readers
Color, 32 pages
An ideal entry point into the world of Uber! Kieron Gillen and Caanan White electrified the comics community with their runaway hit, UBER in 2013. Now the creative team that revolutionized the super soldier genre is presenting a special Free Comic Book Day edition, Uber: The First Cycle! This is a history book told with the events of the first two story arcs woven into real-World history and with tons of all-new writing from Gillen, special new art and sneak-peaks of upcoming pages. This issue will bring readers new and old up to speed on the first two arcs of the Uber series, without ruining all the fun of reading the collected editions. It also serves as a direct teaser into the summer 2014 Uber story that promises to be the biggest and most shocking yet!
IDW PUBLISHING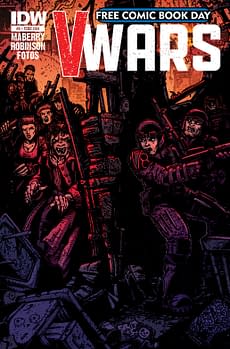 V-Wars #0: Free Comic Book Day Edition
Retail Price: $0.00 US
Color, 32 pages
New York Times bestselling horror author Jonathan Maberry presents the chronicle of the first Vampire War in V-Wars! This all-new tale leading into this summer's ongoing V-Wars series offers the first salvo in the battle between humans and hundreds of new species of vampires! Jonathan Maberry (w) • Alan Robinson (a) • Kevin Eastman (c)
Retailers: Order 100 copies, get one free Alan Robinson ultra-limited "human" variant cover of V-Wars #1, also available on FCBD!
Order 200 copies, get one free Alan Robinson ultra-limited "vampire" variant cover of V-Wars #1, also available on FCBD!
Action Lab Entertainment
(W/A) Jeremy Dale, Ray-Anthony Height, Dewayne Feenstra
Behold the Berserkers! Quinn and crew find themselves facing uncomfortable truths as sins of the past come back to reveal themselves. Fans old and new won't want to miss the first look at what's on the horizon for Quinn and Jack! And in Midnight Tiger, sometimes all it takes to become a hero is an unfortunate incident and a single split second decision. The origin of Midnight Tiger!
32pgs, FC FREE!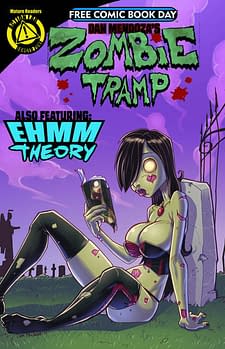 Zombie Tramp / EHmm Theory FCBD 2014 EDITION
(W) Dan Mendoza, Brockton McKinney (A), Dan Mendoza, Larkin Ford
(CA) Dan Mendoza
Are you bold enough to take a ride with Janey the Zombie Tramp?!? If you pick her up, she might just share the story of how she came to be the street walking dead! Be brave so you can be ready for her all-new series following this special issue! You also get a mind-shattering sneak preview from the second volume of the coolest comic series you haven't read yet… Ehmm Theory!
32pgs, FC FREE!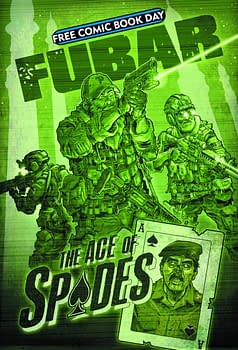 Alterna Comics
FUBAR: Ace of Spades FCBD 2014 Edition
(W) Chuck Dixon (A) Jeff McComsey, Steve Becker
(CA) Steve Becker
It's 2003 and the hunt is on for Saddam Hussein. The men of Operation Urgent Surprise think they've found the Butcher of Baghdad but instead uncover weapons of mass destruction in the form of ZOMBIES! Shock and awe turns to bite and claw on the bloody sands of Iraq in this full-length FUBAR Spec-Ops spectacular.
32pgs, B&W FREE!
Antarctic Press Steam Wars #1 FCBD 2014 EDITION
(W/A/CA) Fred Perry
A not so long time ago, in a galaxy relatively close by, an epic struggle plays out on a world seized in the grip of an evil Victorian empire. Only a ragged alliance of rebels opposes the Emperor and his black guard, and hope is fading. While fleeing from the steam-driven war machines of her Imperial pursuers, Duchess Imoen stumbles across the home of the last Dragoon: the legendary Storm Foil Warriors of ancient lore! This new (but strangely familiar) steam-fantasy epic will give thrills that haven't been felt since 1977!
32pgs, FC FREE! Arcana Studio
The Intrinsic Volume 2 FCBD 2014 EDITION
(W) O'Reilly Sean, Chris "Doc" Wyatt (A/CA) TBD
The Philosophers are an ancient secret order of magic-users who protect the Earth. One of their number, Ishmael Stone, known as Philosopher Rex, has assembled an elite team, called The Intrinsic to deal with the most serious threats from the outer realms. But how will The Intrinsic react when they are called not to protect the Earth, but to protect themselves from it?
32pgs, FC FREE! Archie Comics
Sonic the Hedgehog/ Mega-Man FLIPBOOK FCBD 2014 EDITION
(W) Ian Flynn (A) Patrick "SPAZ" Spaziante, Jennifer Hernandez, Lamar Wells, Rick Bryant, Gary Martin, John Workman, Jack Morelli and Matt Herms
Sonic the Hedgehog Cover: Tracy Yardley!
Mega Man X Cover: T. REX

Its TWO free comic books in ONE! Hot off the heels of the ultra-successful Sonic/Mega Man crossover event, "Worlds Collide", comes a showcase issue of the hottest new storylines in both characters' universes — exclusively for Free Comic Book Day! Somic stars in "Blast to the Past" and the origin of his Freedom Fighters! Then, on the flipside of this issue, get ready for the "Mega Man X" crossover event with this primer story!
32pgs, FC FREE! Aspen MLT
Worlds of Aspen FCBD 2014 EDITION
(W/A) Peter Steigerwald, Mirka Andolfo, Vince Hernandez
Aspen's popular zero issues return, and only in this exclusive FCBD issue featuring two all-new stories by Aspen's finest! Vince Hernandez, creator of Charismagic and Trish Out of Water, offers his latest creation, the upcoming fairy-tale adventure series Damsels in Excess, along with brilliant series artist Mirka Andolfo (Trish Out of Water) in this special zero issue prelude — just in time for its summer release! Then, superstar colorist and creator Peter Steigerwald (Fathom, Soulfire), takes a journey into the furthest reaches of the universe in his first all-new Aspen series, The ZooHunters! Coming this fall, this new action-adventure series will redefine what it means to voyage beyond your wildest imagination! Get an exclusive first look with these thrilling zero issues, only available in Worlds of Aspen 2014!
32pgs, FC FREE!
Automatic Publishing
Hatter M: Far from Wonder #1 FCBD 2014 EDITION
(W) Frank Beddor, Liz Cavalier (A) Ben Templesmith
(CA) Vincent Proce Put to rest any delusions or disinformation you have of the tea-guzzling madman of faux literary history and prepare to expand your consciousness as the saga of Hatter Madigan and his relentless search for the lost Princess of Wonderland unfolds in Issue 1 of the Hatter M series!
32pgs, FC FREE!
IPSO FACTO #1 FCBD 2014 EDITION
(W) J.R. Rothenberg
(A/CA) Jason Badower, Annete Kwok
A peaceful alien race secretly inhabiting Earth suddenly begins to flee when a satellite intended to eliminate nuclear war is launched. Meanwhile, a boy in Colorado, a lovestruck rebel without a cause, believes he's going insane; his mind replaying a single message: "remember who you are… or this world ends."
32pgs, FC FREE! BOOM! Studios / Archaia
Mouse Guard, Rust & Other Stories: A FCBD Hardcover Anthology
(W/A/CA) Various
When Archaia released their first hardcover FCBD offering two years ago, it was a rousing success with fans and retailers alike. Now they're doing it again! Readers will get original, all-ages content from a powerhouse lineup of Archaia creators. Plus, the debut of Farscape comics under the Archaia imprint!
HC, 6×9, 48pgs, FC FREE!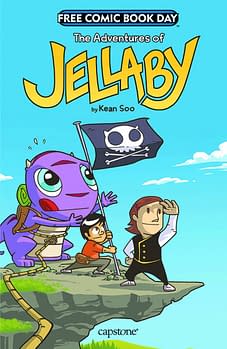 Capstone Young Readers
The Adventures of Jellaby FCBD 2014 EDITION
(W/A/CA) Kean Soo
Capstone celebrates Jellaby, the award-winning series by Kean Soo! In this Free Comic Book Day 2014 special, ten-year-old Portia Bennett and her beloved purple monster, Jellaby, head to the great outdoors in two comic shorts, including the exclusive, never-before-in-print adventure "The Knot." Also featuring a monster load of bonus materials: creator Q & A, pinup art, super-secret previews, and much, much more!
32pgs, FC FREE!
DEFEND COMICS FCBD 2014 EDITION
(W) Mark Evanier, Fred Van Lente, Gene Luen Yang, Chris Roberson
(A) Sergio Aragones, Ryan Dunlavey, Gene Luen Yang, Various
(CA) Cully Hamner
For over 25 years, the Comic Book Legal Defense Fund has fought to protect your right to read, and this year we bring our mission to Free Comic Book Day, with a light-hearted look at a serious topic. Explore censorship of comics with some of today's most talented creators!
32pgs, FC FREE!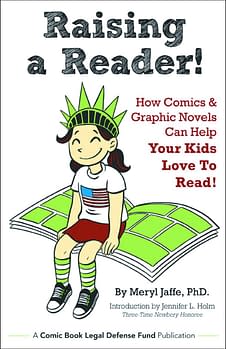 CBLDF PRESENTS: RAISING A READER! FCBD 2014 EDITION
(W) Meryl Jaffe PhD (A) Matthew Holm
(CA) Raina Telgemeier
CBLDF's publication, Raising a Reader!, answers parents' and educators' questions about using comics: What skills do they offer kids? What resources are available for using graphic novels in education? How do you teach reading with a comics page? How can graphic novels create reading dialogues? And much more! Text with illustrations.
16pgs, FC FREE!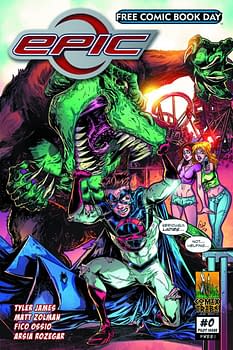 ComixTribe
EPIC #0 FCBD 2014 EDITION
(W) Tyler James (A) Matt Zolman, Fico Ossio
(CA) Fico Ossio
After a freak experiment gives teenager Eric Ardor incredible powers, he does what anyone would do… he puts on a costume and becomes Epic! Super strength, speed, flight, optic blasts… it's a fanboy's dream come true. Unfortunately, he's just discovered he has one weakness… pretty girls! And while most boys his age lose their cool around the hotties, Epic loses his powers!
32pgs, FC FREE! SCAM: Crosswords #0 FCBD 2014 EDITION
(W) Jason Ciaramella (A/CA) Joe Mulvey
Spinning out of the pages of the super-powered con-man series, Scam, Eisner-nominated writer Jason Ciaramella (The Cape) and "the most dangerous man in comics" Joe Mulvey bring you an explosive one-shot featuring Scam's ultimate villain: Crosswords! After being exiled from "Sin City", Crosswords makes a power grab in Europe, using extreme means to take what he wants!
32pgs, FC FREE!
Dark Horse Comics PROJECT: Black Sky FCBD 2014 EDITION
(W) Fred Van Lente (A/CA) Michael Broussard
When a biological weapon is hijacked from a secret facility in Nevada, the president calls in two of his top guns: Captain Midnight and Brain Boy! Will the two disparate heroes, a time-displaced inventor from World War II and a snotty psychic Secret Service agent, be able to work together to stop the threat released from Block 13? And what does the mysterious rogue agency Project: Black Sky have to do with it?!
32pgs, FC FREE!
Drawn & Quarterly Shigeru Mizuki's Showa: A History of Japan FCBD 2014 Edition
(W/A/CA) Shigeru Mizuki
Shigeru Mizuki's Showa: A History of Japan FCBD 2014 will offer a rare preview of the 2,000-page masterpiece on the history of modern Japan. The D+Q series will be published in four separate volumes throughout 2014 and early 2015 and this special FCBD edition will offer an excerpt of the harrowing period covering World War 2 and beyond. Mizuki is one of the early pioneers of manga and is one of the most beloved creators in Japanese comics.
24pgs, B&W FREE!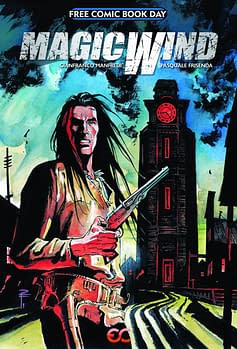 Epicenter Comics
Magic Wind FCBD 2014 EDTION
(W) Gianfranco Manfredi (A/CA) Pasquale Frisenda
With a shard of metal in his brain allowing him limited access to his past memories, and able to foresee the future through visions and premonitions, Ned Ellis is no ordinary man. Once a U.S soldier, he is now a Sioux Shaman who goes by the name of Magic Wind. This FCBD edition will give you an exciting extended preview of the thrilling upcoming graphic novel!
32pgs, FC FREE!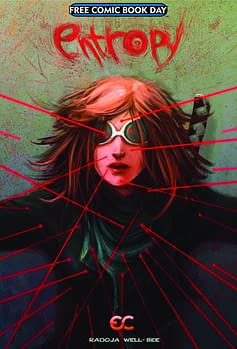 Entropy FCBD 2014 EDITION
(W) Davor Radoja (A/CA) Well-Bee
A society divided into two classes: the Haves and the Have Nots. Controlled by a government that has banned and destroyed any form of media that it feels will corrupt the human mind. Yet there are those who hold secrets, who hold meetings, and who are prepared to fight for a better future. This special sneak-peak of the upcoming SF graphic novel also features two complete short comics: Crosses and Vegetable!
32pgs, FC FREE!
Fantagraphics Books Hip Hop Family Tree Two-in-One FCBD 2014 EDITION
(W/A/CA) Ed Piskor
Hip Hop Family Tree Two-In-One by Ed Piskor is the perfect introduction and bridge to Piskor's fun and crtitically acclaimed 5 volume book series! This full-color comic book offers two self-contained stories form Hip Hop Family Tree Volumes 1 & 2 as well as new guest pin-ups and content just for FCBD! Lovingly produced and designed in homage to Marvel Comic's beloved Marvel Two-In-One—Make mine Hip Hop!
32pgs, FC FREE!
Gemstone Publishing Overstreet's Comic Book Marketplace FCBD 2014 Edition
(W/A) Robert M. Overstreet, Various
A stunning visual representation of Batman's 75th anniversary, a look (way) back at the origins of The Winter Soldier, a 20th anniversary chat with Billy Tucci about Shi, a look at the long and sometimes hidden history of Archie's "Red Circle" line, a forgotten first appearance, and much more are featured in this FCBD 2014 issue of Overstreet's Comic Book Marketplace!
32pgs, FC FREE!
GRAPHIX Graphix Spotlight: The Dumbest Idea Ever! FCBD 2014 EDITION
(W/A/CA) Jimmy Gownley
Graphix (publishers of Bone, Smile, and the Amulet series) makes its FCBD debut with this stand-alone excerpt from The Dumbest Idea Ever! Renowned comics creator Jimmy Gownley (Amelia Rules!) shares his real life adventures of becoming a teenage comic book artist! Called "an inspirational book that could help launch the next great cartoonist" by Jeff Kinney (Diary of a Wimpy Kid) this is the perfect book for anyone who loves comics . . . and any kid who dreams of someday making comics of their own.
32pgs, FC FREE!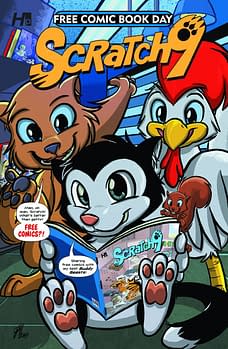 Hermes Press
Scratch 9 FCBD 2014 EDITION
(W) Rob M. Worley (A/CA) Joshua Buchanan
He's back for Free Comic Book Day! The world's greatest superhero cat returns in this all-ages, all-cat, all-free funny-book featuring all-new stories! Scratch is an ordinary cat who can summon his nine lives to get himself and his pet posse out of a jam. This new edition is a direct lead-in to the summer's monthly Scratch9 series: Cat of Nine Worlds! The fur starts flying here!
32pgs, FC FREE!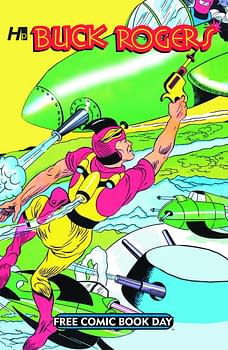 Buck Rogers in the 25th Century FCBD 2014 EDITION
(W/A) Russell Keaton, Murphy Anderson, Howard Chaykin
Buck Rogers in the 25th Century, the first, best and original sci-fi hero, is supporting Free Comic Book day with a special re-print of one complete Sunday story, "Prophet of the Fire Demon," by fabled artist Russell Keaton! This story has been painstakingly digitally-reconstructed to perfection, and looks better than the original newspaper Sundays! Hermes Press' Buck Rogers FCBD issue will also offer bonus material and tons of surprises!
32pgs, FC FREE! New England Comics
The Tick FCBD 2014 EDition
(W) Jeff McClelland (A/CA) Duane Redhead
The Tick returns for FCBD 2014 in a brand-new, full-color, 24-page, full-length adventure for fans of all ages! Plus more! The Tick and Arthur face off against the Hoarder, a galactic alien menace who hi-jacks The City and the millions of citizens The Tick has sworn to protect! Great for fans new and old!
32pgs, FC FREE!
Oni Press Courtney Crumrin #1 FCBD 2014 EDITION
(W) Ted Naifeh (A/CA) Ted Naifeh, Warren Wucinich
A full-color Courtney Crumrin adventure for all ages! Holly is new to the creature-filled and magic-made town of Hillsborough and her classmates all agree on one thing — Courtney Crumrin is bad news! Will Holly heed their warnings or will Courtney finally find a friend?
32pgs, FC FREE!
The Smurfs FCBD 2014 EDITION
(W/A) Péyo
The Smurfs return to Free Comic Book Day! This year's offering features never-before-seen comic stories from Péyo starring everyone's favorite blue bombshell: the Smurfette! It's Smurftastically Free!
32pgs, FC FREE! PREVIEWSworld
PREVIEWSworld FCBD 2014 Spectacular
(W) Dan Manser, Marty Grosser, J.C. Vaughn
(A) TBD (CA) Skottie Young
There's no place like your favorite local comic shop, and every month Previews celebrates the cool comic books and merchandise available in stores! Now the team behind Previews and Previewsworld.com takes an enthusiastic look at the worlds of FCBD and your local comic shop in this FCBD 2014 special! First, you get a primer on Previews with our comics story on how to use the Previews catalog and buy through your local comic shop's subscription service. Plus, a "FCBD & Collecting Comics" story from the folks behind the Overstreet Comic Book Price Guide on what makes reading and collecting comics so cool! Finally, we'll take you behind the scenes of 2014's FCBD titles with interviews with some of this year's creators, including FCBD 2014's Commemorative T-Shirt artist, Skottie Young! And we top all of that off with invaluable info on online resources, 2014 convention dates, cool contests to enter and more — all for FREE! Features a cool, Skottie Young cover celebrating FCBD!
32pgs, FC FREE!
2000 AD SPECIAL FCBD 2014 EDITION
(W/A) Various
The Galaxy's Greatest SF anthology returns to FCBD with this stellar line-up of stories! Dredd races to save a fellow Judge in "The Badge" from Matt Smith & Chris Burnham; Sláine stars in "Lord of the Beasts" by Pat Mills & Rafael Garres; Rogue Trooper recounts his bloody past in "Glass Zone" by Gerry Finley-Day & Dave Gibbons; and Psi-Judge Anderson faces a magical monstrosity in "Golem" by Alan Grant & Enric Romero! Plus: D.I. Harry Absalom (by Gordon Rennie & Tiernen Trevallion), Durham Red (by Leah Moore, John Reppion & Jan Duursema), Future Shock (by Henry Flint), and classic Dredd newspaper strips by John Wagner &Ron Smith!
48pgs, FC FREE! Red 5 Comics
Atomic Robo and Friends FCBD 2014 EDITION
(W) Brian Cleavenger, Jay P. Fosgitt
(A) Jay P. Fosgitt, Scott Wegener (CA) Scott Wegener
Unanimously heralded by fans, creators, retailers and critics as the perfect first comic to give to a non-comic-reader! Atomic Robo has defeated the greatest foes of the last century, but his latest discovery has reduced him to a mere plaything for the Yonkers Devil! Plus, an all-new adventure from mischievously-lovable Bodie Troll and previews of 2014 Red 5 favorites and new faces!
32pgs, FC FREE!
Giant-Size 4-Pack Bundle FCBD 2014 EDITIOn
(W/A/CA) Various
A GIANT-SIZE four-pack of GIANT-SIZE #0 Issue Specials!
ACTION! Wayward Sons—The spin-off to the legendary Webcomic series, this series follows the adult children of beings who were once worshipped as Gods; Tesla—At the turn of the century, Nikola Tesla and his trusty side-kick, Mark Twain, join forces to battle the Illuminati, led by the nefarious Thomas Edison!
FANTASY! Duel Identity—The world's greatest superhero is actually the world's greatest assassin! Pandora's Blog—When a young girl moves to a new town, she blogs about the strange things she sees, and gets some unwanted attention as a result.
ADVENTURE! Magika—A young boy discovers a magical world filled with strange mystical creatures who come into our world through a mound in his grandparents' backyard! The First Daughter—The President's daughter learns her destiny when she is pulled into a secret, supernatural enclave beneath the White House.
THRILLS! Darchon—Enter a dark world of supernatural threats that can only be handled by one man – but is he what he claims to be? Shadow Children—Children are brought to another realm, where they acquire supernatural powers and become members in an army of darkness.
Four Pack, FC FREE!
Finding Gossamyr: Way of the Bladeslinger FCBD 2014 EDITION
(W) David Rodriguez, Paul Allor
(A) Sarah Ellerton, Thomas Boatwright
Return to the fantastic world of Finding Gossamyr as Th3rd World's critically acclaimed series continues in a brand new FCBD adventure that leads into the upcoming Volume 2! Also featured in this issue is a preview of the new Th3rd World Studios series, Past the Last Mountain, in which a trio of fantastic creatures escapes human imprisonment to seek a fabled sanctuary known only as "Dragon Lake".
32pgs, FC FREE!
Top Shelf Kids' Club FCBD 2014 EDITION
(W/A) Eric Orchard, Rob Harrell, Top Shelf Crew
(CA) Eric Orchard
Here at Top Shelf, we're celebrating Free Comic Book Day 2014 with friends old and new — the latest lineup of the Top Shelf Kids Club! This FREE comic book contains an extensive preview of the upcoming Maddy Kettle by Eric Orchard, as well as other stories by Monster on the Hill's Rob Harrel, and the rest of the Top Shelf crew. Come on in and join the party!
24pgs, B&W FREE!
Sherwood, TX / BOONDOCK SAINTS DOUBLE FEATURE FCBD 2014 EDITION
(W) Shane Berryhill, Troy Duffy, J.B. Love
(A) Daniel Hillyard, Toby Cypress (CA) Andrew Robinson
After the same biker gang who murdered his father leaves Rob Hood for dead, he returns to seek revenge on an epic, blood-soaked scale. Combining the biker gang epic with Spaghetti Western sensibilities, Sherwood, TX retells the legend of Robin Hood as a modern day, noir-action opus. Hood is joined on his quest by Padre Elvin Tuck, Will Scarlet, and Little John, as they take on the crooked Sheriff of Nottingham, TX and his partners in crime, The Nobles biker gang and their leader John Prince.
32pgs, FC FREE!
Street Fighter #0 FCBD 2014 EDITION
(W/A) Ken Siu-Chong, Jim Zub, Chris Sarracini, Joe Ng, Takeshi Miyazawa
UDON's Street Fighter comics are back, and bigger than ever! Ryu, Ken, Chun-Li, and all of the hadoken-hurling action you love fills the pages of this oversized (8" x 11") comic book! Created especially for FCBD, this issue includes brand-new stories for hardcore SF fans, and a stand-alone chapter from Street Fighter Origins: Akuma — the perfect introduction for newcomers to the SF universe!
32pgs, FC FREE!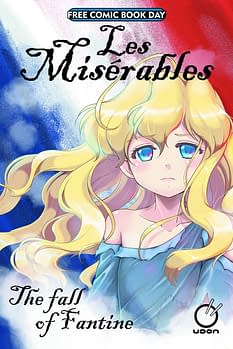 Les Miserables: The Fall of Fantine FCBD 2014 EDITION
(W/A) SunMei Lee
In 2014, UDON Entertainment brings Victor Hugo's classic novel Les Miserables to comics in a bold new graphic novel adaptation! In this special stand-alone FCBD chapter, learn the story of Fantine, the beautiful, fragile, doomed heroine of Les Miserables. She will fall into poverty… and worse… and she will find salvation in the deeds of a stranger named Jean Valjean! Printed in UDON's standard manga size of 5 ¼" x 8 ¼", it features 48 pages of gripping story and brilliant artwork!
48pgs, FC FREE!
Valiant Comics VALIANT: ARMOR HUNTERS 2014 FCBD SPECIAL
(W) Robert Venditti, Matt Kindt, Joshua Dysart, Fred Van Lente, Peter Milligan
(A) Doug Braithwaite, Bryan Hitch, Clayton Crain, CAFU, Clayton Henry, Diego Bernard
(CA) J.G. Jones
The "Armor Hunters", a group of the universe's fiercest warriors, have come to destroy the X-O Manowar for the good of all. What horrible secrets does the armor hold? And how many armors have they destroyed before this one? These answers and more are revealed in the Valiant Universe event of 2014 — and it all starts right here with exclusive previews, character designs, and interviews from the biggest guns the Valiant Universe has to offer!
32pgs, FC FREE! VALIANT UNIVERSE HANDBOOK FCBD 2014 EDITION
(W/A) Various (CA) Lewis LaRosa
The Valiant Universe from A to Z! Discover for the very first time the untold origins and secrets of Valiant's heroes and villains, all in one place! Everything you need to know about the Valiant Universe in 2014 and beyond can be found right here in the first official Valiant Handbook release… ever! Featuring artwork from a "murderer's row" of comics brightest talents: Doug Braithwaite, Bryan Hitch, J.G. Jones, Esad Ribic, Clayton Crain, Clayton Henry, and more!
32pgs, FC FREE! VIZ Media
All You Need is Kill / Terra FormaRs FCBD 2014 Edition
(W) Hiroshi Sakurazaka, Yu Sasuga (A) Lee Ferguson, Kenichi Tachibana
Now a major motion picture starring Tom Cruise! When the alien Mimics invade, Keiji Kiriya is one of many recruits shoved into battle armor Jackets and sent out to kill. Keiji dies on the battlefield, only to be reborn to fight and die again and again. He receives a message from a mysterious ally — is she the key to Keiji's escape or his final death? The official graphic novel adaptation based on the original novel! Also, in Terra Formars, the colonization of Mars is an epoch-making event, but an unintended side effect of the terraforming process unleashes a horror no one could ever have imagined…
32pgs, FC FREE!
Grimm Fairy Tales #0 FCBD 2014 EDITION
(W) Joe Brusha (A/CA) Anthony Spay
Extinct for millennia, the most powerful and terrifying creatures to ever exist in the Grimm Universe have now returned! They are the Bloodhunters, and their sole purpose is to hunt down and exterminate Highborns, and they have their sights set on their first prey since returning…Professor Sela Mathers! This special FCBD edition of Grimm Fairy Tales ties directly into GFT #100 and the upcoming "Age of Darkness" Grimm Universe event!
32pgs, FC FREE!
And more on Armor Hunters from Dan Wickline…
Now we see what the teaser images earlier in the week were about here and here. Valiant Comics is calling this the most ambitious crossover event of 2014. Armor Hunters, a four-issue mini-series by Robert Venditti (X-O Manowar, Green Lantern) and Doug Braithwaite (Unity, Justice) kicks off this June.
When Aric of Dacia returned to Earth with the stolen X-O Manowar armor of an alien race, he thought he finally found a weapon to guard the peace and kingdom he'd struggled so long to secure. But now, a relentless and surgical strike team from the farthest reaches of space – sworn to exterminate the armor and all like it – have found their final target. The ARMOR HUNTERS are coming. They will hunt. They will trap. They will kill. And they will rid the universe of the X-O Manowar's incalculable destructive power…even if it means taking the Earth with it.
"X-O Manowar is about to find himself at the center of a firestorm embroiling all of Valiant's most powerful heroes. Believe us when we say that, in an era of events, the scale, scope and intensity of ARMOR HUNTERS will be the biggest and most daring undertaking we've ever attempted," said Valiant CEO & Chief Creative Officer Dinesh Shamdasani.
Along with the first issue, the Armor Hunters story continues with new story arcs in Unity #8 by Matt Kindt and Diego Bernard and in X-O Manowar #26 by Venditti and Cary Nord. Other Valiant heroes will join in as well as the summer continues with Valiant's first full-scale alien incursion.
And to get you ready for the event, on Free Comic Book Day – May 3rd, 2014 you can pick up the Valiant: Armor Hunters FCBD 2014 Special. The book contains previews of the summer event and beyond, interviews and more from Robert Venditti, Doug Braithwaite, Matt Kindt, Clayton Crain, Peter Milligan, Bryan Hitch, Clayton Henry and others.
---
---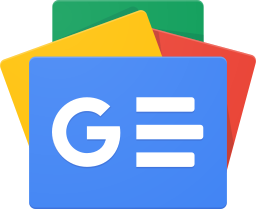 Stay up-to-date and support the site by following Bleeding Cool on Google News today!