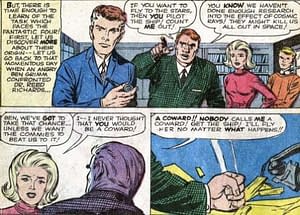 The theory behind this rumor has been out there for going on a couple years now, but with the effectiveness of X-Men First Class, the idea is gaining a lot of currency again fast. Reboot the Fantastic Four films back to their early 1960s comic book roots, Sue famously implores, "We've got to take that chance… unless we want the Commies to beat us to it!" throw in some giant monsters from Namor or the Mole Man, and it's on. Hell, get the Skrulls in there, since they're being used in the Avengers. That could fit, too.
I could go on about this concept at length… but let's get on with the rest of the day first:
Most-Clicked Comic Stories Today:
The First Rule About Flashpoint Is, Don't Talk About What Comes After Flashpoint
It's Flashpoint Friday again, and today's pre-weekend missive is another interesting mystery. As we've been telling you, DC Comics is setting themselves up for a major… something this fall by releasing only one comic in the last week of August and then, somehow, relaunching everything in September. Fanning the flames, Geoff Johns and Jim Lee are scheduled to make a major announcement early next month. Now comes word that Flashpoint will end Johns' involvement with Flash titles for the foreseeable future — which of course begs the question: then what?
Fifty-Two Marvel And DC T-Shirts For Stoners
Junk Food have a bunch of retro-styled superhero T-shirts, whether that being retro from the sixties or the ninetiies. Pre-faded, oddly juxtaposed images and sentences, here are our top five…
First Image Of Merida From Pixar's Brave
Here she is, in all her glory – the heroine of Pixar's first female-led narrative, the Scotland-set folktale, Brave. This is the Princess Merida, as voiced by Kelly MacDonald.
Most-Clicked TV/Film Stories Today:
X-Men: First Class, Second Review
The Cold War seems to be pretty hot right now. There are excited mutterings around Hollywood of an Atom Age Fantastic Four reboot. Meanwhile Call Of Duty:Black Ops is introducing that period to the videogame audience better than a historian ever could. Television watchers can get in on the era of the snappy suit and sexy frock too. And not just with Mad Men; rumour has it there's an early Sixties prequel to Dynasty in the works.
Joss Whedon, Marvel Studios And The Infinity Gauntlet Theory
So: People seem to be treating this as a spoiler. But if it's true, it's hard to imagine it won't be a part of the Avengers movie marketing. Regardless, fair warning.
Robert Kirkman Insisted On Covering Up Eve's Bottom In Invincible #79
And here's a close up of that panel of Eve, Invincible's girlfriend.
Most-Clicked Pics Today: Enjoyed this article? Share it!