The 'Fear the Walking Dead'/'The Walking Dead' Crossover You Might've Missed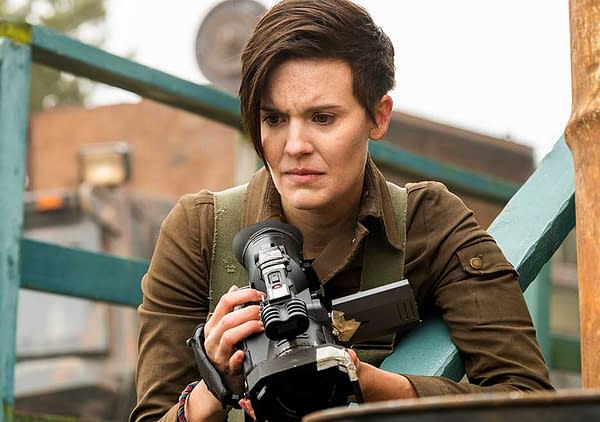 Whether you're a fan of The Walking Dead/Fear the Walking Dead or not, chances are you know that the two shows officially crossed over this year when TWD's Morgan (Lennie James) joined Fear the Walking Dead's fourth season – which also synched up the two show's timelines (at least for now). Fans were even treated to some unexpected crossover cameos from Rick (Andrew Lincoln), Carol (Melissa Mc Bride) and Jesus (Tom Payne) during FTWD's season premiere, as a form of send-off for Morgan.
But during FTWD's midseason finale from Sunday, we were given a very brief but important glimpse at another unexpected crossover. As Madison (Kim Dickens) is going through one of Althea's (Maggie Grace) boxes of tapes, we briefly see a tape labeled "Abe/Doctor" – names that should be very familiar to fans:
Yup, "Abe/Doctor" are Abraham Ford (Michael Cudlitz) and Eugene Porter (Josh McDermitt), which makes sense since it was established on TWD that Eugene was in Texas when he was saved by Abraham in Texas and began lying about being a scientist. Based on the timeline between the two shows, it appears Althea met and interviewed Abraham and Eugene on camera before they started heading out towards Washington D.C.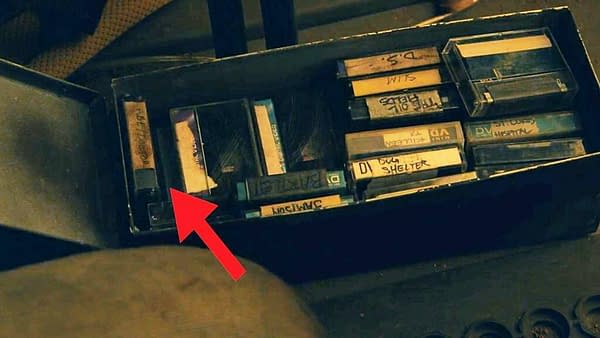 And here's a closer look at the tape, along with co-showrunner Ian Goldberg's take from AMC's Talking Dead with Chris Hardwick:

"When Madison is rummaging through Al's tapes, we see they're all labeled. And each of those tapes, each of those labels, will tell a story. They're all stories that Al has captured at one point or another in her travels, and if you look closely, some of those names might ring a bell if you're a fan of the Walking Dead universe, you might get excited about some of the stories that she's captured." – Ian Goldberg
For his part, Cudlitz took to Twitter to share his surprise at the news with fans:
Thanks to our good friends at Skybound, here's a rundown of the other tapes in the box (let the speculation begin!): St. Luke's Hospital; D.S.; Slim; The Oil Fields; Killeen; Texas, Dallas; Dog Shelter; Mrs. Jamison; and Bartlett.
The first half of season four began with one figure huddled around a campfire, and ended with nine. Characters who started their journeys in isolation collided with each other in unexpected ways and found themselves in one of the last places they ever expected to be…together. In the back half of the season they will explore who they are now – as individuals and as part of the greater group – and how they will forge ahead. They will find themselves pitted against new adversaries – human, walker, and even nature itself. Theirs will be a journey wrought with danger, love, heartbreak, loss, and ultimately, hope.
Starring Lennie James, Alycia Debnam-Carey, Colman Domingo, Danay Garcia, Garret Dillahunt, Maggie Grace, and Jenna Elfman, Fear the Walking Dead is executive produced by Scott M. Gimple, and showrunners Andrew Chambliss and Ian Goldberg; as well as Robert Kirkman, David Alpert, Gale Anne Hurd and Greg Nicotero.