[#SXSW 2018] Galveston: Mélanie Laurent Red Carpet Interview and Q&A
One of the treats we got at South by Southwest (SXSW) 2018 was another movie directed by the fantastic Mélanie Laurent called Galveston. The movie had its world premiere in front of audiences on Saturday, and Laurent hit the red carpet to talk to us a bit. There was also a Q&A following the movie where Laurent talked about how star Elle Fanning was literally the only option she had in mind for the lead role.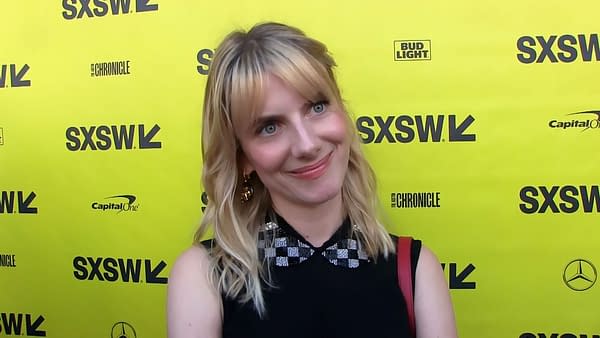 No, no other options, just get Elle Fanning. Then we got Ben Foster on the project, and I was just so happy. The best couple ever — this is going work, no matter what.
Next, Laurent talked about being French and making a very American movie, but that her cast made her feel like it was all going to work out no matter what.
So easy; making an American movie when you're French is so easy! … I was lucky because the cast is so important. I felt lucky enough; nothing could happen to me on set with both of them. Then the process of the screenplay — we have the script from Nick, and I was allowed to change things if I wanted. Then we would re-write so many things, just the three of us.
Laurent wanted Fanning's character, a prostitute, to feel like a real person who is more than a piece of meat. Sometimes characters that are sex workers aren't portrayed as humans because of what they do, and Laurent wanted it to feel very real.
I really wanted the audience to feel her pain. Sometimes [with a] male writer or director, she can be on the street on a hooker [sic] and it's fine, but I didn't want to do that. So we added, maybe she's crying, maybe she doesn't want to do that stuff anymore. She has emotions; she's a human being.
Fanning, who has worked under a lot of great female directors as of late including Reed Moreno and Sofia Coppola, talked about the sense of safety that came with not only working under a woman, but a female actor who could relate with what she was going through.
I think one of the first things you said to me when we were discussing it, when we were at rehearsals, [was] "I know what you're going through because I am an actor and I've done scenes like this. I know these challenges and what you're feeling." So immediately that makes you feel so safe with someone because I always felt like she was going to protect me. And I could go up to her and be like, "ugh, I feel weird," and she would understand because she's been in that position. So that was very clear.
Watch our interview with Laurent along with the full Q&A following the screening below.
Summary: After escaping a setup, a dying hitman returns to his hometown of Galveston where he plans his revenge.
Galveston, directed by Mélanie Laurent, stars Ben Foster, Elle Fanning, Lili Reinhart, and Beau Bridges.