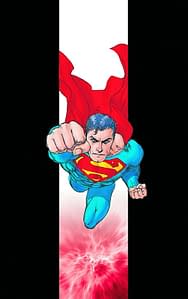 "Building the destiny of a new world from Great Disaster to some kind of utopia, and then you can cut forward to Earth 51 Legion of SuperGods or something like that." – Grant Morrison.
British publisher Jonathan Cape, part of Random House, behind a recent resurgent in high end high profile graphic novels, has outbid rivals to buy book about superheroes by Grant Morrison in European and Commonwealth (not Canada) regions. The US and Canada publication rights belong to Spiegel & Grau, party of Doubleday.
The book is described as "the definitive history of the superhero" from initial publications in the 1930s to the modern reworkings and reimaginings of the form." However it looks like it might be just as odd, strange, challenging and beautiful as anything Morrison has written before, even with less pictures. on the page, anyway.
A lot of people have spent a lot of money on this. Expect massive marketing budgets. And publication in August/September next year.
Image copyright DC Comics.
Enjoyed this article? Share it!