Well, we are not going to have to wait as long as we usually do for a Pixar movie. Jay And Silent Bob Reboot, the new movie from Kevin Smith, has a US release date of the 15th of October. But now has a UK release date too, just one-and-a-half months later, on the 29th of November. Ooh, just after my birthday. What a treat.
Written and directed by Kevin Smith, and starring Jason Mewes and Kevin Smith, and operating as a followup to Clerks, Mallrats, Chasing Amy, Dogma, Jay And Silent Bob Strike Back, Clerks 2, Jay & Silent Bob's Super Groovy Cartoon Movie and probably the Clerks Animated Series as well as all the comics, it will also feature a tonne of allegedly A-list movie and TV cameos. Man, I will have such a weakness for this.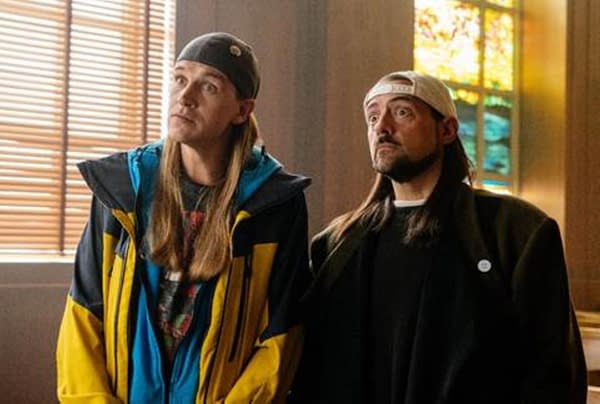 When Jay & Silent Bob discover that a reboot of the Bluntman & Chronic movie (a movie based on a comic book based on them) is being made (and they lose the right to use their own names after the company behind it take out an injunction against them), they head off to ChronicCon in Hollywood to stop it.

Along the way, they run into Jay's old girlfriend, Justice (Shannon Elizabeth) and Jay discovers he has a daughter he never knew he had – one who forces Jay & Silent Bob, at knifepoint, to take her and her 3 friends with them to Hollywood, so they can be extras in the new movie.

A reboot of Jay & Silent Bob Strike Back, in which they find out a movie is being made based on a comic book based on them and head off to Hollywood to stop it, this movie takes on remakes, reboots and sequels, whilst simultaneously being all 3! Filled to the brim with cameo appearances from a myriad of past characters in the View Askewniverse, as well as some new, but very familiar, faces.
Here's the trailer.
Enjoyed this article? Share it!