For the last decade, I have been running stories about Josh Hoopes. A Sacramento man who has systematically conned big guys and little guys out of money. His standard scam is offer his art skills at a very low price to writers and publishers, then hire artists to do the work at a very high price. He delivers the work, never pays the artist and disappears. The scam is often only discovered after the work is published and the artists sees it in print.
Which is what he's done again.
Posing as Lalit Kumal, one of his many pseudonyms, and displaying the artwork he often uses on these scams, he advertised on Freelanced.com – you can still see his profile on Google's cache though it has now been deleted.
I understand he is also using the pseudonym David Houser.
In that time, he scammed a writer who contacted me out of a relatively small sum of $375, as well as the young artist who put in time and effort. His Freelanced profile also indicates that a Robert Neckar, a Houston-based arts student hired him as well as a comics publisher called Talc Media. It is very unlikely they will have received genuine goods. I am currently trying to get in contact with them to try and establish if they have also been scammed.
I have passed personal details I have on Josh Hoopes to the individual who contacted me, and he aims to contact the police over this.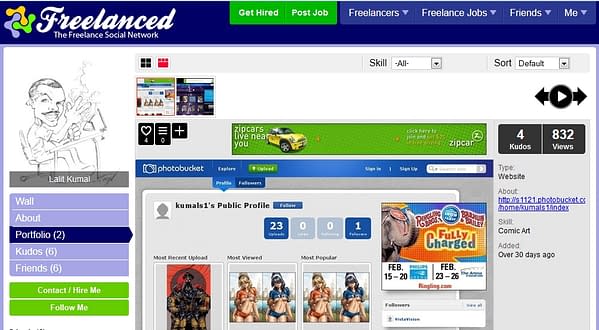 Enjoyed this article? Share it!