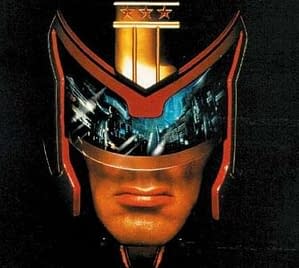 We all remember the wonderful disaster that was the Judge Dredd movie. Surprisingly watchable now with your tongue firmly in cheek, it is still a shocking example of how many movies take a comic, remain slavishly true to certain small aspects of it, but with the rest just throw it into a vat of acid and see what comes out at the end.
Well, it looks like the ultimate bad guy comic, about a fascist policeman in the future, will be gettiong something a little closer to its origins. Bleeding Cool has written about the new planned Judge Dredd movie a couple of times, talking about the rumoured Alex Garland's script and Jock's possible concept art.
Well, 2000AD, Batman and Losers artist Jock just twittered
then a DREDD movie meeting with DNA in london on monday.
That would be Dan Abnett and Andy Lanning of course, 2000 AD comic writers, as well as work on Nova and Legion of late. And with a little Judge Anderson under their belt.
I wonder what they're doing on the movie?
Or possibly DNA would be the film production company linked to the movie, based on Greek Street about two minutes away from where I'm working right now. did stuff like 28 Days Later and Sunshine. Hah. Still, you know. Dredd movie. Meetings. Stuff.
Enjoyed this article? Share it!