'Black-ish' Creator Kenya Barris Leaving ABC Studios; Eyeing Netflix Exclusive Deal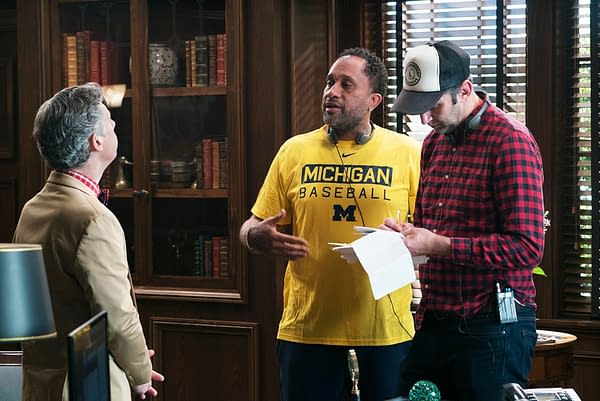 In a move considered to be a long time coming by those familar with the behind the scenes situation, black-ish creator and showrunner Kenya Barris (Girls Trip) is reportedly severing his relationship with ABC Studios and set to become the next producer to sign a major nine-figure overall deal with Netflix. Barris' deal with ABC Studios would end in August 2018, as both sides have negotiated an early exit from the reamining three years of his contract.
Though Netflix has declined comment on a potential deal, Barris did release the following statement:
"I'm very grateful to Patrick Moran and his team at ABC Studios, who have supported me every step of the way as I created the worlds of Black-ish, Grown-ish and now Besties. It has been an incredible ride including a Peabody and Golden Globe win, Emmy nominations, and many other accolades. But most importantly, they've allowed me to realize my dream of creating my own shows and I'm so proud of the work we've done together. No matter what, the studio has never wavered in their support of my creative vision. Leaving is bittersweet, but between my series on the air and projects currently in development, I know I'll continue to work with ABC Studios for a long time."
Reports began to surface in May that Barris had grown dissatisfied with the studio over a number of issues, not the least of which was the controversy surrounding ABC pulling an episode of black-ish (ee below). The Peabody-winning and Emmy-nominated creator will remain an executive producer on all of his current shows. Executive producers Jonathan Groff and Kenny Smith have been promoted to co-showrunners for black-ish; and Julie Bean will continue serving as showrunner on Freeform's grown-ish.
Barris would join Shonda Rhimes (Scandal, Grey's Anatomy) and Ryan Murphy (Glee, American Crime Story) with major production deals at Netflix; and as broadcast, cable, and streaming services continue competing for exclusive content, Netflix is also reportedly talking to Modern Family co-creator Steve Levitan, Family Guy's Seth MacFarlane and Shameless' John Wells. Netflix has now dealt ABC Studios a double blow, leaving the network without their top comedy (Barris) and drama (Rhimes) producers.
Reports of growing tensions between Barris and ABC Studios were further aggravated by ABC's decision to pull the February 27th episode of black-ish ('Please, Baby, Please') over what the network and the show's creator vaguely described as "creative differences." The Barris-directed episode took place in the middle of an overnight storm that ends up keeping the entire Johnson family awake. Dealing with a baby who hasn't the time nor the patience for all of the noise, Dre (Anthony Anderson) attempts to read his son a bedtime story – only to make matters worse. In a moment of parental desperation, Dre begins to improvise a bedtime story that conveys a number of his political and societal concerns over the course of the episode; including an exchange between Dre and his oldest son Junior (Marcus Scribner) over the right for athletes to "take a knee" during the playing of The National Anthem at sporting events.
During the network's upfront press call in May 2018, ABC Entertainment President Channing Dungey attempted to clarify the network's position — but her use of the phrase "which was not even really the issue" didn't challenge the assertion that ABC pulled the episode over concerns of push-back over what some may view as a politically and socially charged storyline:
"We've long been supportive of Kenya and his team tackling challenging and controversial issues in the show; and we've always, traditionally, been able to come to a place creatively where we felt good about the story that he was telling even if it felt like it was pushing some hot buttons.

With this particular episode, there were a number of different elements to the episode that we had a hard time coming to terms on. Much has been made about the kneeling part of it, which was not even really the issue, but I don't want to get into that. At the end of the day, this was a mutual decision between Kenya and the network to not put the episode out."