Kidding Season 1, Episode 7 'Kintsugi': Imperfectly Perfect in Every Way
Welcome to Bleeding Cool's weekly review of the first season of Showtime's Kidding as we take a look at the inaugural run's seventh episode 'Kintsugi.' The dramedy marks Jim Carrey's (The Truman Show) return to television in a series regular role, teaming with his Eternal Sunshine of the Spotless Mind helmer and series director Michel Gondry on the 10-episode season.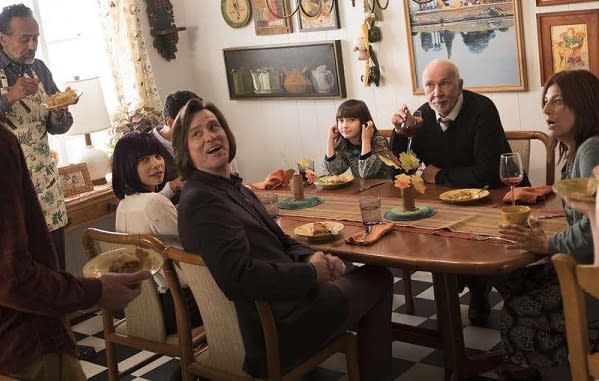 It's not exactly front page news to say that Kidding's Jeff "Mr. Pickles" Piccirillo's (Carrey) has some serious issues: a year after his son Phil's tragic death, Jeff finds his personal and Mr. Pickles' Puppet Time lives playing not-so-nicely with each other and everyone – especially dad/producer Seb (Frank Langella) – is getting concerned. But for Jeff to reclaim his life, it might be time for Jeff Piccirillo and "Mr. Pickles" to work together.
While all of that is going on, the show receives a visit from "Mr. Pickles-san," the Mr. Pickles of Japan who's arrived stateside to shadow Jeff on the set of Mr Pickle's Puppet Time for a few weeks. With Jeff's living situation being slightly "complicated" right now, it's up to Deirdre (Catherine Keener) and Scott (Bernard White) to play host to Mr. Pickles-san – and how his visit is just one of many exceptional and thought-provoking moments from 'Kintsugi' as the series continues to develop its own identity.
Spoiler Warning: I'll be covering some themes and takeaways involving major and minor plot points from the episode, so please keep that in mind. Definitely not looking for pitchforks and torches outside my apartment.
Kidding s01e07 'Kintsugi': Jeff goes off script and starts to speak more honestly to children on Puppet Time as Seb panics that Jeff will soon have to appear on live television for the National Tree Lighting Ceremony. Deirdre and Scott get a new visitor from Japan – Mr. Pickles-San. The Pickles have Thanksgiving as a family.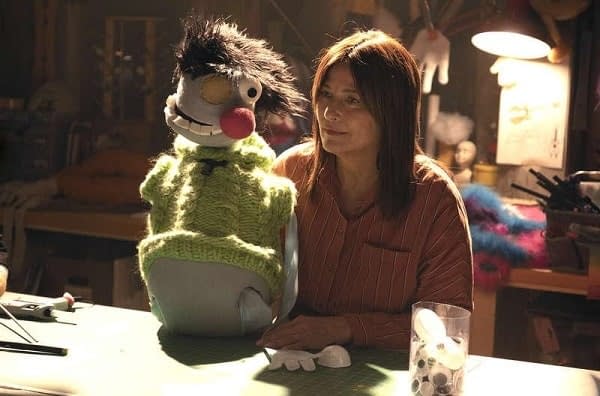 Here's a look ahead at the next episode of Kidding, 'Philliam':
Kidding s01e08 'Philliam': Jeff meets the son of his pen pal, an inmate on death row, and decides to help him.
Get yourself caught up on the season with a look back at our reviews of last week's episode 'The Cookie':