"Legion" Season 3, Episode 4: "Chapter 23" Time Demons Say Hey
Legion has never been a show that I would call reserved. Nothing about that show, from the first episode forward, has been anything less than a full-tilt assault on the senses. Even episode 22, which introduced Charles Xavier (Harry Lloyd) and Gabrielle Haller (Stephanie Corneliussen ) in a relatively bug-out free excursion, still managed to pull off some curve-balls.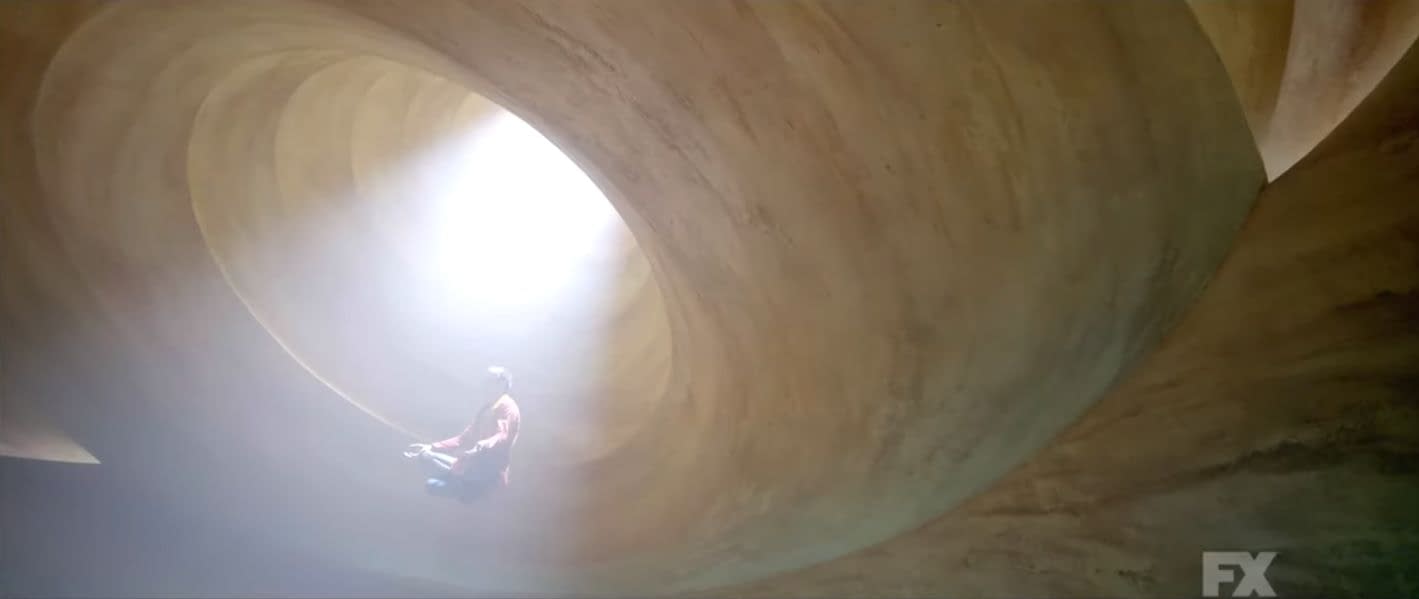 Which brings us to Chapter 23. David has been tampering with time, and Switch (Lauren Tsai) has been warned about the repercussions of this. There are demons that live right outside of time, and they wait for a chance to get loose and devour the time-stream. They are shadowy beings, made of smoke— with bright, shining eyes, and a Cheshire cat grin. They move in a flickering, jerky staccato between the ticks of the second hand on the clock.
And, guess what? It's all David's (Dan Stevens) fault. His zeal to tamper with time, to stop his father from confronting Amahl Farouk (David Negahban) in the past has led the timeline of the future to fracture. Time loops are a plague, with people repeating the same moment over and over— and those time demons are everywhere, looking to snatch up easy prey.
Lenny (Aubrey Plaza) lives out an entire lifetime at one point. She also appears to be done with David and his crap. He pulls a creepy "happy vibe" on his followers at one point, since "Daddy" needs them all to stop asking questions. The sycophants collapse in ecstasy, but Lenny shakes it off. She's finding David's game tiresome, and if David can't keep his oldest ally happy, things could get even uglier than they have been on Legion
David ends up in some sort of time prison, where he meets his mother directly. We get more history on Gabrielle, and we also get to see how intensely powerful David really is. The Time Demons think they can use time tricks to stop the Omega level mutant— and it works for a while— but their confidence is their undoing.
Rachel Keller has some heartbreaking material to work with. At one point, the time distortions bring Syd's 15 year old self face to face with her modern counterpart, and the resulting scenes are powerful and raw. Syd's powers could make for an incredibly lonely life, and the two Syds try and map out their lives together.
Until, you know, the time demons come.
I knew when Legion introduced Switch at the beginning of the season that there would be some interesting takes on time travel, and "Chapter 23" is proof of purchase on that front. I have never seen time travel, and the dangers inherent in it, portrayed quite like this. There is nothing fun and jokey about time travel on Legion— it's a dangerous, destructive practice, and the ramifications that result in its use are shown in pure, horrifying fashion.
The Time Demons of Legion are pure terror incarnate. They look like someone saw Jeremy, the already deranged looking No Where Man from The Beatle's Yellow Submarine Cartoon, and decided that the concept was far too mellow. The reveal of these creatures was a nightmarish slow build— we don't ever clearly see one, but each time they are shown, they are just a little more in focus, a little more terrifying.
There were a lot of great things happening in this episode of Legion, but Dan Stevens is taking David's intensity up about 10 notches. He's not grappling with insecurity anymore. David thinks himself a god, and every single thing is about him. Even the Time Demons are just a nuisance— particularly resilient flies that need a more progressively powerful series of fly-swatters.
I'm not even going to go into the Astral Plane trip that Farouk, Kerry (Amber Midthunder), and Clark (Hamish Linklater) went on. Words escape me. Also, messing with viewers by glitching into an episode of The Shield? Seriously. This whole episode was built to mess with your head.
Monday, July 22nd, FX will be releasing "Chapter 24," the next episode of Legion. What's going to happen? Who knows. Half of the fun is watching the reveal on a show like this!
https://youtu.be/w60S3jC-odg