Wow–the mythology of the Old Ones has always fascinated me about The Strain, both in the comic and the TV show (haven't read the original novel yet but really should). This issue, #7 of The Night Eternal is arriving on March 18th and really rips the lid off those questions, showing you an up close and personal but entirely original take on angels and demons within Guillermo Del Toro's horror universe. You might recall, if you've been following The Strain in its various media formats that the art design for the comic was actually created at the same time as that of the show with Del Toro's involvement and there are plenty of shot for shot similarities, too, so watch out for the return of the show this season if you're a fan of the comic.
Here's the cover by E.M. Gist: The artwork in this issue is nicely creepy, too, giving a kind of fish-eyed look to these beings that reminds me a little of the "mermen" in Sean Murphy's The Wake with Scott Snyder. Somewhat human but somehow entirely other. Well played Mike Huddleston! Writer David Lapham is also giving us a remarkable sweep of history here to enrich the story.
Here's our especially creepy preview of The Night Eternal #7 in The Strain series from Dark Horse: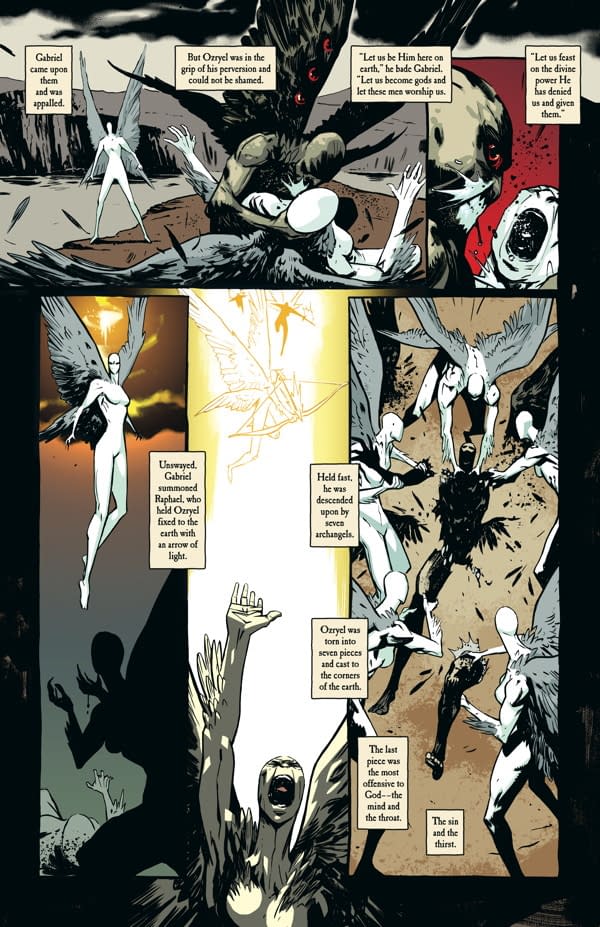 The Strain: The Night Eternal #7 arrives in shops on March 18th, and is currently listed in Previews World with item code: JAN150107
Enjoyed this article? Share it!