Lion Forge, home of Catalyst Prime (now with added Gail Simone), has another title to launch in November: a certain Quincredible (which they trademarked earlier in the year).
QUINCREDIBLE #1
SEP181865
(W) Rodney Barnes (A) Kelly Fitzpatrick, Selina Espiritu (CA) Michelle Wong
Quinton, a high school sophomore, is looking to live his best life by moonlighting as a superhero. The catch? His power is invulnerability . . . and that's the only power he has.
In Shops: Nov 07, 2018
SRP: $3.99
---
DINOSAUCERS #4
SEP181866
(W) Michael Uslan (A) Jason Millet (A/CA) Andrew Pepoy
The Secret Scouts and the Dinosaucers team up against the Tyrannos in an all out war! With a plan up their sleeves to exploit the Tyrannos' weakness, can the Secret Scouts and their new allies take down Rex and his armada? Meanwhile on Reptilon, Quackpot unleashes a secret weapon against the Resistance-but Princess Dei has a secret weapon of her own!
In Shops: Nov 14, 2018
SRP: $3.99
---
WATERSNAKES HC
APR188501
(W) Tony Sandoval (A/CA) Tony Sandoval
Mila is a solitary teenager ready to put another boring summer vacation behind her until she meets Agnes, an adventurous girl who turns out to be a ghost. And not just a regular ghost, but one carrying the essence of an ancient fallen king and a mouth full of teeth that used to be his guardian warriors.
Three-time Eisner Award-nominated writer/artist Tony Sandoval presents a wondrous world of secret places and dreamlike magic hidden in the everyday corners of our sleeping imagination.
In Shops: Nov 07, 2018
Final Orders Due: Dec 31, 2039
SRP: $19.99
---
ROLLED AND TOLD #3
SEP181868
(W) E.L. Thomas, Josephine Yanasak (A) Wendy Xu, Jen Vaughn, Little Corvus, Maddi Gonzalez, Jack McGee (A/CA) Koi Carreon
Going back to school can be hectic. When a school for wizards that exists in an extra dimensional space is quickly collapsing and taking a class of apprentices along with it, hectic doesn't quite cover it! So, bring your favorite group of players and battle against time, warped magic, and whatever nefarious evil is about to make School Out Forever.
In Shops: Nov 28, 2018
SRP: $7.99
---
VOLTRON LEGENDARY DEFENDER VOL 3 #5 CVR A YAMASHIN
SEP181869
(W) Mitch Iverson (A) Beni Lobel, Rubine (CA) Mariko Yamashin
As the battle continues on with Voltron winning against the massive Galra forces, a new threat arises. Nobody ever said being a Paladin was easy, what with being defenders of the universe and all. But all is not lost as the rebel planets come to their aid in a massive final stand to defend themselves against the Galra Empire. The Galra have controlled the universe for far too long, and now the universe is fighting back with Voltron leading the charge. Don't miss out on the climactic conclusion of the third volume of Voltron Legendary Defender!
In Shops: Nov 14, 2018
SRP: $3.99
---
VOLTRON LEGENDARY DEFENDER VOL 3 #5 CVR B DI NICUOLO & BAIAM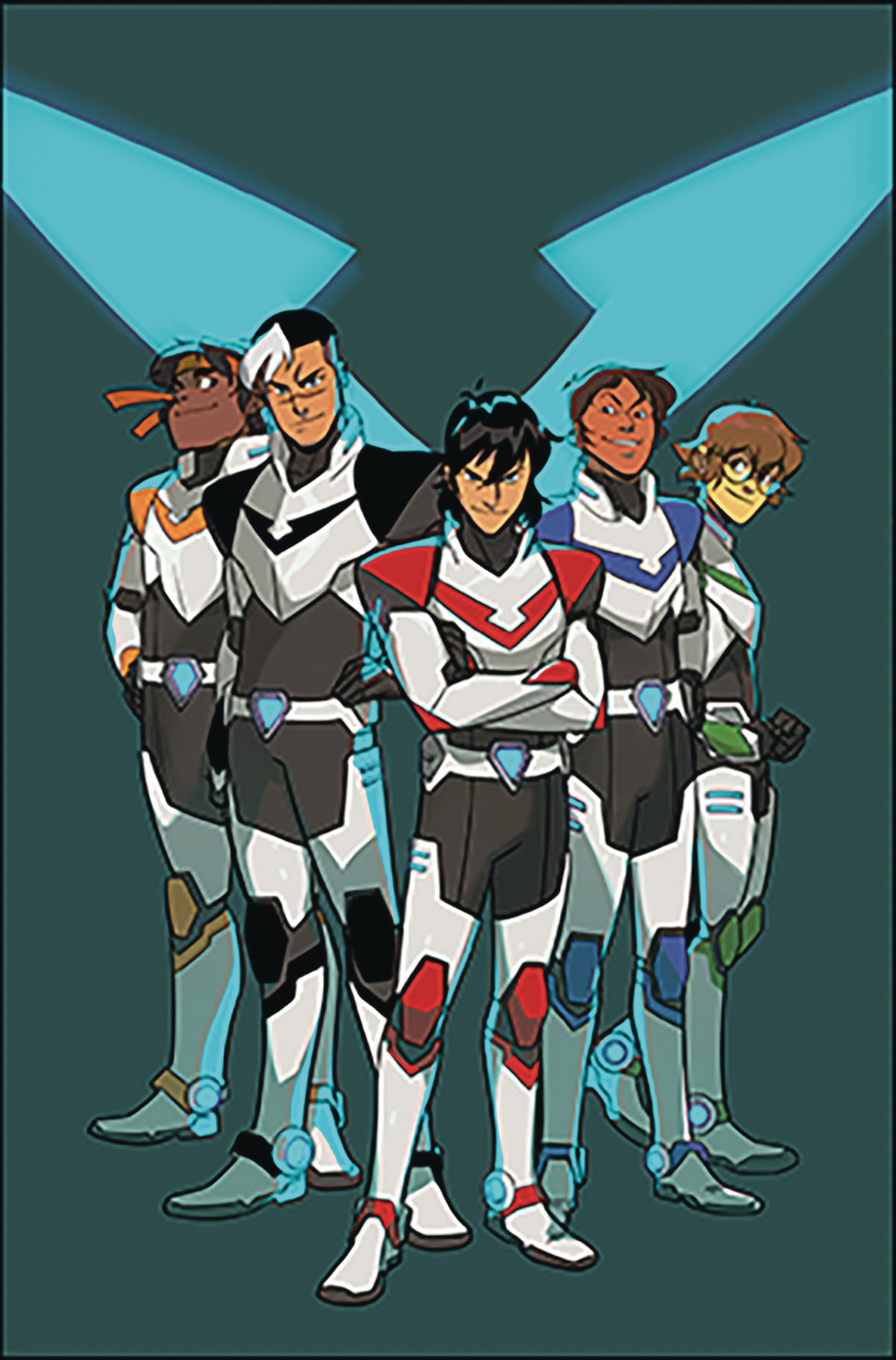 INFINITY 8 #7 (MR)
SEP181871
(W) Lewis Trondheim, Fabien Vehlmann (A/CA) Olivier Balez
Marshal Emma O'Mara is dedicated not only to capturing rogue criminals but promoting the peaceful teachings of the Tholmanist space church. When the Infinity 8 cruise ship is stopped by the mysterious barricade of artifacts and debris, she uses her network of criminal underworld contacts to negotiate a plan to find a fabled apocryphal text. But as she well knows, there is no honor among thieves . . .
In Shops: Nov 21, 2018
SRP: $3.99
---
ORPHANS GN VOL 02
MAR188361
(W) Roberto Recchioni (A/CA) Emiliano Mammucari
The dramatic story of the deadly Orphans squad continues, focusing on the trials of their training as children paralleled with their conflict on the front line of the alien war planet. Seeds of discord from their past blossom into flowers of vengeance as horrible, conspiratorial secrets are revealed. This second volume of the popular series ends with a major twist revelation that will change the entire nature of the series.
In Shops: Nov 07, 2018
Final Orders Due: Dec 31, 2039
SRP: $19.99
CATALYST PRIME SUMMIT #10
SEP181875
(W) Amy Chu (A) Cresta, Marika (CA) Jess Taylor
Val Resnick Baker never wanted superpowers. She wanted to be an astronaut, but life has a funny way of developing. After all her trials and her takedown of MaxGenz, Val has gotten her wish: no more superpowers. But since life is funny, the voices in her head have returned. Before Val can figure out what the voices mean, she's sent on the run from a spiraling conspiracy set against her.
In Shops: Nov 21, 2018
SRP: $3.99
CATALYST PRIME ACCELL #15
SEP181877
(W) Joe Casey (A/CA) Ramon Bachs, Sigmund Torre
Daniel Dos Santos is getting used to his life changing almost as fast as he can run, but what's happening now might be a bit much, even for him. After his devoted girlfriend Monica decides she's had too much of getting too little of Daniel's attention, her hell bent father unleashes a trio of monstrous supervillains on him.
Maybe that wouldn't be so bad if Daniel wasn't also grappling with a newly discovered side effect of his powers-the insane revelation that his body has begun to physically merge with the Stream when he uses them. And now that this bizarre metamorphosis has started, he might not be able to stop it.
In Shops: Nov 14, 2018
SRP: $3.99
---
CATALYST PRIME NOBLE #13
SEP181878
(W) Brandon Thomas (A) Manuel Garcia, Chris Sotomayor (CA) Khary Randolph, Emilio Lopez
An encounter with the mysterious Orwell leaves David unable to control his powers, and the city turns against Noble, as the final pieces of Orwell's plan fall into place. Meanwhile, Astrid faces new threats in her pursuit of Esparza, and the trail of bodies he leaves behind him continues to grow.
In Shops: Nov 07, 2018
SRP: $3.99
---
CATALYST PRIME ASTONISHER #12
SEP181879
(W) Christopher Priest (A) Matt Banning, Al Barrionuevo, Jamie Grant (CA) Leonardo Colapietro
Magnus has the opportunity to save Drew's life, but his desires to further explore the depths of the astral plane and his own powers prove to be a difficult hurdle for him to overcome, even for his own brother.
In Shops: Nov 14, 2018
SRP: $3.99
---
CATALYST PRIME INCIDENTALS #14
SEP181880
(W) Ramon Govea, Brandon Easton (A) Jose Jaro, Snakebite Cortez (CA) Ryan Brown
In this final chapter you've been waiting for, Seven and the Incidentals take on Goel, his cult, and the terrors at his command. Tired of running and closer to her team than before, Seven is ready to take on the man who damaged both her and Martina's lives irrevocably. But the past isn't an easy thing to overcome, especially when the past takes on the living shape of demons ready to kill you and your friends.
In Shops: Nov 28, 2018
SRP: $3.99
---
CATALYST PRIME KINO #11
SEP181881
(W) Alex Paknadel (A) Adam Guzowski, Diego Galindo (CA) Frazer Irving
Alistar Meath has found his family, and with them stands an imposter wearing his face. Alistair isn't sure who this man is, just that he's living Alistair's life without the scars to show for it. On the streets, Alistair meets a woman who offers him guidance, while Coal and Gilmour have a rough reunion.
In Shops: Nov 28, 2018
SRP: $3.99
---
ENCOUNTER #8
SEP181882
(W) Art Baltazar, Franco (A) Stephen Mayer (A/CA) Chris Giarrusso, Art Baltazar
Encounter and Barko are seeing double. But how can they tell the real Kayla from the fake? It could be the end for Champion! Game shows aren't just for TV, and this one is pulling back the curtain on the villain behind it all. Now is the time to tell friend from foe . . . and family?!
In Shops: Nov 21, 2018
SRP: $3.99
Enjoyed this article? Share it!