We all know that Locust Moon's Little Nemo: Dream Another Dream took home a bunch of Eisners this year (and if you don't, shame on you) and is also nominated for some Harvey awards. The publisher is ready to make a new slate of announcements today that include a team up with Toon Books, a new Quarter Moon Anthology, an original graphic novel, and a partnership with the Philadelphia Museum of Art for a mythology-inspired graphic novel featuring some major talent. [Little Nemo's Big New Dream cover by Charles Vess and Roger Langridge]
Firsty, on September 1st, Locust Moon are partnering with Francoise Mouly's comics-for-young-readers imprint Toon Books to release Little Nemo's Big New Dreams, a miniature, abridged edition of their giant Nemo tome. The joint effort will be designed by Francoise and feature an illustrated introduction by Art Spiegelman.  It will contain 30 of the 118 strips collected in Little Nemo: Dream Another Dream in an edition appropriate for "libraries, schools, backpacks, picnics, airplanes, and budgets without room for triple-digit literary line-items," to quote Locust Moon's publisher Josh O'Neill. [Quarter Moon: Impractical Cats cover by Lisk Feng]
Quarter Moon: Impractical Cats is described by Locust Moon as "a wild leap forward for Locust Moon's quarterly comics anthology, featuring contributions from an all-star line-up of top comics creators like Paul Pope, Bill Sienkiewicz, Ronald Wimberly, David Mack, Dean Haspiel, Farel Dalrymple, and more". The sixth issue of the comics and illustration magazine will debut at Comic Arts Brooklyn.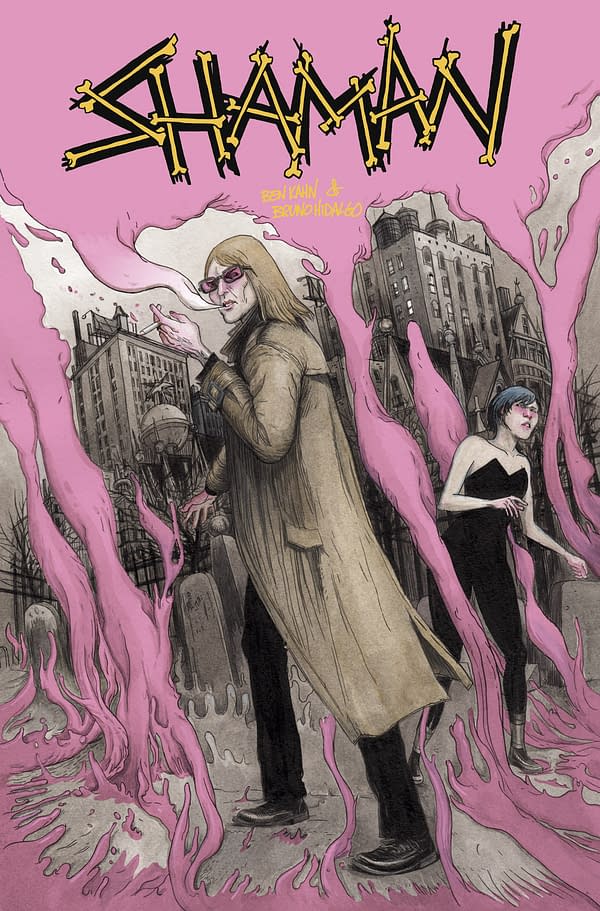 [Shaman Cover by Farel Dalrymple]
The original graphic novel Shaman represents the debut of Ben Kahn and Bruno Hidalgo. Described by O'Neill as "a gleeful dismemberment of superhero tropes," Shaman examines "the one man in control of superhero comics' infamous revolving door of death". Shaman hits comic shop shelves on October 15th.
Finally, Locust Moon announces that they have launched a partnership with the Philadelphia Museum of Art to produce a companion to the Museum's upcoming Wrath of the Gods exhibition. The exhibition, featuring pieces by Rubens, Michelangelo, and Titian, will focus on Rubens' Prometheus Bound painting and the many works connected to it. The comic, entitled Prometheus Eternal collects an array of original adaptations of the Prometheus myth drawing from the artwork exhibited at the Museum. It will feature a cover by  Bill Sienkiewicz, and contributors including Grant Morrison, David Mack, Paul Pope, Farel Dalrymple, Yuko Shimizu, and Dave McKean.

[Prometheus Eternal panel by Dave McKean]
The book debuts alongside the Wrath of the Gods exhibition at the Museum on September 12th. It will be available in comic shops in December.
Locust Moon's Josh O'Neill says:
This is an opportunity for us to bring the visions of remarkable comics storytellers to the context in which they deserve to be seen: among the great artworks of the ages. This partnership is a chance to put comics in conversation with the rest of art history. PROMETHEUS ETERNAL is intended to be the first comic project of many with the Museum. This is the beginning of a beautiful friendship between Locust Moon and the Philadelphia Museum of Art.
Enjoyed this article? Share it!