Mr. Mercedes Season 2: Bleeding Cool's Viewing Guide
With the second season of Audience Network's Mr. Mercedes set to premiere on Wednesday, August 22, at 10 p.m. ET, Bleeding Cool has pulled together a viewer's guide to get you ready for the new season.
Based on Stephen King's Bill Hodges trilogy (Mr. Mercedes, Finders Keepers, and End of Watch), the first season focused on a demented serial killer who taunts a retired police detective through a series of disturbing letters and emails. Knowing he's the only one who can stop the killer, the ex-cop undertakes a personal and deadly mission to stop his murderous reign before he claims another victim. First up, a look back at the first season through the Audience Network's official and "This season on…" trailers (and you can check out individual episode video here at the official YouTube channel):
A demented serial killer interrupts a detective's retirement, opening old wounds and orchestrating new havoc. Starring Brendon Gleason and Harry Treadaway. Based on Stephen King's best-selling Bill Hodges Trilogy, which includes Mr. Mercedes, Finders Keepers and End of Watch. Directed by Jack Bender and adapted by David E. Kelley.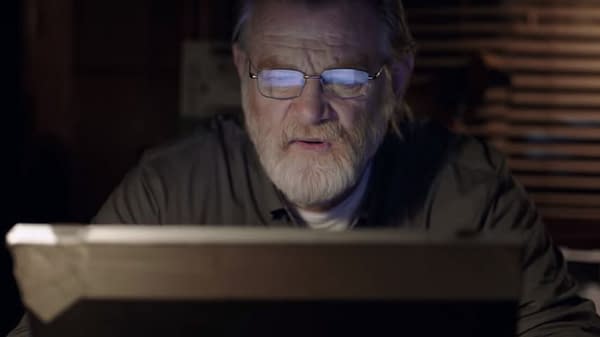 Here's a look at the official trailer for the second season of Mr. Mercedes, as well as a rundown on the first two episodes and look at who's joining the cast this season:
The series picks up a year after Brady Hartsfield's (Harry Treadaway) thwarted attempt to perpetrate a second mass murder in the community of Bridgton, Ohio. Since the incident, Hartsfield has been hospitalized in a vegetative state.

Retired Detective Bill Hodges (Brendan Gleeson) has done his best to move on from his Brady obsession, teaming up with Holly Gibney (Justine Lupe) to open Finders Keepers, a private investigative agency. But when unexplainable occurrences begin to affect hospital staff members attending to Brady, Hodges is haunted by the feeling that Brady is somehow responsible.

Mr. Mercedes s02e01 'Missed You': With Brady hospitalized, Hodges and Holly rebuild, opening private investigative agency Finders Keepers. Brady's care falls to Dr. Babineau, an ambitious neurosurgeon, with input from his brilliant wife, Cora.

Mr. Mercedes s02e02 "Let's Go Roaming': Hodges struggles with his cases at Finders Keepers, putting him at odds with a concerned Holly. Sadie senses a shift in Brady's medical state and informs Dr. Babineau. Jerome arrives home from Harvard for the summer.
Returning for Mr. Mercedes season 2 are Brendan Gleeson as Detective Bill Hodges, Harry Treadaway as Brady Hartsfield, Jharrel Jerome as Jerome Robinson, Scott Lawrence as Detective Peter Dixon, Breeda Wool as Lou Linklatter, Justine Lupe as Holly Gibney, Nancy Travis as Donna Hodges, and Holland Taylor as Ida Silveris. Joining them are Jack Huston (Boardwalk Empire) as Brady Hartsfield's doctor Dr. Felix Babineau, Tessa Ferrer (Grey's Anatomy) as Dr. Babineau's wife Cora Babineau, and Maximiliano Hernandez (Sicario) as Assistant DA Antonio Montez.

The cast and crew of Mr. Mercedes offers a look behind the scenes at the filming of season 2, teasing what viewers can expect when the series returns:

The Virtual Reality Escape Room incorporated footage directly from the set of Season 2, giving participants a chance to escape Brady's lair before time ran out:
Here's an inside look at the Mr.Mercedes Immersive Experience from 2018 San Diego Comic-Con (SDCC):

If you still haven't gotten your fill yet, we also have two additional teaser trailers for your approval:

Here's a look at some of Bleeding Cool's past coverage…enjoy!
Mr. Mercedes Season 2: Brendan Gleeson, Harry Treadaway on Hodges/Brady Dynamic
Mr. Mercedes Season 2: Brady's Got a Mind for Mayhem and Murder in New Trailer
Brady Remains a Threat to Hodges in 'Mr. Mercedes' Season 2 Teaser
Mr. Mercedes Season 2 Adds Boardwalk's Huston, Sicario's Hernandez
'Mr. Mercedes': Audience Renews Stephen King Series For Season 2
Stephen King's Mr. Mercedes Becomes His 5th Live-Action Adaptation Coming In 2017
'Mr. Mercedes' Trailer: Brendan Gleeson Hunts Killer In King Adaptation