Original Sin Keeps Amazing Spider-Man Off Top Spot For Advance Reorders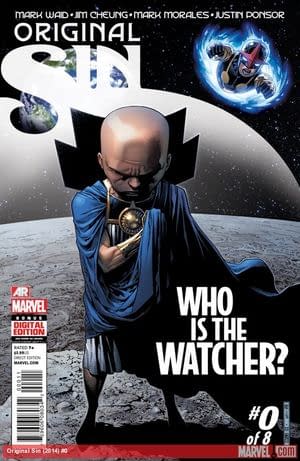 Greetings from the coal face of the direct comics market. Where retailers try to increase their orders of certain comics ahead of sale. Where supply and demand and most accurately reflected, where you can see which books are hot, where new orders are coming in and how retailers are reacting to new, unanticipated desire!
Amazing Spider-Man #1 may have over half a million orders from comic shops. But it's Original Sin #0 by Mark Waid and Jim Cheung that's been getting the heavy advance reorder activity this past week. It, like Amazing Spider-Man #1, has incentives for retailers to up their orders, with added discount to retailers who exceed 200% of their Avengers #25 orders. But Elektra and Guardians Of The Galaxy have no such incentives, retailers need more of them on release. There's also signs that more customers are signing on for the Batman Eternal weekly experience, and retailers are upping numbers to accommodate. Daredevil and Fuse seemed to do well enough for retailers to up orders on subsequent issues and the Secret Origins release is also picking up attention.
And then, as always, there is The Walking Dead. Although on the already-released list, Saga is now its main rival…
| | | | |
| --- | --- | --- | --- |
| | Product | Price | Publisher |
| | ORIGINAL SIN #0 | $4.99 | MAR |
| | AMAZING SPIDER-MAN #1 ANMN | $5.99 | MAR |
| | ELEKTRA #1 ANMN | $3.99 | MAR |
| | GUARDIANS OF GALAXY #14 | $4.99 | MAR |
| | BATMAN ETERNAL #3 | $2.99 | DC |
| | GUARDIANS OF GALAXY #12 2ND PTG DEODATO VAR ANMN | $3.99 | MAR |
| | DAREDEVIL #2 ANMN | $3.99 | MAR |
| | SECRET ORIGINS #1 | $4.99 | DC |
| | WALKING DEAD #126 (MR) | $2.99 | IMA |
| | GOTG ALL NEW X-MEN TRIAL OF JEAN GREY PREM HC | $24.99 | MAR |
| | ELEKTRA #1 YOUNG VAR ANMN | $3.99 | MAR |
| | FUSE #3 CVR B MCKELVIE (MR) | $3.50 | IMA |
| | CAPTAIN MARVEL #1 (OF 6) 2ND PTG LOPEZ VAR ANMN | $3.99 | MAR |
| | WALKING DEAD #117 3RD PTG (MR) | $2.99 | IMA |
| | MS MARVEL #2 2ND PTG MCKELVIE VAR ANMN | $2.99 | MAR |
| | ALL NEW X-MEN #23 2ND PTG KEOWN VAR ANMN | $3.99 | MAR |
| | MMW AVENGERS HC VOL 14 | $69.99 | MAR |
| | JUSTICE LEAGUE UNITED #0 (EVIL) | $3.99 | DC |
| | DEADPOOL TP VOL 04 DEADPOOL VS SHIELD | $15.99 | MAR |
| | DCD SUMMIT 2014 AMAZING SPIDER-MAN #1 | $3.25 | MAR |
| | DEADLY CLASS #2 2ND PTG (MR) | $3.50 | IMA |
| | FANTASTIC FOUR #2 2ND PTG KIRK VAR ANMN | $3.99 | MAR |
| | MMW AVENGERS HC VOL 14 DM VAR ED 208 | $69.99 | MAR |
| | SUPERMAN #30 (DOOMED) | $2.99 | DC |
| | DAREDEVIL #2 CAPTAIN AMERICA TEAM UP VAR ANMN | $3.99 | MAR |
And for comics already published…
| | | | |
| --- | --- | --- | --- |
| | Product | Price | Publisher |
| | SAGA TP VOL 03 (MR) | $14.99 | IMA |
| | WALKING DEAD COMPENDIUM TP VOL 01 (MR) | $59.99 | IMA |
| | WALKING DEAD COMPENDIUM TP VOL 02 (MR) | $59.99 | IMA |
| | SAGA TP VOL 02 (MR) | $14.99 | IMA |
| | STRAY BULLETS UBER ALLES ED TP (MR) | $59.99 | IMA |
| | SPIDER-MAN BY ROGER STERN OMNIBUS HC | $125.00 | MAR |
| | WALKING DEAD TP VOL 01 DAYS GONE BYE | $14.99 | IMA |
| | SAGA TP VOL 01 (MR) | $9.99 | IMA |
| | WALKING DEAD TP VOL 20 ALL OUT WAR PT 1 (MR) | $14.99 | IMA |
| | AVENGERS VS X-MEN TP AVX | $34.99 | MAR |
| | BATMAN TP VOL 01 THE COURT OF OWLS (N52) | $16.99 | DC |
| | BATMAN HUSH COMPLETE TP | $24.99 | DC |
| | WALKING DEAD TP VOL 02 MILES BEHIND US (NEW PTG) | $14.99 | IMA |
| | SUPERIOR SPIDER-MAN ANNUAL #2 | $4.99 | MAR |
| | NEMO ROSES OF BERLIN HC (MR) (C: 1-0-2) | $14.95 | TOP |
| | WALKING DEAD TP VOL 19 MARCH TO WAR | $14.99 | IMA |
| | BATMAN THE KILLING JOKE SPECIAL ED HC | $17.99 | DC |
| | CAPTAIN AMERICA WINTER SOLDIER ULTIMATE COLLECTION TP | $24.99 | MAR |
| | WALKING DEAD TP VOL 03 SAFETY BEHIND BARS | $14.99 | IMA |
| | LOCKE & KEY HC VOL 06 ALPHA & OMEGA | $29.99 | IDW |
| | BATMAN BY DOUG MOENCH AND KELLEY JONES HC VOL 01 | $39.99 | DC |
| | BATMAN TP VOL 02 THE CITY OF OWLS (N52) | $16.99 | DC |
| | UNCANNY X-MEN #19.NOW ANMN | $3.99 | MAR |
| | JOKER DEATH OF THE FAMILY HC (N52) | $29.99 | DC |
| | HELLBOY FIRST 20 YEARS HC (C: 0-1-2) | $19.99 | DAR |