Will Romine writes:
Hello, friends of mine! About four months ago, I became a father. Tomes have been written about those first moments, when the doctor hands you your minutes-old child. There is a rush of so many seemingly contradictory emotions that dissecting and fully comprehending them can take months, years, or even a lifetime. This rush is unlike anything I've personally experienced — and I once got a high five from Jennifer Lawrence.
Astonishment forms the backbone of this deluge, as you consider the past nine months and how this tiny, wiggly bundle went from being a Doppler 5000 sonogram blur to the fully formed human being in front of you. Pangs of dread swirl within these feelings as you think of every Tamagotchi and goldfish that erroneously placed their future in your hands. You failed them; how will this time be any different? The stakes are higher, and the mistakes more costly. Then, as you hold that 6 pound 7 oz miracle, a simple yet profound truth grips you. You are daddy. You're not going to do it perfectly; no one ever does. But it's an adventure that you take together. Sometimes the diapers go on backwards, other times you mix up the water-to-formula powder ratio. But you both move forward and make the best of it. I'm happy to say that my daughter, Amara Romine, has inherited only the best parts of me and her mother. She is smart, personable and, as I'm writing this, drooling on my arm.
Now that I'm a few months into the job, my thoughts have gone to other aspects of parenting. Since time immemorial, parents have tried to pass on their values and life lessons to their offspring. Sometimes they're successful, which forms the basis of nearly all organized religion. Other times, the apple falls far from the tree. I truly want my daughter to find the satisfaction and joy that I have found as a geek. However, I realize that, though she is 50% me, she is 100% her. She will invariably find her own tribe, but as a parent, it is my moral responsibility to at least introduce her to the films, comics, TV, and music that guided me through my formative years. Luckily, I've discovered some products that repackage the best of pop culture into kid-friendly bites. The products reviewed below all have the Amara Romine stamp of approval. Enjoy.
X-Files: Earth Children Are Weird – Illustrated by Kim Smith
X-Files: Earth Children are Weird is the first in what I hope will be a series of books that follow the adventures of a pint-sized Scully and Mulder. In the grand tradition of Muppet Babies, this book gives us a peek into the non-canon exploits of our two FBI agents as children. Much like their adult counterparts, they still deal with extraterrestrial and paranormal anomalies, albeit grounded in the overactive imagination of childhood. I thought this book did a good job of converting typically adult fare into a child-friendly format. A charming and kid friendly introduction to The X-Files. I just hope to God they don't try to adapt Home into this series.
Beat Bugs
This review isn't tied to a specific product, but to a franchise. Thanks goes out to my super special secret Santa for sending me a boatload of Beat Bugs merch. Beat Bugs is an Emmy Award-winning Netflix series about a group of cartoon bugs who go on adventures and sing songs by The Beatles. The toy line is diverse, ranging from figures that react to the show in real time to board books with built-in sound effects. I used to think that there was a special place in hell for people who bought sound-generating toys for kids, but I honestly don't tire of these. I could listen to these kid-friendly renditions of Beatles classics all day. I guess I kind of have to, now that Amara is into them.
A Die Hard Christmas: The Illustrated Holiday Classic
This week, Canadian Prime Minister Justin Trudeau settled the debate once and for all of whether Die Hard is a Christmas movie. However, writer Doogie Horner and illustrator JJ Harrison took a position long beforehand when they released A Die Hard Christmas: The Illustrated Holiday Classic. This inventive book recounts the Christmas — yes, Christmas — tale of John McClane as he engages in a delightful holiday romp through Nakatomi Plaza whilst overcoming great obstacles to be with his family for the holidays. The whole gang is there, including Hans Gruber, John McClane, and our favorite not-Carl Winslow cop, Sergeant Al Powell. I read it to Amara, and she throughly enjoyed it. I think we've found a new Romine family holiday tradition!
Nano Metalfigs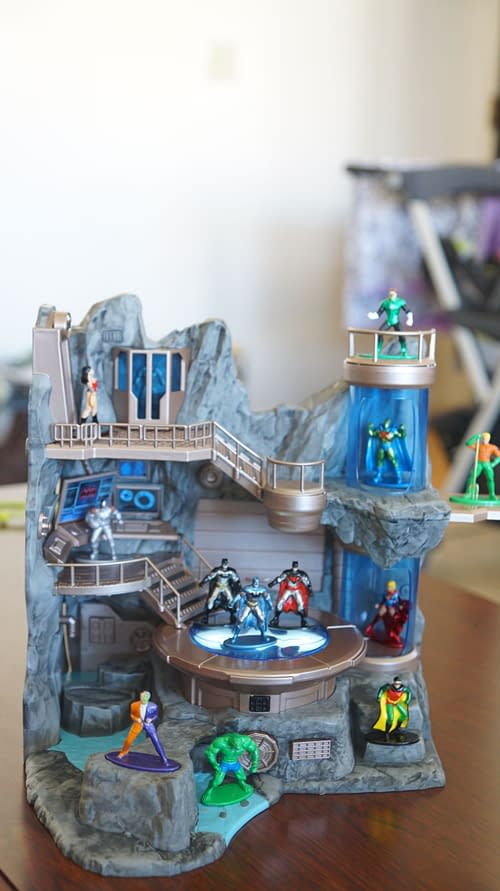 To be honest, I probably wouldn't give these to my daughter quite yet. Pointy pieces of metal aren't exactly infant-friendly, but they look absolutely beautiful on my "look but don't touch" shelf. Jada Toys are throwing their hat into the blind-box collectable figure ring, but with a twist. Where other companies are pushing the limits on PVC molding, Jada is branching out into metal. Just pick one of these up and you'll feel the difference. These things won't bend, break, or warp. Jada currently has licenses from DC, Marvel, WWE, Street Fighter, Harry Potter, Disney, and more. These figures can be displayed as is or placed tastefully in one of their play sets. The only downside is that they hurt worse than LEGO when stepped on. Maybe they'll stay on my shelf.
Hope you all had as much fun reading as I did writing, and I'll see you on the flippedy. Got any parenting tips? Pass them along in the comments.