Over the years, San Diego Comic-Con has expanded beyond the footprint of the convention center and adjacent hotels to include immersive off-site experiences. These off-sites give a taste of SDCC to those unable to secure a badge. For some reason, escape rooms dominate the 2018 landscape. I counted no fewer than five different escape rooms present outside the con. I didn't have time to do them all, so I went for the most popular.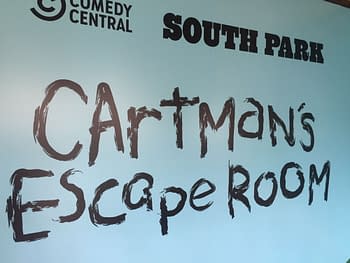 To generate interest in South Park season 22, Comedy Central has set up "Cartman's Escape Room" outside of the convention center. This is the first escape room I have ever done, so I don't have a strong basis for comparison. However, in speaking with some escape room veterans in my group, this off-site is lacking in the initial cues necessary for participants to logically progress from objective to objective to eventually escape.
The escape room is set in Mr. Garrison's classroom. Unfortunately, I was not allowed to take pictures within the room. Participants are challenged to decipher lock combinations and assemble various implements to find a way out of the room, all within 10 minutes. However, the clues are so logically disparate and counterintuitive that it almost seems like the steps of the puzzle were designed independently, with no interplay between each element. According to the on-site Comedy Central rep, the room has 90% failure rate. That hasn't stopped folks for lining up for upwards of four hours for this experience, though.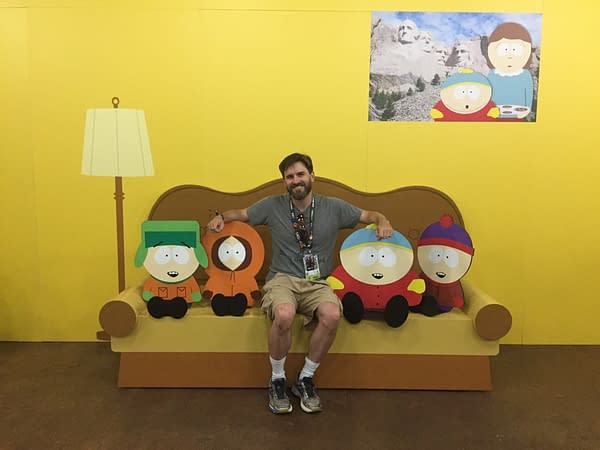 My group was among the 90%, but I believe that this indicates less a lack of intelligence in the group (we are nerds, after all) and more a series of design flaws. Nevertheless, we had fun, and it was a worthwhile way to spend some SDCC time. However, I don't know if I would be saying this if I was among those who waited four hours.
South Park season 22 premieres Wednesday, September 26th on Comedy Central.
Enjoyed this article? Share it!