This year marks the end of my first decade of SDCC attendance. Ten years in geekdom is a lifetime. Collectively, I've sat through over a month's worth of panels. I've seen Ballroom 20 filled to the brim for shows that would be canceled midway through their first season. I was in Hall H when someone got stabbed in the eye for taking someone else's seat. I've suffered through every saccharine moment when a pre-schooler asks a panelist "What's your favorite superhero?", and I've restrained the urge to bludgeon the shell-shocked fanboy who takes seven and a half minutes to tell the star of their favorite show how great they think they are. They don't need you to tell them that they're great. They are well aware.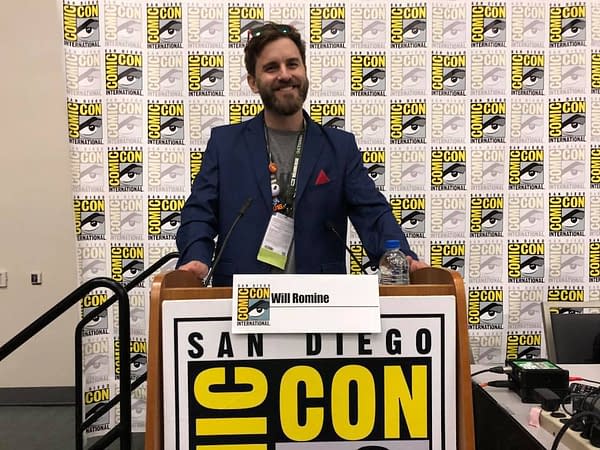 Despite my hard-won con experience, there was still one item on my bucket list. I wanted to moderate a panel, if only to acquire that most exclusive of Comic-Con exclusives: a personalized SDCC name placard.
The process itself wasn't too complex. Comic-Con International has a very straightforward form to pitch panel ideas. I gathered two of my webcomic friends (TheMissingDigit.com and YoungCannibals.net) to present about their triumphs and challenges in this burgeoning medium. I filled out the paperwork, waited, and I was approved. However, it didn't seem real until SDCC began to roll out their 2018 schedule and I saw this.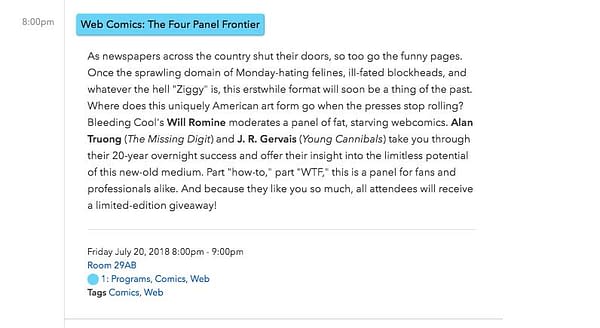 Like a dog who chases cars and eventually catches one, I was at a loss as to my next steps. Then I remembered: I had been preparing for this for a decade.
I'd like to say that we filled the room and had to turn people away, but an 8 p.m. panel is a hard sell. Nevertheless, we had a contingent of eager and enthusiastic attendees. I've seen panels big and small with audiences ranging from six to 6,000. However, the moderator's job isn't to fill the room, but rather to give the panelists the space and grist to connect with the audience. If he or she is successful, then the panelists will be able to leave the room peacefully. The deluge of autograph requests and selfies will turn the 20 steps out the door into a long and plodding march. I'm happy to say that I hit that mark.
It may not seem like a huge feat, but here are some things that I accomplished that night.
At SDCC 2018, Chris Hardwick did not moderate any panels, but I did.
I'm the first moderator in the history of SDCC to suggest exhuming the body of Charles Schultz (or at least the one with the most thought out and articulated plan)
I rocked the blazer/cargo shorts combo better than most.
I GOT A FREAKING PERSONALIZED COMIC CON NAME PLACARD!!!
10/10 would do it again. Warner Bros./HBO/Marvel Studios/any other big SDCC presence, if you need a moderator with a skeleton-free closet, give me a call!
Enjoyed this article? Share it!