Kevin Smith at SDCC: He Wasn't Even Supposed to Be Here Today
Kevin Smith is a jewel of the geek community. He is one of the only figures etched in the side of Mount Geekmore that we love as much for who he is as for what he's done. For you see, Kevin is truly one of us. Whereas directors and stars of major superhero franchises lay dubious claims to interest in geek culture before it became a multi-billion dollar industry, Kevin doesn't need to.
Kevin's passion, enthusiasm, and love for his fans fills a room. And not just any room! Hall H. He's been a Hall H fixture for as long as I've been going to the con and his "Evenings with Kevin Smith" serve as sort of a "Geek State of the Union." Whereas Warner Bros. or Marvel Studios captivate the audience with A-List stars and exclusive footage, Kevin does the same with a microphone, his authenticity, and a hockey jersey/trench coat/sports jacket and t-shirt combo.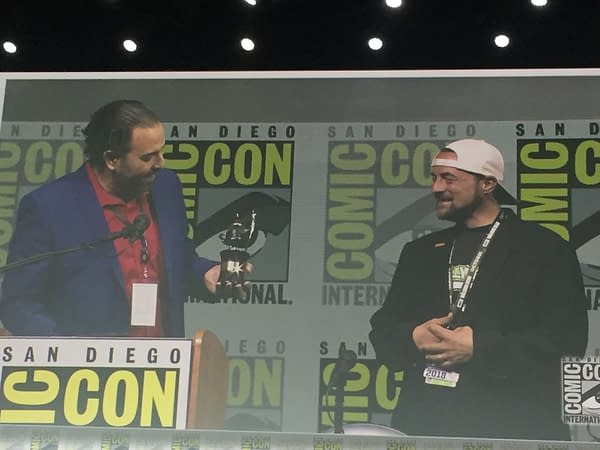 Much like Dante in Clerks, Kevin wasn't supposed to be here today. This past February he suffered a major heart attack, commonly known as a "widow maker". According to Smith's doctor, the type of blockage which caused the attack kills 80% of patients and that Kevin being "blazed as f#ck" prevented his stress levels from compounding the attack. Kevin lived, and that's what made this Hall H appearance special, and everyone, from Director of Programming Eddie Ibrahim (who gave Smith the coveted Inkpot Award) to the thousands of fans in attendance, knew it.
Smith told a very personal story of his health scare in a way that only Kevin can. He recounted how breathing troubles between appearances lead to a trip to the hospital, which in turn led to him confronting two of his biggest fears: death and being naked in front of strangers. Many have described Kevin's humor as "dick and fart jokes" But this appearance was "dick, and fart… and heart". His death scare forced him to reflect on the nature of mortality and how the love and blessings compiled over his 47 years were more than most get, and certainly more than he thought he would ever have.
I've shed a tear at panels before, but it was always because some reboot was running rough trod over my childhood. This time though, it was a tear of gratitude. So often we focus on missed opportunities or how life has wronged us. It's always "if I had done this, than my life would be so much better." My evening with Kevin Smith changed that.
Kevin distilled his brush with death down to the following two Neil Gaiman panels.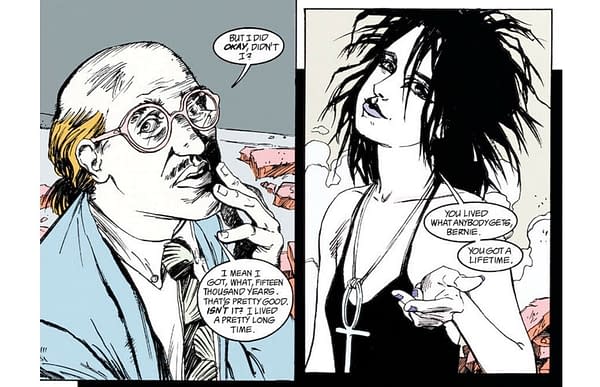 Kevin had made peace with the fact that he might soon shuffle loose from this mortal coil. He had his lifetime. Whatever his 47 years contained, it was his lifetime and he lived it. I'm glad that he's still living it and that he will continue to hold court in the holiest of holies, Hall H.
The director also recognized the recent passing of Jon Schnepp. Along with a moment of silence, he held Schnepp out as a man who made good use of his lifetime. Smith remarked upon how his fellow director pursued his passions with vigor and love. Schnepp's documentary The Death of Superman Lives was a product of that. In fact, at the time of his death, Schnepp was working with Smith to create a TV series which would focus individual episodes on other movies that never got off the ground. The project is still alive, out of respect to Schnepp. If you want to help his widow out with medical expenses, there is a GoFundMe here.
At a basic level, there's no difference between me, Kevin Smith, Cher, Donald Trump, the Starbucks Barista, Stan Lee, my dog, or you. We are all given a lifetime. The question is what we do with it.
Follow me (Will Romine) @notacomplainer.