Planetary #27 to ship from DC/Wildstorm in October.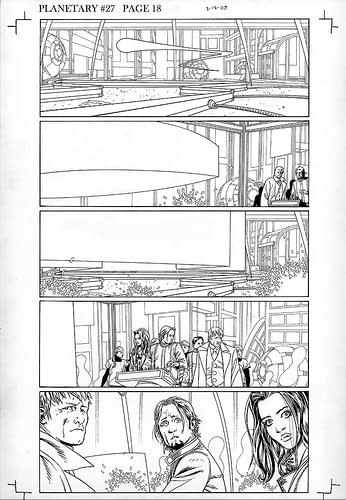 John Cassaday announced to the live audience of the 200th Comic News Insider podcast that the long awaited final epilogue issue of the superhero archeology series Planetary would be published in October.
Planetary 1 shipped in early 1999, with an intended bi-monthly schedule, but personal and professional issues caused the book to go on hiatus, with subsequent issues emerging on an incredibly irregular basis. The penultimate issue shipped in 2006.
The final hardcover, trade paperback and Absolute Volume will eventually collect this issue, but it may be a while, especially for that final volume. Many hope that when the second Absolute volume is released, the first volume, long out of print, will be reprinted to accompany it.
Oh and Comics Podcast guys? Thanks for the Bleeding Cool plug. I especially liked your attempt at a British accent, I may use it as a ringtone.
Image from the final issue of Planetary, copyright Warren Ellis, John Cassaday and DC Comics/Wildstorm.