By Chris Thompson
[audio:http://popculturehound.net/podcast/PCHPodcastEpisode74.mp3]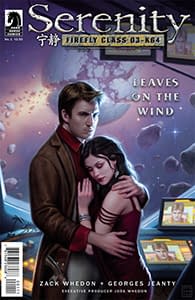 After last week's enlightening discussion with Clifford Meth (which you can still listen to here), this week I take some time to chat with Zack Whedon about his film & television work, as well as his return to comics this week with Serenity: Leaves On The Wind from Dark Horse Comics!
Zack & I discuss what it's like coming from a family of noted screenwriters, how he views the future and our place in it, what plans he has for the crew of Serenity now their story can be told, and what's coming up from him in terms of further comic and TV work!
To get in touch, send feedback or submit projects for consideration, please email reviews@popculturehound.com. And if you missed last week's episode (or any others) you can find them right here or subscribe via iTunes. You can also support the Pop Culture Hound podcast by clicking here to make a donation. Your contributions are greatly appreciated and will help us maintain the site, get new equipment, and encourage us to keep going on those cold lonely nights.
Chris Thompson Twitter: @popculturehound
Orbital Comics' website: www.orbitalcomics.com
Zack Whedon's Twitter: @zdubdub
Zack Whedon's IMDB profile: www.imdb.com/name/nm0923738
Enjoyed this article? Share it!