Racism, Comic Retailers, Mark Waid And High Rollers
At Baltimore, CBR reported that Mark Waid commented on the publication of Boom's 2008 comic series High Rollers.
Waid was asked what has been the biggest or happiest BOOM! Studios surprise. Waid wanted to start with the most colossal failure first: High Rollers, written by acclaimed crime novelist, Gary Phillips. The concept was an urban take on organized crime. To Waid's shock and awe, an astonishing amount of retailers claimed they had no audience due to the color of the characters.
Really? Are comic readers that racially motivated in their tastes? I asked a few retailers for their experiences regarding the books they sell and their customers. But I couldn't find anyone to back that up;
Rick Shea of Famous Faces & Funnies in West Melbourne, Florida tells me;
About a decade ago, Christopher Priest's Black Panther and Quantum and Woody were outselling X-Men and Spider-Man in my store, among my bestsellers right up there with Ennis & Dillon's Punisher during the first Marvel Event books. I think the recent Black Panther stuff hasn't caught on because it doesn't have the same heart that Priest's run brought us. Y: The Last Man is my best-selling comic of all time by far, and that's got a hell of an eclectic cast. Alex was my favorite character in Runaways and hands down the one I was sure wasn't the mole (and then he was). Half of my customers will tell you their favorite characters in Walking Dead are Michonne or Tyrese, so it's more about how well a character is written rather than what they look like.

Comic fans may be a lot of things, but racist is one thing they're generally not.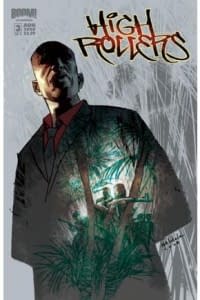 Phil Boyle of Coliseum Of Comics in Orlando, FL writes;
That's a pretty broad brush on the customer base so I'd guess that if one retailer said something of the reported sort then that would qualify as an 'astonishing number'. You'll find bigots in all walks of life but to trying to segregate comic customers as more racist than non-comic customers would be silly.
Cliff Biggers of Dr. No's Comics, in Marietta GA writes;
No.

Our customer base is approximately 20% African-American, yet we managed to sell not a single copy of High Rollers.

I verified it with our POS system–we carried the miniseries, never sold even one copy of any issue.

I should point out that we have also sold zero copies of more than 2/3 of the Vertigo Crime graphic novels. For the most part, our clientele just doesn't enjoy crime comics without a costumed hero/supernatural/fantasy angle added.

Unlike superheroes, where comics are the innovators and everyone else the imitators, it seems that comics are the imitators when it comes to crime dramas–television and film pretty much own that genre, with crime novels taking a pretty hefty share of the market, too.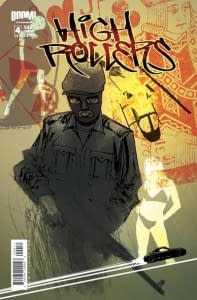 Jay Bardyla of Happy Harbor Comics in Edmonton, Canada, adds
I think Spawn is a really poor example but Scapled is a much better one. Scapled continues to grow in our store because it's a very good series and it's getting very good reviews from sources outside of the comics industry, showing that a book doesn't have to be all white to be alright.

I always find it amusing when I see cover blurbs praising a comic from an online comic review site, since there are so few of them ;) The majority of those blurbs carry so little weight but get a review from NYT, EW or something outside our industry and people take notice and come looking for the books. And most of the time, it's bringing in new clientele which is a greater positive but it also shows the existing comic base that that book has extended street cred.
Paul Stock of Librairie Astro in Montreal Canada writes;
I don't see it. Happens we sell more comics with white protagonists than any other, but then there are more comics with white characters. The only comments we've ever gotten about comics with different ethnicities have tended to be objections to stereotypical clichés in dialogue: All Brits say "Pip, pip, tally ho", all Frenchmen say "zut alors", and don't Germans ever say anything other than "achtung" and "todt"? Maybe it's a Montreal thing- we're so accustomed to multicultural life, that "forced" attributes, even if they're about communities that we're not familiar with, just don't ring true, and are easily passed over. Parody is, of course, an exception to this. And you know, I bet not every black guy in the world is either Paul Robeson or Fifty Cent. You wouldn't know that from reading comics.
Would Robert Scott of Comickaze in San Diego CA be the exception?
Yeah, that pretty much concurs with my experience.

No, not the racism claim, the part where a publisher who fails to promote a work beyond a Previews solicitation and create any recognition or demand pulls some bizarre excuse out of his hat as to why it's not his fault the project failed.
Bill Wahl of Comix Connection in York, PA writes;
My customers are a pretty colorblind lot… I've never heard anyone say any such thing. I did have a guy want to return a comic because it had "too much gay stuff" in it, but I have never heard anyone complain about the race of the characters. What an odd thing for some retailers to experience.
JC Glindmyer of Earthworld Comics in Albany, NY writes;
I remember when this book came out and remembered thinking "What an ugly logo, you can barely make out the title." I'm not surprised that it was passed over by most of my customers- of all races. It was a decent read, it was just saddled with an unappealing cover design.
And Gary of Gary's Comics, Morgantown, WV wrote;
It wasn't about racism in my store, it was about price point and exposure.

If I compare it to other similar titles that do better, many of these titles have been around for a longer duration than a single mini-series, which considering there is no advertising outside of Previews that I consistently see for Boom!, this has an effect.

Nobody knew this series was coming outside of those already in my store. There wasn't a hook. There's a number of already existing noir/crime stories going on, and many are quite good. High Rollers had done nothing to make it stand out, good or bad as it may be.

It wasn't about race, it was about being noticed.
It may be worth noting that Mark Waid does have a little history here. His main hero from the CrossGen series Negation he co-created, Obregon Kaine, was a black man. And while critically acclaimed at the time didn't set the world on fire in terms of sales, through Rick Shea of Famous Faces & Funnies tells me that Negation War sold triple his Uncanny X-Men numbers. But was this a black thing or a CrossGen thing? For most readers, CrossGen's white characters didn't sell gangbusters either…
When Tom Brevoort made similar comments last year – albeit stating that he believed that it was the Americanness of the character that was more important, Mark Waid echoed them on Robot6 comments saying;
Every comics publisher ever, including BOOM!, can tell you maddening tales of retailers who, even now, in the 21st century, are hesitant to order books with non-white, non-American leads because their community won't support them. It's absurd, it's crazy-making, I don't know what it's going to take to change that other than time…but like it or not, it is an unfortunate truth of the time in which we live.
Naturally, the retailers listed above seem to disgree. But what do you think?