Deadline reports that Rebecca Hall will be the female lead in Amazon's adaptation of the science fiction art book Tales From the Loop.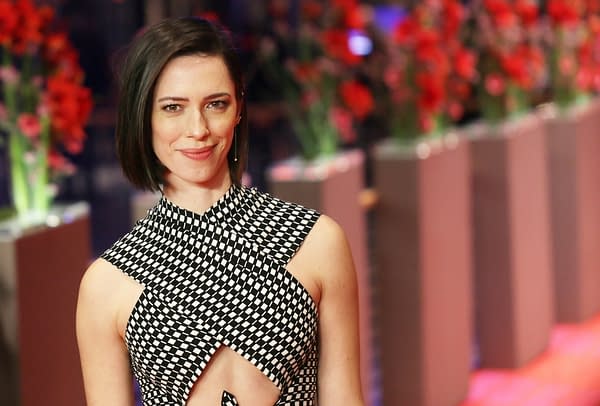 The Vicky Christina Barcelona star will be playing Loretta, a physicist who lives in a that is in the vicinity of "the Loop", a construct that has altered the fabric of the universe around it, allowing people to explore all aspects of reality.
The landscape was full of machines and scrap metal connected to the facility in one way or another. Always present on the horizon were the colossal cooling towers, with their green obstruction lights. If you put your ear to the ground, you could hear the heartbeat of the Loop – the purring of the Gravitron, the central piece of engineering magic that was the focus of the Loop's experiments. The facility was the largest of its kind in the world, and it was said that its forces could bend space-time itself.
Tales From the Loop is based off of an incredibly successful science fiction art book from Swedish painter Simon Stålenhag. The artwork within is dreamy and ethereal, with scenes of rural Swedish life colliding with dinosaurs, robots, and other oddities from beyond the Loop. It's a gorgeous book, and I'm not surprised that it's being adapted for television.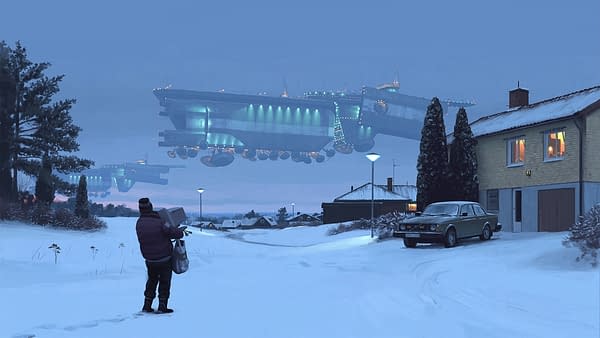 Tales from the Loop has also inspired an exceptional Role Playing Game from Free League Publishing, and has some of the best game mechanics I have seen in a long time. Described as a mix between ET: the Extra Terrestrial and Stranger Things, the Tales From the Loop Role Playing Game has players assuming the roles of teenagers investigating odd occurrences around the Loop.
Amazon's Tales From the Loop will be written by Nathaniel Halpern, with Mark Romanek directing. Executive Producers include Halpern, Romanek, Matt Reeves, The Passage's Adam Kassan and Rafi Crohn. Samantha Taylor Pickett, Adam Berg, Mattias Montero, and Stålenhag are also listed as producers.
We'll share more information on this exciting project as it develops!
Enjoyed this article? Share it!