Review: TekWar Chronicles By William Shatner, Scott Davies and Erich Owen from Bluewater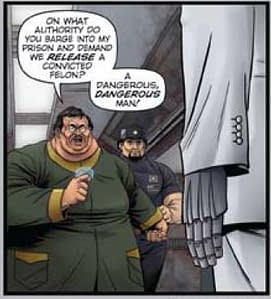 This is my first real encounter with William Shatner's Tek War. The TV movies and series didn't play here, the books weren't exactly high profile and the role playing game just passed me by. Started as a collaboration with sci-fi author Ron Goulart, the books ran through the nineties, and were part of the whole "cyberspace, isn't it weird, hey let's try and be William Gibson but with more shooting and guns" movement.
This comic remind me much more of classic sci-fi of the fifties and sixties, a touch of Asimov, a smattering of Heinlein, very much the "I am a man! A man whose manliness is being taken away, I shall fight to get it back, ooh look, robots" that I used to love.
And it's rather fun. An ex-cop-criminal addicted to the online-enabling Tek finds himself reborn in a world he's spent four years incarcerated from and everything has changed. He doesn't know what is expected from him and he barges through it trying to find a place.
There are official robots who miss out six and seven when they count to nine, brainiacs hooked into computers, geostationary satellites with elevator shafts snaking to Earth, fat prison governors, and a future world that's not so much drawn as cut and pasted from all sorts of media, creating a very disturbing vision that the book trots along through. And the walk through this strange city is probably the highlight of the first issue, setting out the weird yet familiar world in which the TekWar takes place.
It does feel incredibly cliched, but that there are so many placed one on top of each other, that this book becomes multi-layered by just how much is squeezed in. And there's a lot to squeeze in here. Quite a full comic. I don't think Shatner's a big fan of decompression.


TekWar Chronicles #1 by Wiliam Shatner & Scott Davies and Erich Owen, published by Bluewater Productions and in shops today.
P.S. Look at that, not one Trek reference, I'm really proud of myself, it's a review of TekWar, but not as we know it, oh bugger.