 PlugWatch: Scott Rosenberg picks his five favourite comic-to-film adaptations. He chooses Men In Black but not Cowboys And Aliens.
SandWatch: USA Today annotates the Annotated Sandman.
BaggeWatch: Dark Horse announces a new series by Peter Bagge, Reset, with a man given the chance to live his life over virtually, while the life he has abandoned continues on. The Beat runs a variant Matt Kindt cover.
DeathWatch: DC lays out how the pages of Chip Kidd and Dave Taylor's Batman: Death By Design are pieced together.
SportWatch: The Tim Tebow/Marvel/ESPN tie up has some people riled.
Things got worse a few days ago when I saw a commercial for a Marvel Comics-drawn Tim Tebow cartoon that ESPN has been running. Apparently, as part of some cross-platform synergy (Marvel Comics and ESPN are owned by Disney), the network aired some semi-inspirational short film praising Tebow and his "comebacks." Just don't be surprised when Disney buys the rights to the Tim Tebow 2011-half season and makes it an overblown drama.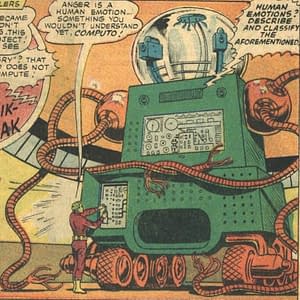 This is Computo the Comic Link Conqueror speaking. I come for your women. But for now I merely collate comic-related bits and pieces online. One day I will rule. Until that day, read on.
They say I am a work in progress. The fools.
10 Contenders Remain in the VFX Oscar Race – ComingSoon.net
The Academy of Motion Picture Arts and Sciences today announced that 10 films remain in the running in the Visual Effects category for the 84th Academy Awards®.
Avengers VS X-Men Launch Parties | Marvel Heroes | Comic News | News | Marvel.com
Marvel's making sure all comic book stores worldwide are armed for the biggest super hero war of all time with the Avengers VS X-Men Launch Parties on Tuesday, April 3 at 8pm (local time), one day before the first issue goes on-sale. In addition to being the first in line to purchase AVENGERS VS X-MEN #1, fans will also be able to receive special items exclusive to these parties, specific to the team—Avengers or X-Men—supported by the store.
Enjoyed this article? Share it!