SDCC '15: Where Image Creators Own The Mainstream Panel With Chip Zdarksky, Kody Chamberlin, Keenan Marshall Keller, Marjorie Liu, Alex Grecian, And Michael Moreci
By Joshua Stone
This panel brought together a group of Image creators whose work doesn't necessarily reside in the world of capes and tights. Fan favorite Chip Zdarsky (Sex Criminals, Kaptara), may have been the big draw but the rest of the panel more than held their own with Kody Chamberlin (Punks), Keenan Marshall Keller (The Humans), Marjorie Liu (Monstress), Alex Grecian (Rasputin), and Michael Moreci (Roche Limit).
Some of the panel highlights included when Zdarsky was asked to describe Kaptara he said quite simply, "It's He-Man." Chamberlin talked about how all art on Punks is done through photo collage, which allows him to do 6-7 pages of art a day. He was very proud that the most recent issue of Punks set out to and achieved the goal of breaking every single rule set by the Comics Code Authority. Keller described The Humans as a 1970s exploitation film about ape gangs. Liu talked about the first issue of Monstress being 70 pages and how when she tried to break the story up she just couldn't do it and still make it work. She also made she everyone knew that all issues won't be that long. She also said she knows how the story will end, but she isn't she how she is going to get there yet.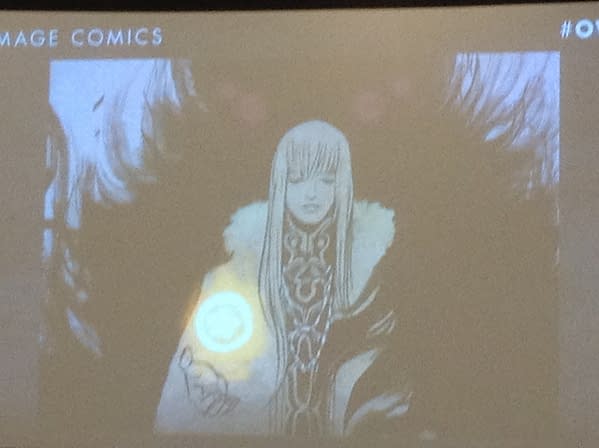 Overall the panel was fun, often thanks to Mr. Zdarsky and his ability not to take himself seriously, and the books look to continue Image's run of exciting and different comics.
For further musings from Joshua Stone you can follow him on the Twitter @1NerdyOne