Aspen Launches Soulfire #1 In November
Aspen continue their successful 10 For 10 programme, launching a series of comics at at $1 price point, and storming into the top 100 as a result, with Fathom #1 breaking into the Top 30. Consistently, they have been the only non-premier publisher to get consistent comics in that Top 100, month after month.
In November, they do it with Soulfire, and pretty much a guaranteed Top 100 spot alongside it. Here is that solicitation, and the other books out for the month.
ALL NEW SOULFIRE #1
(W) J. T. Krul (A/CA) V Kenneth Marion
Aspen's final '10 for 10' series makes its red-hot debut!
In the future, technology is everywhere, but there's a greater source of power and wonder now out there – magic! After saving the world from the destructive force of chaos itself, Malikai and his friends try to return to a life of normalcy. PJ is determined to be Benoist's heir in the battle arena, where cybernetic technology rules the day. Malikai is just happy to be with Sonia again, yet he can't help see that Grace is still haunted by the scars of the past. Meanwhile, a secret danger grows in the shadows between magic and technology, and it has a name – RAINIER! Don't miss this exciting premiere issue of the ALL NEW SOULFIRE!
Join veteran Soulfire scribe JT Krul, along with the amazing artistic talents of V. Ken Marion and Kyle Ritter, as an all-new direction for Michael Turner's fantasy epic Soulfire begins right now!
In Shops: 11/20/2013
SRP: $1.00
TRISH OUT OF WATER #2 DIRECT MARKET CVR
(W) Vince Hernandez (A/CA) Giuseppe Cafaro
What would you do if your life was turned upside down– before it even really started?
After the shocking and life-altering discovery in her home, and the subsequent reveal that her boyfriend was cheating on her behind her back, Trish quickly realized that her life will never truly be the same. However, the discovery that she may be something altogether more amazing will lead to even further questions than she could have ever imagined-including who is now out to kill her!
Aspen's own Vince Hernandez is joined by the artistic talents of Giuseppe Cafaro and Andrea Dotta to bring to you Aspen's newest hit series, TRISH OUT OF WATER!
In Shops: 11/6/2013
SRP: $3.99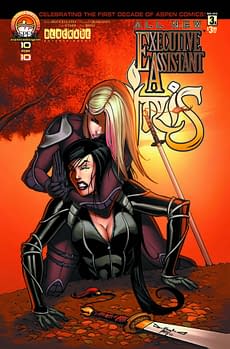 ALL NEW EXECUTIVE ASSISTANT IRIS #3
(W) Brian Buccellato (A/CA) Pasquale Qualano
It's an all-new direction for the Executive Assistant that started it all!
Snapdragon and her bounty hunters declare war on Iris in order to get to Cherry Blossom! Iris must take on possibly her toughest challenge ever, as the price for protecting the young girl might be the Executive Assistant's death!
Aspen is proud to welcome writer Brian Buccellato and penciler Pasquale Qualano to the Iris family! Along with colorist John Starr, this incredible creative team is ready to bring you an ALL NEW EXECUTIVE ASSISTANT IRIS unlike anything you've ever seen before!
In Shops: 11/6/2013
SRP: $3.99
ALL NEW FATHOM #5 (OF 8)
A new direction in the FATHOM Universe continues!
Believing the undersea threat from Vana to be over, Aspen Matthews returns to the surface to try to resume a normal life and finds an old flame waiting for her upon her arrival–Chance Calloway. Meanwhile, tensions rise beneath the surface as the true extent of Vana's scheme begins to manifest, and she reveals her actual target–the Capital city of the Blue, Muria!
Writer David Wohl, artist Alex Konat and colorist Beth Sotelo team up once again to bring you the latest adventures of Michael Turner's most beloved creation!
In Shops: 11/27/2013
SRP: $3.99
EXECUTIVE ASSISTANT ASSASSINS #17
(W) Vince Hernandez (A/CA) Jordan Gunderson
The second part of 'Blood Origin'!
The "Blood Origin" three-part storyline continues as Executive Assistant Daffodil learns the painful truth that a life devoted to the training of women in the art of killing can lead to unintended-and fatal results. And, this lesson may prove to be her last, as the reality of this existence may prove too much to survive-even for her!
In Shops: 11/6/2013
SRP: $3.99