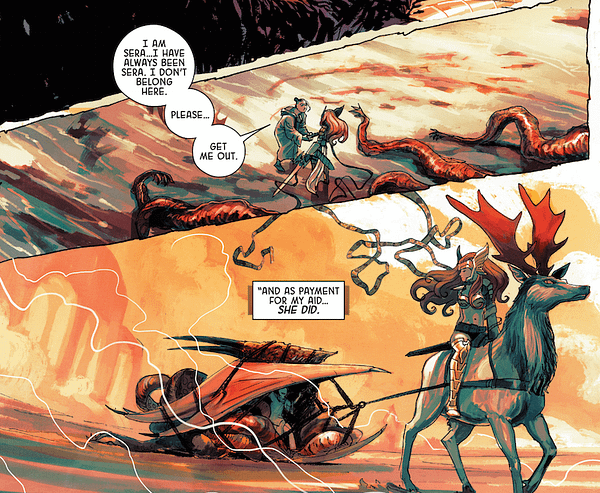 Angela was created by Neil Gaiman and Todd McFarlane for the comic book Spawn. Part of a long-standing lawsuit between the two, she was eventually transferred to Neil Gaiman who sold her to Marvel, recreated as an angel from the Tenth Realm.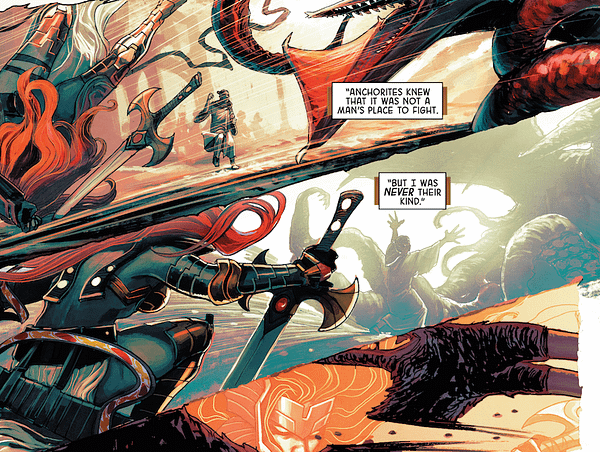 Sera was also such an angel, created by Marguerite Bennett, Kieron Gillen and Phil Jimenez.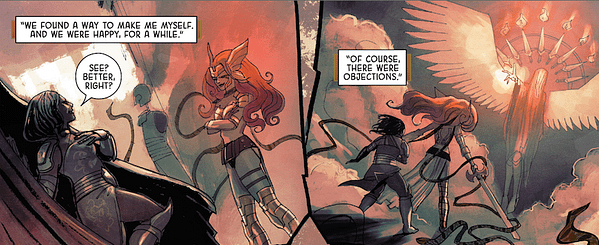 She was also Marvel's most prominent trans character. She and Angela became a couple.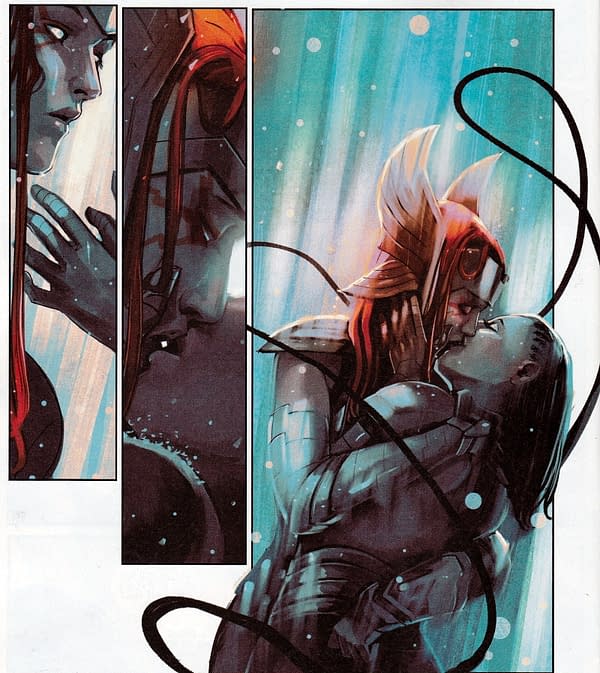 Quite the couple.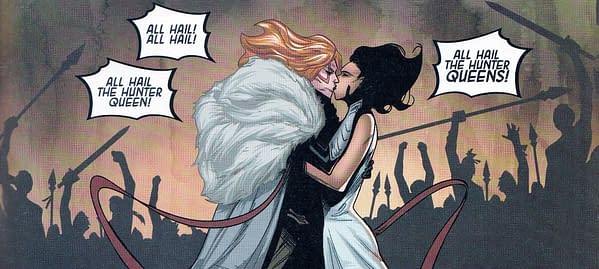 They fought, lived, loved and screamed with each other, through Angela: Angel's Assassin, 1602 Witchfinder Angela and Angela: Queen of Hel.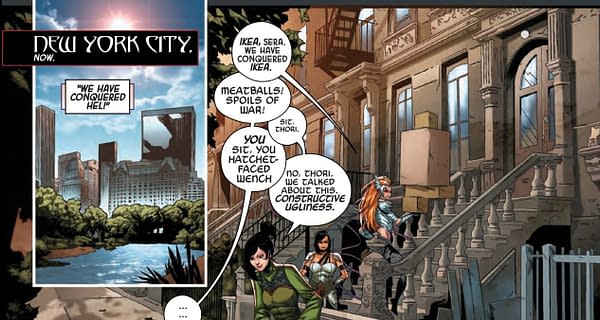 They even settled down, into a Manhattan apartment, as reality rewrote itself around them.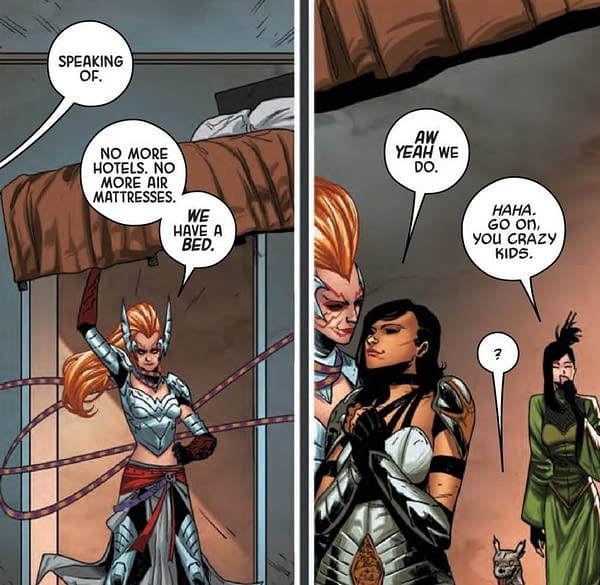 And then Brian Bendis wanted to have a go with Angela, and she left to join the Guardians Of The Galaxy. Sera was not invited. Or mentioned.
But the fans kept asking. And, with the Guardians Of The Galaxy stranded on Earth after the events of Civil War II, in today's Guardians Of The Galaxy, Brian Bendis took the opportunity to, well, deal with the situation, with an impressive display of handwaving.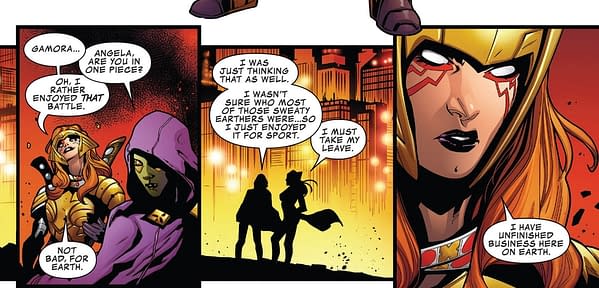 Unfinished business? How romantic.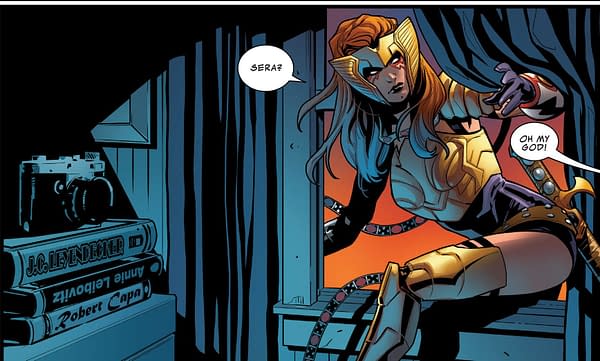 Because angels always come in through the window. A lot of photography books there – are you getting the picture?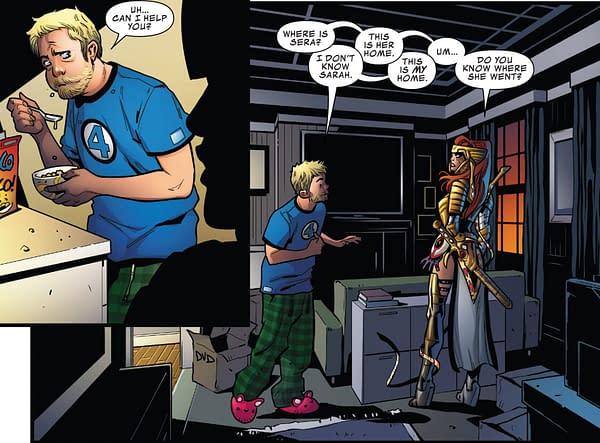 Bendis may have forgotten Sera, but he does remember the Fantastic Four.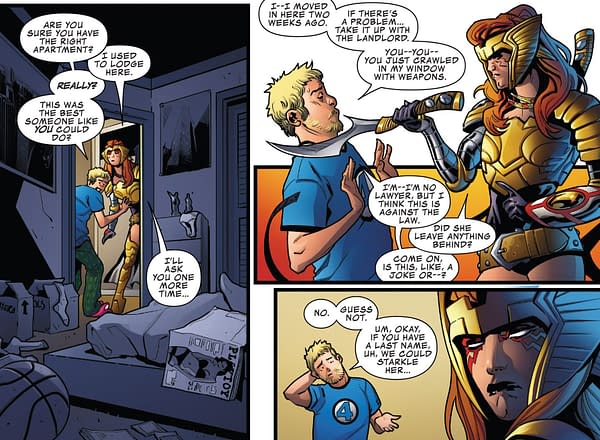 Google is Starkle in the Marvel Universe, it seems. But Sera didn't think to leave a forwarding address. Time for a speech.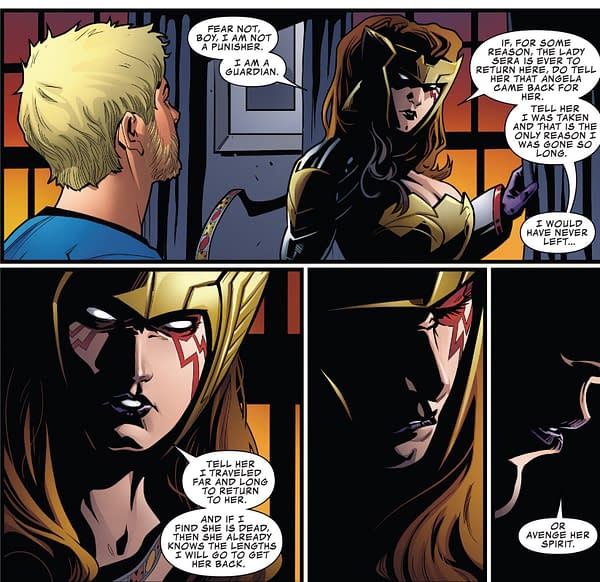 There we go, Monologue demands satisfied. Leaving Angela and Sera fans asking one question.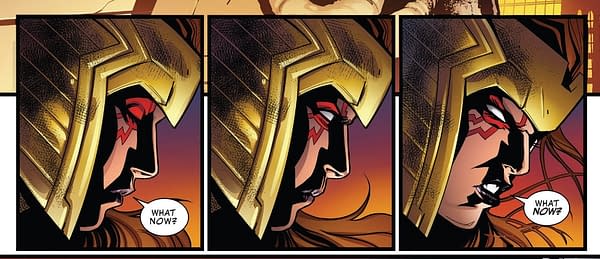 And the answer is a fight about Thanos. Marvel is moving on. Will the fans move on as quickly?
Doesn't look like it.
Last #Transcomicsmonth Marvel canceled Angela Queen of Hel, this time they just erase the trans character from that book, way to celebrate.

— Alexis Sara 🏳️‍⚧️ 🏳️‍🌈 Read My Books (@TransComics) March 15, 2017
New dream. For someone, ANYONE, to fix the bullshit Bendis just dumped all over the Angela-Sera relationship in Guardians of the Galaxy.

— Ian Cameron, Agent of G.I.R.L. SJW Obviously (@KalelData) March 15, 2017
– in the spotlight. Marvel is lucky to have a relationship like Sera and Angela's in its canon, and it needs to start acting like it.

— Nyxie Black (@NyxieBlack) March 15, 2017
These characters. Anglea once MARCHED INTO HEL AND TOOK OVER bc they had sera. Sera would never leave angela bc she was gone for too long.

— READ DOX AND CHAMPIONS #Outlawed (@agentfitz777) March 15, 2017
Fuck Marvel for separating Angela and Sera. Fuck them so much. #Marvel #comics Honestly they can go to hell…

— Mabes Heven (Pokemon Master) (@Film_Heven) March 15, 2017
I told you and everyone that I did not trust you. @BRIANMBENDIS I will never buy another comic by you again, ever, ever. This isn't fan

— Alexis Sara 🏳️‍⚧️ 🏳️‍🌈 Read My Books (@TransComics) March 15, 2017
Ftr, I'm still annoyed because there was ZERO REASON to have separated Sera & Angela

— Dubious (@DubiousCA) March 15, 2017
Can Bendis fuck off and leave Angela and Sera alone? Don't need to keep using Sera as Angela's sole plot motivation by having her 'missing'

— Sigrdrífa (@Warpspazm) March 15, 2017
no but Bendis apparently of course took Sera out of Angela SURPRISED LEVEL 0!

— Alexander F. (@AlexanderClamp) March 15, 2017
http://naidje.tumblr.com/post/158436508544/whatever-you-do-do-not-buy-this-weeks-issue-of
While Marvel's own website, for Women's History Month, designated them as "friends and teammates". Which is pretty much rewriting Women's History.
Guardians Of The Galaxy #18 by Brian Michael Bendis and Valerio Schiti is published today.
Enjoyed this article? Share it!