Spotlight On Indie Comics – Featuring Man Vs. Rock #1, Hero Envy, Number One and First Law of Mad Science
By Shawn Perry
Get Stoked, True Bleeders! It's time for another edition of Indie Spotlight – the sometimes weekly column dedicated to the wonderful world of self-publishing. There are so many great stories out there and sometimes the best ones come from people who said "screw it I'm doing this" and made comics outside of the system with no expectation of profit other than the high they get from sharing their vision. These artists are what true storytelling is all about so without further adieu lets get this party rocking with a book about rocks, man…and more rocks. Man vs. Rock #1 by Kevin Bieber and Victor DeTroy is an epic piece of revisionist history from the perspective of an omniscient narrator who knows that mankind's mistreatment of rocks will one day be its undoing and, as you may have guessed, he is the only one with the stones to do anything about it. Well, him and this conveniently hot girl in his geology class who is the only person who believes his story. Bieber and DeTroy have a lot of fun playing with the readers expectations in this supremely funny satire. No subject is off-limits so long as it loosely relates to the mistreatment of rocks in this riff on summer blockbusters featuring fluid pencils and gratuitous cheesecake by Jared Lamp. Honestly, I could go on about how funny I think this story is for a while but I think its creators do a better job of expressing the awesomeness that Man vs Rock than I ever could so check out some of the reviews Bieber has collected and an interview with DeTroy back at Boston Comic-Con.
"If you like great things like Indiana Jones: Kingdom of the Crystal Skull or the band Creed, then I guarantee you'll love it!"
"Man vs. Rock helped me lose 60 lbs, and made me rich flipping houses and buying gold!"
"What started as a simple movie script became a full-fledged congressional investigation."
"The official comic book of the North Korean Government!"
Hero Envy #1 by Keith Gleason is the origin story of four nerdy best friends who face-off against cosmic enemy at comic-con. As a life-long comic fan himself, Gleason knows his audience and it comes through in his writing as the relationships between the four friends feel very true to geek life. The writers of The Big Bang Theory could take a cue from Gleason as the conversations about comic books are not just on-point but are also downright hilarious. The art by Jorge Pacheco is simple but expressive and fits the story like a cape to a cowl. My favorite character is Dekker, owner of the local comic shop who only reads horror comics, but the whole cast is great including the man-child J.D Fields, the level-headed Wallace North, the loveable Orson Cochrane and Gleason's inspired take on Marvel's The Watcher which you will have to read to believe!
The first issue provides the group's origin story as well as their call-to-action as they are tasked with saving the world from a jerk by the name of Tommy Swass who becomes a lot more formidable when he is inundated with the cosmic power of El Moco-Ponpans and becomes Con-Swass the considerably more-dangerous jerk. The first issue leaves this unlikely foursome at the steps of Comic-Con where things really take off in the second issue so I recommend picking up the whole trade paperback to get the full adventure. Number One written by Gary Scott Beatty (Seductions, Jazz: Cool Birth) with art by Aaron Warner (Adventures of Aaron) is nothing short of fabulous. It's the story of a boy's journey to manhood and his life as a comic book shop owner. His passion for stories drew him to this career and his love for people help him overcome the many challenges he faces over the years in the comic industry. He relates his passion for comics to his relationship with his Grandfather, his friendships and the timeless stories of religious texts and ancient civilizations.
The book is raw and emotional with a powerful message about what it means to earn true success. As his store struggles he goes through some hard times but he perseveres and it pays off big-time when an article leads to him becoming celebrated by his community as the hero he always was…and honestly the ending nearly brought tears to my eyes. It's perfect and indicative of the era we are living in where creative industriousness and geek culture are thriving thanks to the many years of hard work, passion and love of men and women like the protagonist in Number One have given to the industry. You can accuse me of hyperbole if you like but Beatty and Warner have made an all-time classic here that reminded me of my own, personal comic shop heroes.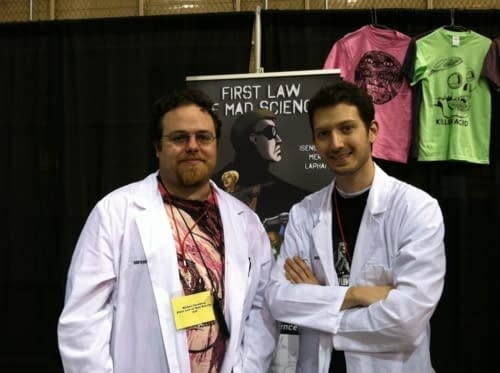 As I discussed last month, one of the best series I have found on the indie scene recently is First Law of Mad Science by Mike Isenberg and Oliver Mertz. This well-written comic is about a scientist who creates retina implants that are like Google Glass on crack and just about everyone who can afford an iPhone buys one and it works great until they all start seeing some weird green crap that isn't there (or is it?) and by the end of the first issue the fate of the world is already at stake. The first issues set the tone while issues three and four bring the intrigue to a fever pitch. Isenberg and Mertz prove to be talented storytellers and do a great job weaving a conceivable fate-of-the-world plot with wit and intelligence without dumbing down the science or the dialogue at any point.
The best thing about this story is the great characterization as the entire main cast is interesting and unique. Something that I worried about when I first got into this series was that there were possibly too any characters but after everyone got fleshed out the ones I had initially questioned turned out to be the breakout characters. The robotic daughter of the Baker clan, R.A.I.Ch.E.L is just awesome while her mother has proven to be both essential and pretty hardcore. At its core this story is about the father-son duo of Hank and George who both go through a lot in the first four issues with the father having to go through the whole creating a piece of technology that may doom our race drama while his son gets inundated with hallucinations of green god-knows-what that end up getting him worshipped as by the friendly neighborhood cult after the brief requisite misunderstanding. The art by Daniel Lapham just shines throughout the story while the lettering by Isenberg is also dead-on.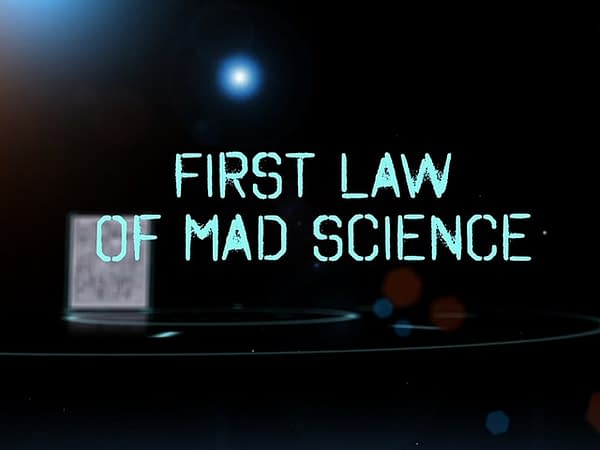 In close, for a book about mad science this book really brings the good science as there is a lot of plausibility to this tale and the actions of each character are both logical and entertaining. My one complaint about the book is also its greatest strength: its dialogue which, at times, can be a bit wordy but always with the lingering aftertaste of 'yeah but how could you get rid of that?' which altogether leaves us with a heavy yet satisfying reading experience kind of like what Alan Moore's Jerusalem will likely be like except maybe 60 hours shorter give or take. Truthfully, I think if this book were 25% less detailed and complex a fair smattering of people would probably like it more but personally, I wouldn't change a thing. Do yourself a favor and pick up the book so you can decide for yourself but aside from the comics do not let Noreon sell you anything for your eyes. I cannot stress that point enough.
That's it for this time but we will be back soon with spotlights on Signed #2 by Marc. C Frankel, Tales of Mr. Rhee #1 by Dirk Manning, Concrete Martians #1 by Keith Grachow and The Cask of Montillado by Enrica Jang and Jason Strutz.
Shawn Perry is a comic book and film enthusiast striving to be here now. He currently rests his head in East Hartford, Connecticut. Tweet him @thesperry and email him about life and your stories at Shawn.Perry88@gmail.com.