 ArtWatch: Gottfried Heinwien's work on display;
"We didn't have superhero comics. Donald was a loser, so he was easier for us in Europe to relate to," he explained.

But instead of the bright golden world these comics portrayed, Helnwein now presents the characters in ambiguous settings.

In "L.A. Confidential (Cops 2)," Donald lies on the ground as two seedy detectives examine him. Is he victim or perpetrator? In other scenes, a menacing Mickey Mouse leers at the viewer or crouches as a young girl takes aim at him with an assault rifle.
MitchellWatch: Peep Show's David Mitchell on the Britishisation of the superhero film.
Yet some critics make artistic claims. I quite enjoyed Batman Begins but those who wax lyrical about what a disturbing character Bruce Wayne is, and claim that whichever comic it's all based on merits comparison with a proper book full of words, have lost sight of the bigger picture: it's all about a man so rich and mental he hangs around the streets at night, dressed as a bat, trying to drop on burglars.

This is a daft story which, if it were true, would only be fit for a Channel 5 documentary about a disreputable Kevlar salesman exploiting billionaires with personality disorders.
LadyWatch: One of Britain's longest runni ng and highly regarded magazines demeans itself. I'm sorry. This is The Bleeding Cool ComicChron Robot speaking. I come for your women. But for now I merely collate comic-related bits and pieces online. One day I will rule. Until that day, read on.
Saturday Evening Meme: Did Twilight Fans Cause Comicon Ticket Crash?
This year's Comic-Con in particular is poised to be perhaps the biggest yet. In a battle of screaming female tweens versus comic book faithful, Summit Entertainment will present new footage and the stars of The Twilight Saga: Breaking Dawn Part 1 while Marvel and Paramount will counter with likely the first public footage from The Avengers.
PREVIEWS: The Comic Shop's Catalog! – New Releases
This file is posted for new products scheduled to ship to comic shops on 2/9/2011 which include Star Wars: The Old Republic TP, Northlanders: The Siege of Paris 1, Star Trek: Infestation #1, Hack Slash Ongoing #1, Casanova Gula #2, Charismagic #0, and more.
More Information Surfaces About the Rumored Appearance of Robin in THE DARK KNIGHT RISES | The Daily BLAM!
I reached out to Alex Goldsmith, who wrote the original story at WILX, and he confirmed that Robin was brought up by several people (and has an interesting theory towards the mention). He also stated that the production company was planning an extras audition in Bay City, which is a little over a hundred miles Northeast of Grand Ledge.
SRBissette.com – Still stolen after all these years…
This original painting—the cover art for Saga of the Swamp Thing #34—was stolen from the DC Comics, Inc. offices in 1985. It is still stolen property; if you possess it, or know of its whereabouts, please know this is stolen property belonging to Stephen R. Bissette and John Totleben, and it remains stolen property.

YouTube – Volkswagen Commercial: The Force
VW's Star Wars Themed Superbowl Commercial.
[youtube]http://www.youtube.com/watch?v=R55e-uHQna0[/youtube]
Is it now time to let beloved Peanuts go?
Schulz's request is unusual. A lot of comic strips continue to be created, at least for a time, by new authors and artists after the original creators pass on. The use of reruns is also rare, but many newspapers chose to keep publishing Peanuts due to its huge popularity with readers.
AH! Zatanna "Warm Up Sketch" Goes for $3270.51
a sketch study by Adam Hughes of Zatanna. Adam is the new cover artist for the DC Comics Zatanna comic book (starting with issue 11), and this was a piece he did as a warm up before starting work on a cover. The piece is rendered in warm Copic markers on drawing paper.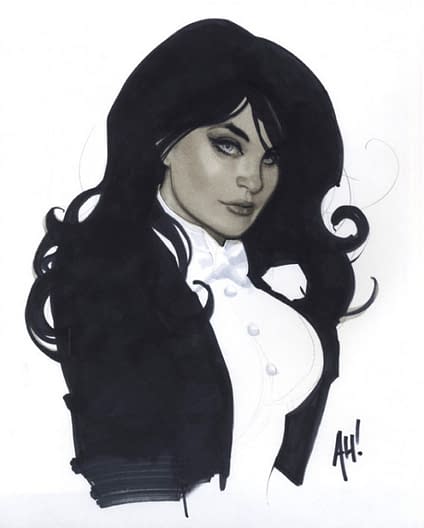 Zack Snyder: My favorite Superman artist is… | Hero Complex – Los Angeles Times
For Snyder, he narrowed it down to a two-man split decision: Jim Lee and Curt Swan.
Enjoyed this article? Share it!