Look, Up in the Sky! It's a Bird! It's a Plane! It's Melissa Benoist Filming 'Supergirl' Season 4!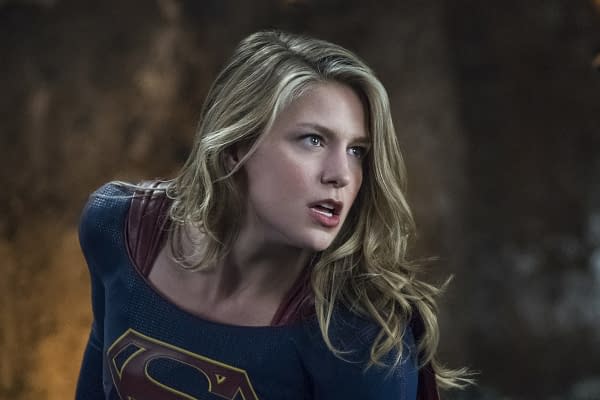 With her successful summer run as legendary singer/songwriter Carole King now wrapped, Supergirl's Melissa Benoist is ready to get back to leaping tall buildings in a single bound, please. The series star posted a picture of herself in full Girl of Steel glory on social media on Monday, signaling on her Instagram post that she's ready to fly for the fourth season.
Debuting Sunday, October 14th, at 8 p.m. ET/7 p.m. CT, Supergirl serves as the anchor for the CW's new Sunday night line-up (paired with Charmed). With a new season comes new cast members, including: Star Trek: The Next Generation's Brent Spiner as Vice President Baker; Rhona Mitra as Mercy Graves, Lex Luthor's one-time bodyguard and also a "human first" supporter; Nicole Maines as transgender superhero Dreamer; Sam Witwer as anti-alien activist Agent Liberty; Robert Baker as Mercy's brother and enforcer, Otis; April Parker Jones as Colonel Haley; and David Ajala as triple-dealing Manchester Black.
melissabenoist😲 do I put on a cape now? yessssiree @supergirlcw I'm heading for ya 💓 and I can't wait to see all my friendsss
https://youtu.be/Jw30raSbrhE
In an interview with Deadline Hollywood from June 2018, Benoist discussed how playing King in Broadway's long-running Beautiful: The Carole King Musical compared to her work on Supergirl and how it influenced her approach to her character:
"I think that playing Carole and learning so much about her will certainly affect how I approach Supergirl at this point. Every role affects you. I do think that heading into Season 4 and walking into Supergirl's shoes and donning the cape will feel different in a great way, especially because Carole's story is about, in essence, owning yourself and being true to who you are, that you are enough.

That's something I'm always searching for in Supergirl: ways to further her development as a woman and find more empowering stories to tell through that. Also, it made Comic-Con a blast. It was so great to see everyone. The cast, we all genuinely love each other. We're really excited for the season."
While the cast enjoyed the "fire and brimstone" direction of season 3, Benoist is excited for the upcoming season's shift in tone to current social issues:
"The writers' room is being really great this year. Last season, it was a lot of fire and brimstone and a lot of homages to Buffy the Vampire Slayer, which was great because I was such a big fan of that show. This season they really want to thematically tackle more topical stories that maybe mirror what's going on with the state of the world and our country.

There's a lot of anti-alien sentiment at the beginning of Season 4 that Supergirl is going to have to grapple with. I think their main premise is that fear itself is a villain, and can hope conquer it? Supergirl stands for hope, so we'll see. I think fear is her biggest opponent yet because it's more of a wildfire-type emotion."
Finally, Benoist believes that moving from CBS to The CW was the "jolt of energy" the show needed to define itself:
"It absolutely gave us a jolt of energy because I think our demographic innately got younger. There are younger people watching CBS, but their audience isn't 13 to 25. The CW specializes in that. I totally felt the difference.

We just had a little more freedom to do edgier things or stories that can help shape and mold audience perspectives and ways of thinking. That's exciting because every day on set we're talking about how we impact young girls specifically but more than that the young audience. What do they think about what we're saying?"