Talking LGBTQ Comics And SDCC With Brian Andersen(UPDATE)
By Joe Glass
Earlier this year, Brian Andersen had a very successful Kickstarter for his comic Stripling Warrior, about a gay Mormon superhero, that also got a lot of media attention.
Andersen has been making LGBTQ themed and starring comics for some time now, and has also been a major part of the visible gay comics-making community.
We spent some time with Andersen to discuss Stripling Warrior and his many other comic projects and discuss his plans for the upcoming San Diego Comic–Con.
Joe Glass: Who do you think is the main audience for Stripling Warrior? Who are you hoping may come in and enjoy the book?
Brian Andersen: I hope my main audience are people who like a good story. I don't believe that you have to be gay to enjoy a gay themed comic book. Or a comic book with a homosexual lead character.
Heaven knows I've read comics about straight people my entire life and my own gayness has never prevented me from enjoying the stories.
I always go with the fact that I'm not a young woman nor am I Muslim but I still really enjoy Marvel Comics' Ms. Marvel (It's pretty great. Everyone needs to pick it up!) I'm also not blind and Catholic but I still dig reading Daredevil (Another great book by creators that are killing it!).
A good story will translate. (Now I've just got to hope I actually created a good story!) JG: How many issues are planned?
BA: Right now, thanks to the super amazing support I received from my awesome Kickstarter, Stripling Warrior will be three issues. If the books are well received I'd love to do more.
JG: So, why Mormon? What was it about The Church of Jesus Christ of Latter-day Saints that intrigued you and made you want to do a story based on their beliefs?
BA: I'm Mormon, so I'm already pretty well immersed in the subject matter. I was baptized at 18 years old, went on a mission for two years to Guatemala, and attended Brigham Young University.
I was a very dedicated and devote member of the church for over ten years until I actually woke the hell up and accepted by homosexuality. I pretty much stopped attending church services soon after.
I'm still Mormon – I've yet to be excommunicated, despite the fact that I'm married to a man. I'm not necessarily anti-Mormon or against the Church, I still treasure many aspects of the Mormon faith.
JG: Have you had any response from the Mormon Church about Stripling Warrior yet?
BA: Not just yet. I'm sure it's in their pending folder to address my apostate, heathen ways. And I'm ready for it. I've gotten tired of the religion I used to treasure and hold dear telling me that I was less than equal, or less than worthy of them because I'm homosexual. In many ways Stripling Warrior is my answer to that.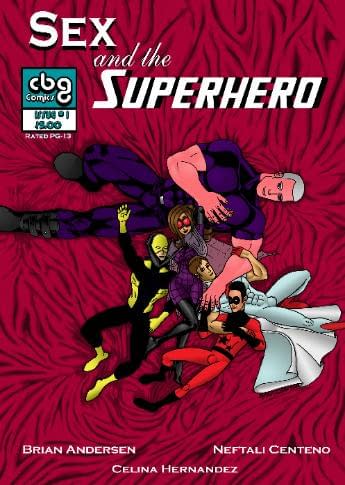 JG: This isn't your first rodeo, having done other LGBTQ comic stories. What have you learned from your past releases?
BA: It's crazy to think I started doing this back in 2007 by writing, drawing, letting, coloring and printing my own comic book. I had zero expectations other than wanting to create something. I wanted to contribute to my lifelong love of comics by adding my own teeny, tiny book to the world of comic books.
Since then I've learned that art matters. Back in 2007 I thought, perhaps foolishly, that an indie comic would be embraced regardless if the artwork was clearly less than polished and professional. Wrong-o!
Don't get me wrong, I had my fans, which was so lovely, but I had more detractors than fans. Lot's more. Comic books being a visual medium it stands to reason there would be a lot of judgment heaped on poor artwork.
That being said I've also learned that there are plenty of people who will give your comic a chance if the story is halfway decent. An enjoyable story will rise above its mediocre artwork and make up for any artistic flaws or shortcomings. (At least that's been my experience in some of the indie titles I enjoy.)
But I got tired of fighting that art battle. I realized that I needed some stellar artists to bring my new comics to life. (Like for instance the amazing James Neish on Stripling Warrior.)
JG: From my own experience making indie comics, I know it can be very hard to get much attention, especially in the light of comics news from big companies and their multimedia releases. How do you push against these challenges?
BA: Being tenacious helps. Having an unexplainable drive to not give up and believe in your work is key. I always adhere to the notion that the old saying remains true: "the cream rises to the top."
As long as your little story is able to connect to one comic reader, one reviewer, one blogger, one online writer, then you stand a chance of getting yourself a little attention. As an indie comic book creator I feel like even a little attention on a personal blog feels like a four star review in The New York Times.
JG: For me with The Pride, it has very much been about making a comic I wish I had as a young gay teen reading comics. What drives you with making LGBTQ comics?
BA: Yes, totally agree! I started creating queer comics out of a desire to see myself in my favorite medium. As I stated above I spent the bulk of my life reading and being entertained by stories about straight people. I wanted to tell a story about some homosexuals who are every bit as important, worthy and powerful as our straight brothers and sisters.
JG: We've mentioned some of the challenges to independent comic makers…but what would you say to someone wanting to make comics? Would you say the rewards are worth the challenges?
BA: The challenges are many and plentiful. There are more challenges than rewards, to be perfectly honest. Some of the main challenges I've faced include:
-The notion that self-published comics equal crap
-Online trolls who bash you and call you a gay retarded teenage girl (true story)
-Sitting at a table at a Con hoping and wishing and praying that someone, anyone will stop and buy a comic
-Working with freelance artists who need to actually to be paid for their work for you and having to come up with the money to pay them what they deserve
-Dedicating the time to writing, creating, and making sure your book isn't the crap that anti-self-publishers claim it to be
-Jealousy and backbiting from fellow indie creators
-Being jealous of your fellow indie creators
-The struggle to trust yourself and realize that you have something important to say so stop stalling and do it
-Yeah, you have to really, really, realllllly love creating comics to keep doing it.
As for the rewards, in terms of money, they are often few and far between. You and I both know that indie self-publishing isn't a cash grab kind of endeavor. Despite my amazing Kickstarter I'm not making dollar, dollar bills off my comic books. Everything I make off the sale of my comic books, or from my Kickstarter, goes right back into making more comics.
However, despite all of the above, the rewards in regards to personal satisfaction are immeasurable. Holding something you created in your hands is an indescribable high. All your work, all your dreams, all your hopes and wishes, are presented there in that stapled bound, flopper piece of you. And when someone plucks down their own hard-earned cash to buy it, well, it's wonderful. It's simply wonderful.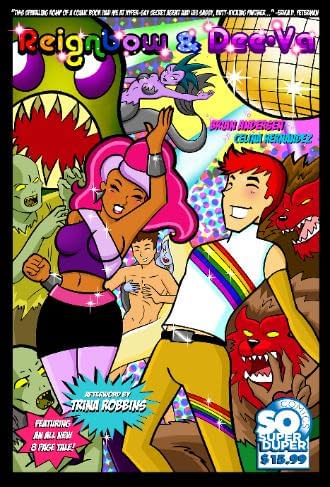 JG: So along with Stripling Warrior, you'll have quite a few other new books at SDCC coming up, right? Can you tell us a bit about them?
BA: Yes! It's nice of you to ask.
Super Boys Meet Baby is like if Cam and Mitch from Modern Family had super powers and actual sex along with being married and having a kid. This book is very personal to me as I not only take my former So Super Duper characters and cast them in a new, more mature light, but it's also loosely based on my life as a gay father.
Brin Barbera: Cartoon Hunter is a dark, yet humorous tale of a young woman who is tasked with hunting and erasing evil cartoons who have gone rogue and now crave the souls of children. I think that pretty much sums up the comic nicely.
And finally Friend of Dorothy is a book that has been three years in the making and it's finally (FINALLY) out! It's the story an Earth boy who becomes the Champion of Oz and needs to defeat an evil Munchkin. Yes, Oz, as in "The Wizard of.."
JG: With Super Boys Meet Baby we see the return of characters from So Super Duper but in a very different setting. How did that feel to write?
BA: Really great. While I love what I did on So Super Duper I was ready to move away from that writing voice. I felt the need to shed myself of that book and try something new. Something more mature in terms of crass language – but not crass language just for the sake of using swear words, but, like realistic language that I use in my everyday life. Also, I toss in a sex scene amongst the real, loving relationship between two men and their new baby. JG: This book draws on your experiences as a father yourself. Were a lot of your experiences drawn into that issue?
BA: Absolutely. The entire issue is loosely based on my husband and I's chaotic, insane trip to get across the US for the birth of our daughter. It's a deeply personal story grounded in my life experience – only with more colorful costume, superpowers and street fights with super villains.
JG: Friend of Dorothy sees a new issue too, and is something you've been working on for a while. How does it feel to be getting further along?
BA: Oh yes! Friend of Dorothy is like a bridge between my more cutesy comic book past and my new mature, honest work. It started back in 2010 and took until now to finish – there were many stops and starts along the way. But it's finally, amazingly complete and I'm thrilled to wrap up the story. I hope the readers enjoy it as much as I did to write it. Also, a huge shout out to my co-creator and artist Neftali Centeno. He's really the heat beat and the soul behind Friend of Dorothy. He's amazing talented!
JG: So where can people find your comics? And what are your plans for Comic-Con International, where will people be able to find you?
BA: All my comics are now available as digital PDF's and in print on my website: www.sosuperduper.com
I will be on the Gays In Comics Panel at San Diego Comic Con on Saturday July 11th. Yay! As well as being at the Prism Comics booth!
Joe Glass is a Bleeding Cool contributor, and creator/writer of LGBTQ superhero team comic The Pride, which is available on Comixology and at The Pride Store. He is also a co-writer on Welsh horror-comedy series, Stiffs, which can be bought at the Stiffs Store and is now also available on Comixology. You can follow him on twitter and tumblr.