The Best Looking Comic Next Week? Check Out The Zoo Hunters Covers, Preview, And 6 Pages Of Peter Steigerwald's Sketches
The Zoo Hunters is arriving at last, on Wednesday the 5th of November, for its first issue. You may recall the preview of Zoo Hunters in 2014's Free Comic Book Day selection from Aspen Comics, both written and drawn by Peter Steigerwald. And it was gorgeous and interesting then, even more so now with the final covers and previews being revealed. It's a story that sets Steigerwald free to create the strangest and most appealing creatures his imagination can dream up and follow some interesting characters into conflict and adventure.
Aspen describes the comic thus:
There IS life on other planets—THEY find it.

Abros Kel is a ZooHunter—a man who is hired to capture animals for zoos on alien worlds. He and his young son Ty have lost everything due to a tragedy, and together this uncomfortable pair set out into the stars to train Ty as a ZooHunter. Along the way they encounter scores of alien life-forms on far away worlds including Qaurec—an unscrupulous rival ZooHunter who is hunting Abros down. Can Abros and Ty stay one step ahead of his villainy and prove successful in their quest?
Here are the covers for Zoo Hunters #1, incentives and con exclusives included:
And here are preview pages from the first issue, courtesy of Aspen Comics:
But in a Bleeding Cool exclusive, we've also received six whole pages of sketches from Steigerwald for a first look where you can observe some of his creatures and characters more closely as well: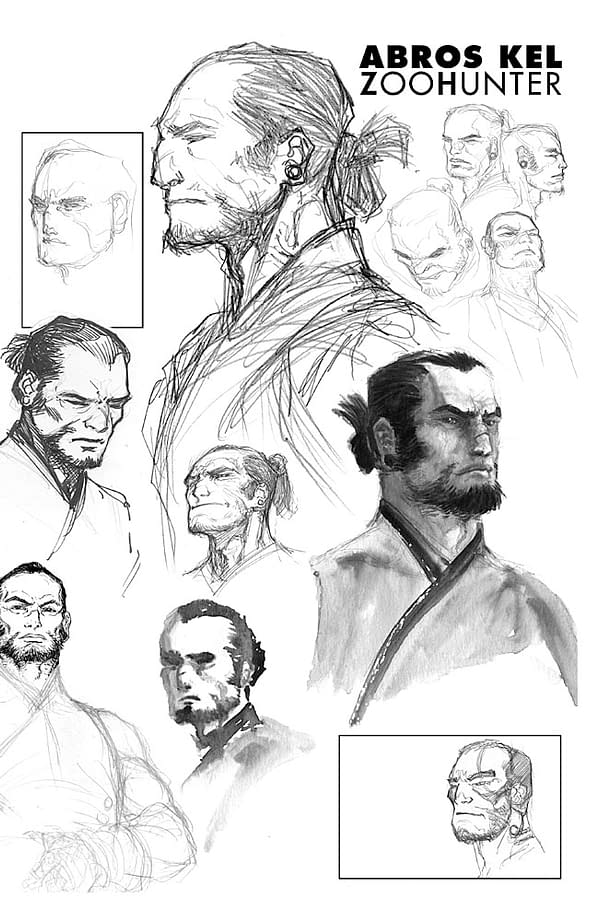 The Zoo Hunters #1 arrives in shops on Wednesday, November 5th from Aspen Comics