The Big Mystery (One Of Them) in Marvel's Incoming #1, Revealed (Spoilers)
Today sees the release of Marvel's Incoming #1, setting out the near future of the Marvel Universe into 2020. We had plenty of thoughts about what this all meant earlier in the week. But it also has a place in the past, spinning out as it does from Marvel Comics #1000 and #1001, which themselves span out of Marvel Comics #1 from 1939. And so today, in Incoming #1, we meet a rather unusual couple, Bel-Dann and Raksor. But who are they and where did we first meet them? Speculators ad curious readers will want to know. Created by Chris Claremont and John Byrne, Bel-Dann first appears in the background of Uncanny X-Men #137, as a member of the Kree guard.
.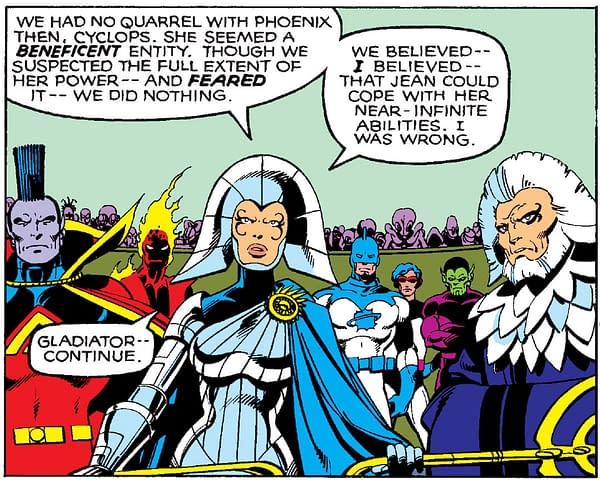 And was there for the duel that took place on the Blue Area of the Moon.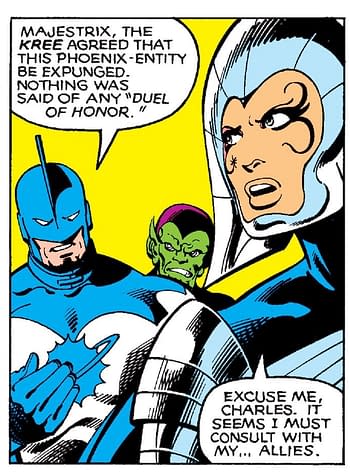 Commissioned as a witness to the battle between the X-Men and the Imperial Guard on the moon, alongside a representative of the Skrulls, Raksor.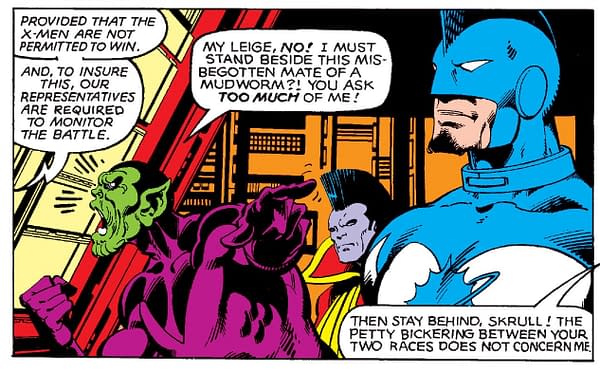 It didn't go well.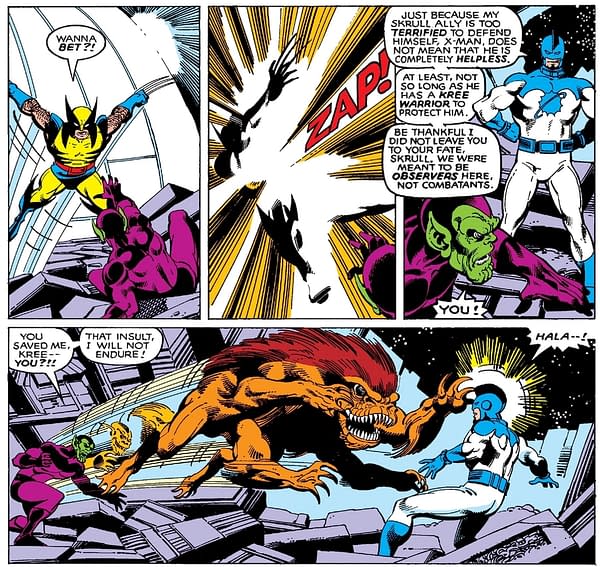 But that was it, unnamed, they were left behind to fight on the moon, their story abandoned. Until John Byrne picked it up when plotting the Fantastic Four Annual #18, reprising that previous scene…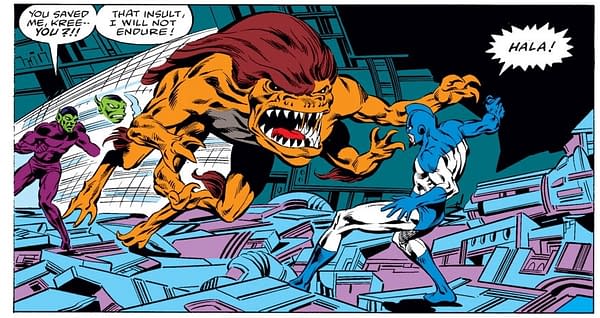 And letting it play out.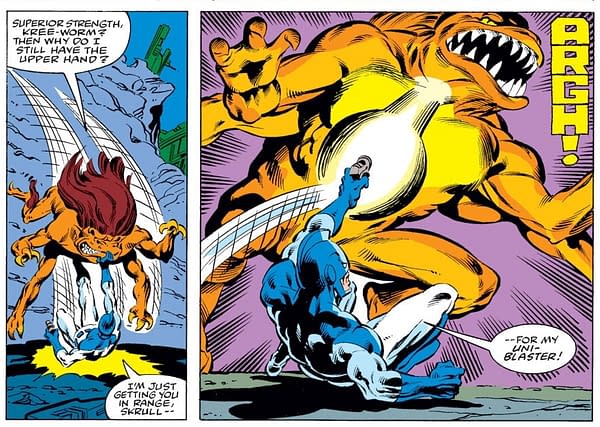 And as the battle continued to rage for months, even as the rest of the world and universe moved on, we at least learned their names.

Bel-Dann and Raksor.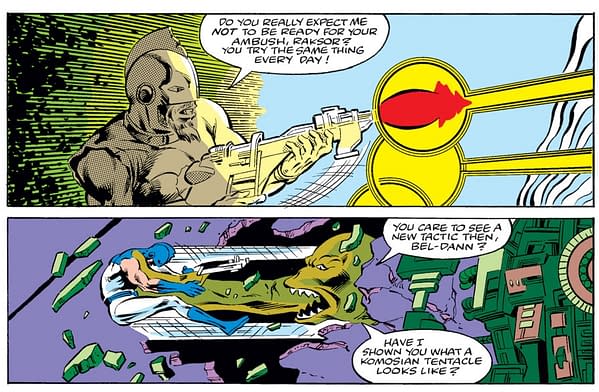 Their fight then became a symbol of the Kree/Skrull battle and was used to that purpose to decide the winner once and for all.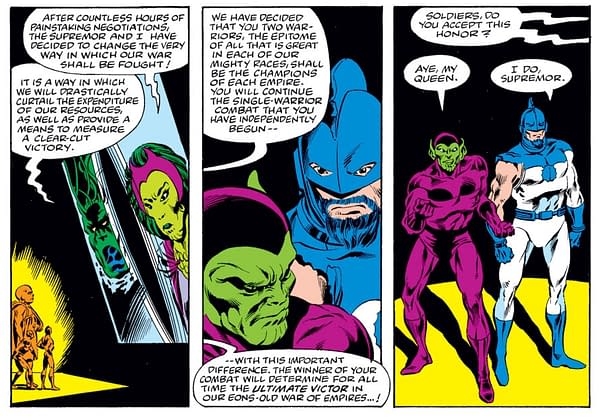 And taking place on Earth, now with its own witness, that of The Watcher.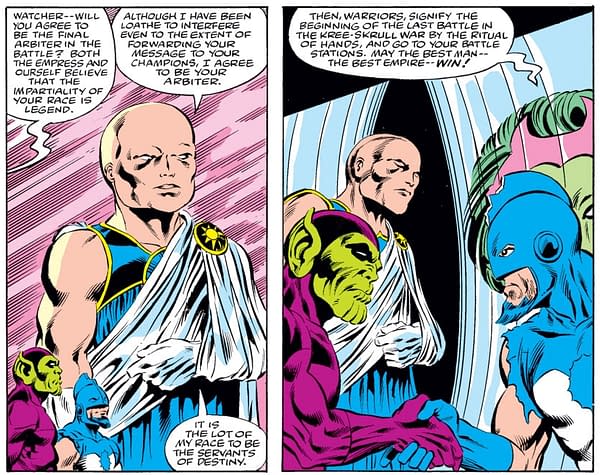 The battle continued, with the Fantastic Four and the Inhumans getting involved.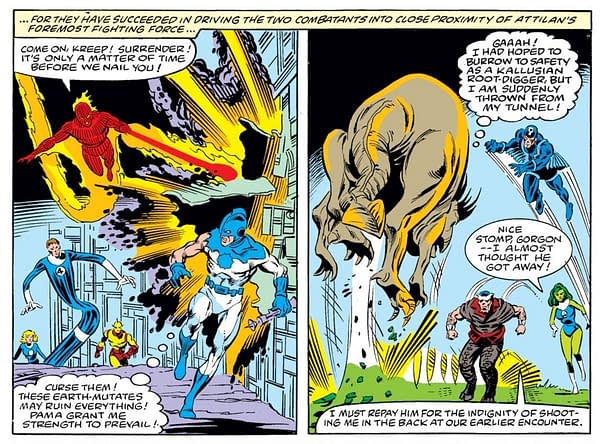 Only for this to force Bel-Dann and Raksor to pool their resources.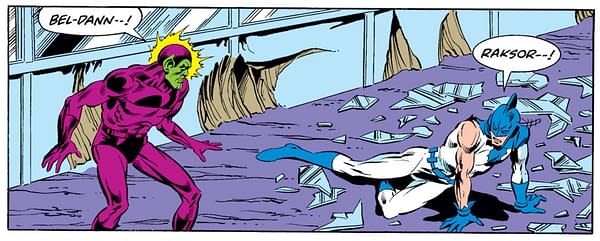 And fight back as a team.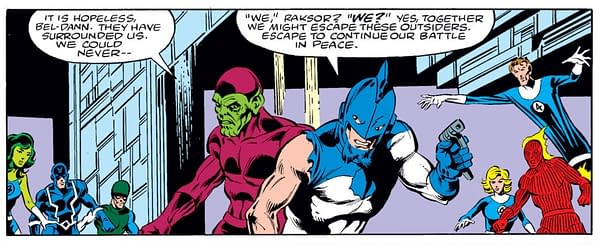 With the result being the kind of thing all parents say to competing siblings.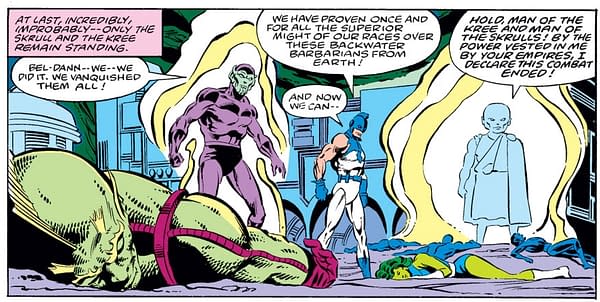 Although in the Marvel Universe, this sort of thing actually works.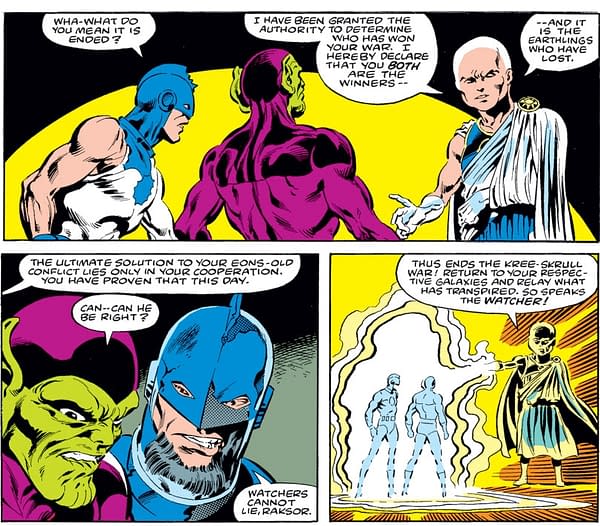 So, peace in our time? Not really. But their story would make for a lesson, as seen in this brief panel in West Coast Avengers #80, though with a colouring job that painted Bel Dann as a blue Kree not a pink Kree. This would be an issue.

Because when Bel-Dann next popped up in Captain Marvel Vol 3 #1, he was a general, with a new colour scheme for his costume, fighting for peace.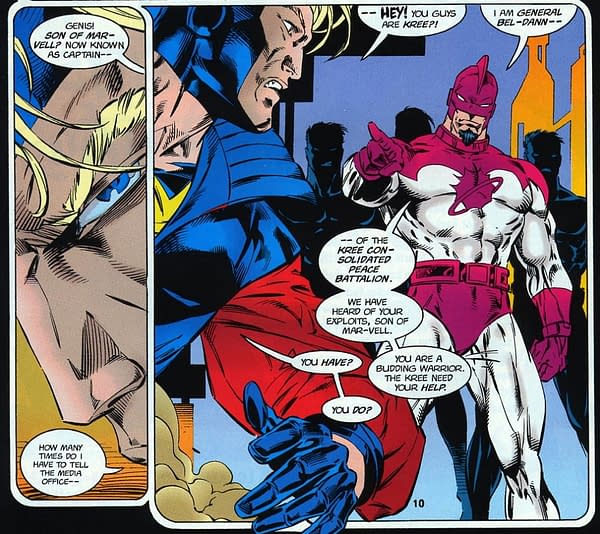 But in a later issue, was a blue-skinned Kree.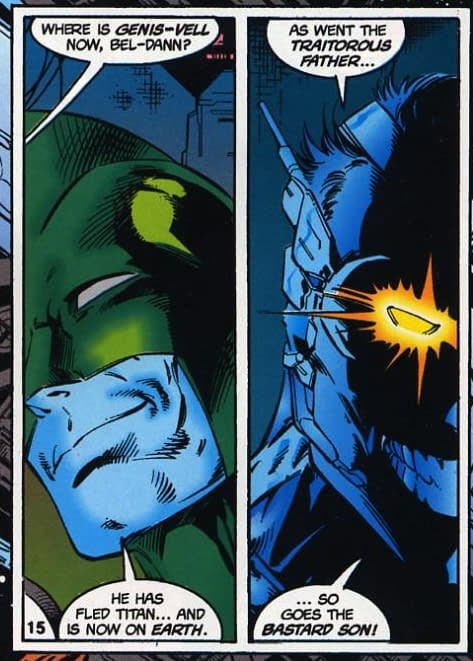 Befire reverting to a pink-skinned Kree again.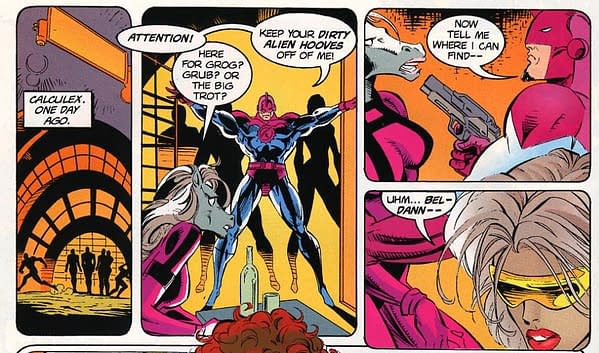 Before in Captain Marvel #4, his peaceful ways were exposed as a scam, he had been fighting to restore the Kree military.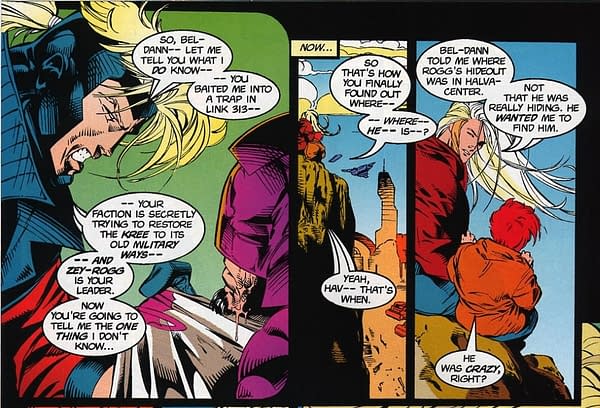 Raksor also had his own adventures, as part of the Slaughter Squad, over in The Legendary Star-Lord, appearing mostly in issue 5…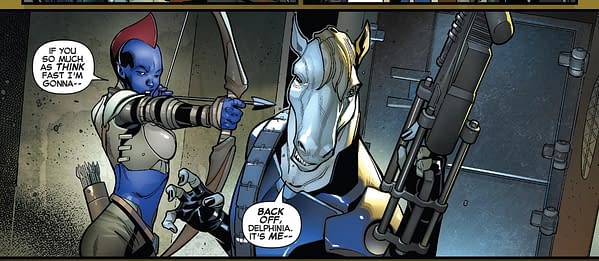 …if you could find him.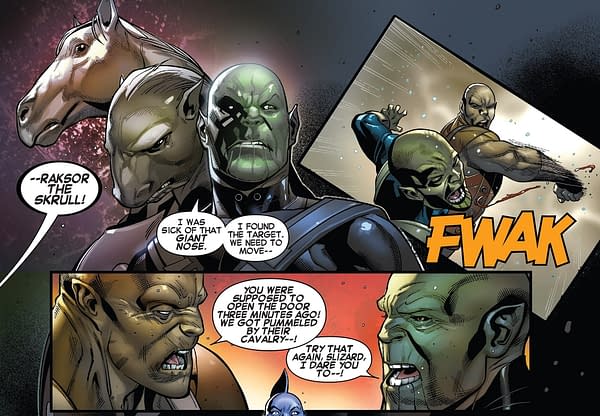 And trying to double-cross Peter Quill with the same trick.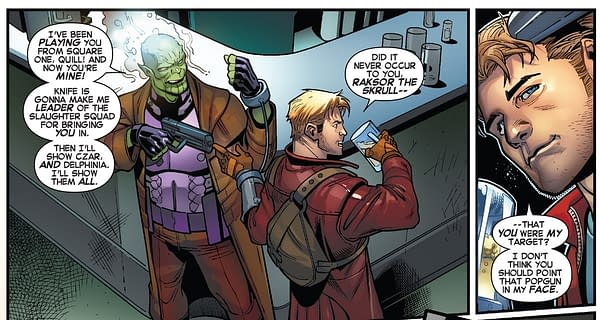 Only for Quill to quadruple-cross him.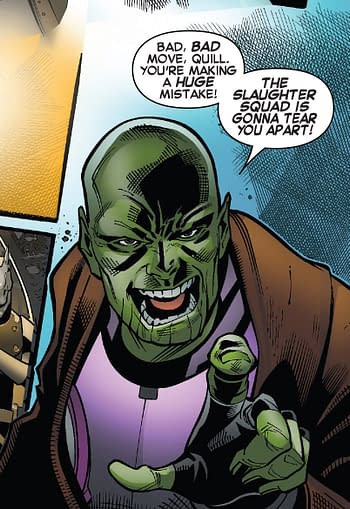 After that we only got one other appearance for a panel in issue 8, with the rest of the squad.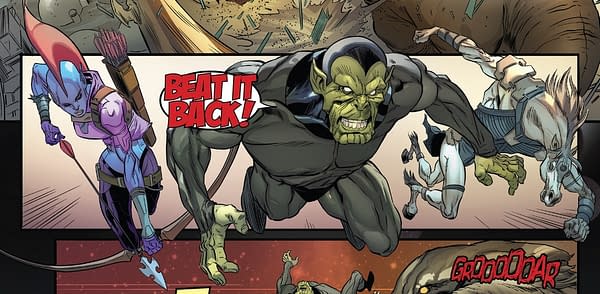 And now in Incoming, we discover that Nel-Dann and Raksor have pretty much been living as a coded gay couple on Earth all this time. Perhaps they could remove his Captain Marvel experience as someone from the Skrull Empire posing as him? And getting his colour scheme wrong occasionally?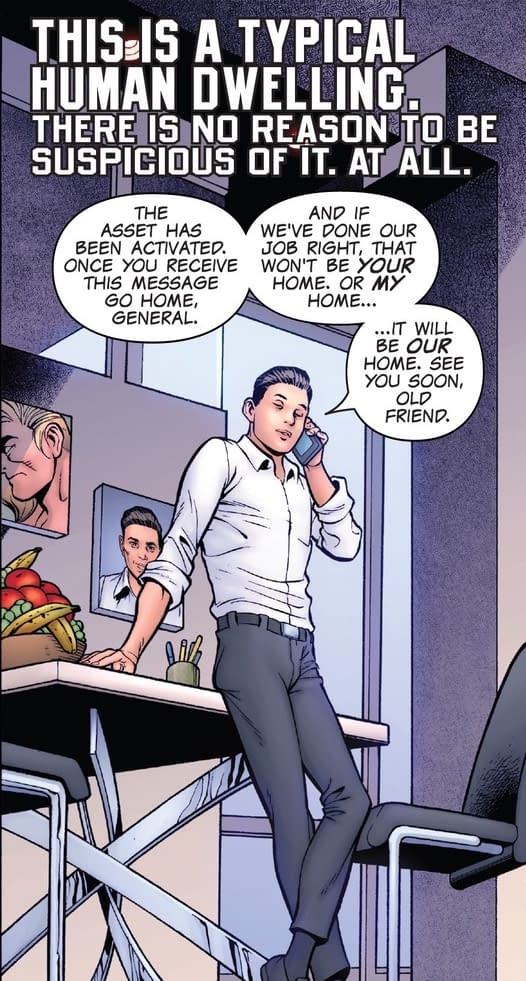 But what role will General Bel-Dann and Raksor play in the Marvel of 2020 to come? Readers of the comic will have a clue it might not be much, but copies of Uncanny #137 have been selling well this past week, usually from around $15 to $50 depending on condition. This copy has one bid at $10, let us see how that goes…
Fantastic Four Annual #18 sells for pennies, usually as part of bigger lots, here's one that sold for a buck. There's one going for that right now, I wonder how long after posting it will stay on sale?
Incoming #1 is published today from Marvel Comics. I bought mine from Piranha Comics in Kingston-Upon-Thames. Piranha Comics is a small south London comic store chain with a small south-east store in Kingston-Upon Thames's market centre, which runs Magic The Gathering nights on Fridays, and a larger south-west store in Bromley, which also runs Magic nights and has an extensive back issue collection and online store. If you are in the neighbourhood, check them out.