The Mark, Sergio, Stan, and Maybe Tom Show SDCC Panel
So I will get to the question that everyone is asking, did Groo colorist Tom Luth attend the panel. The answer, sadly is no, but that didn't stop a full room of people from having grand old time listening to Groo The Wanderer artist Sergio Aragones, writer Mark Evanier, and letterer Stan Sakai (Usagi Yojimbo) be in classic form for this SDCC panel. They started the panel sharing what was coming up for Groo. Aragones said that he is continuing to working on Groo Meets Tarzan which they discussed at this same panel at Wondercon this year. Evanier thinks the book will be published by the end of the year, but that the publisher, Dark Horse Comics, wants three issues delivered before they will advertise for the book. The book will also include art by Thomas Yeates working on the Tarzan specific art, similar to what Yeates did with the Conan art on Groo Meets Conan.
Aragones said that he did not like crossovers in the past because he doesn't like bring characters from different worlds together and offending each universes fans. Then he saw Akira Kurosawa's Rashomon and liked how the movie told the story from three different point of views. He thought that this would make a good crossover. So Groo Meets Tarzan will have three storylines, one for Groo, one for Tarzan, and one for Evanier, Aragones, and Sakai, similar to what they did on Groo Meets Conan. They said a scene in the book will actually be the panel that we were all in, except Tom is in it.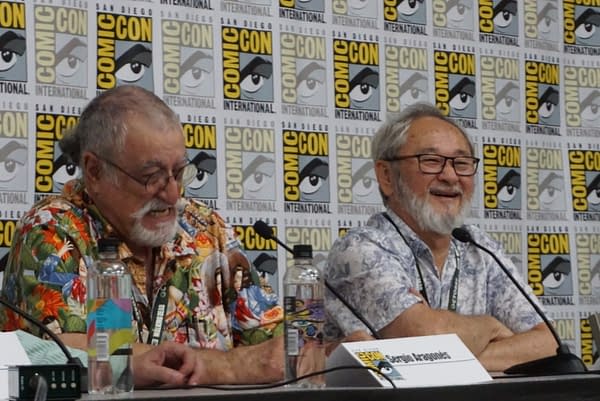 Aragones said after that they will be working on Groo: Day of the Gods, which will be the third Gods series, following in order Fray of the Gods and Play of the Gods. This one will be four issues just like each of the other two series.
The panel was discussing how organized Evanier is compared to Aragones and it came up that this panel was the second of fifteen panels he will have this weekend.
I asked Evanier about possibly doing his own podcast after listening to his recent appearance on Gilbert Gottfried's Amazing Colossal Podcast! which was full of amazing stories covering Evanier's amazing career as a television show writer and more. Evanier said he already has a blog, the incredible https://www.newsfromme.com/, so he doesn't need to add any more free material to the Internet.
The panel was asked if they ever get creative blocks. Aragones said that they have other projects, and if they get blocked the stop what they are working on and work another project that they have. Sakai said, "If I don't feel like writing I'll draw or pencil, and if I don't feel like pencil I'll ink, and if I don't feel like doing anything I'll work on Groo." This elicited loud laughter and applause from the audience.
Evanier started talking about Aragones book, Viva MAD!, and, according to Aragones, had sold almost one million copies. Evanier said that the rare copies were the ones that Aragones had not signed.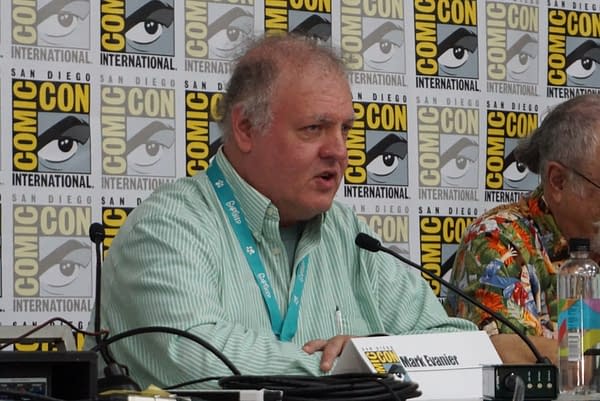 An audience member asked if there were any plans to reprint the early issues of Groo. Evanier said there are no plans, but it's been discussed. Then they were asked about offering them digitally. Evanier said they don't want to do digital because they can charge more for the book when it is on paper.
While there was more discussed, somethings just aren't going to come across as well as being in the room with these three smart, funny creative people. So if you ever have the chance, make sure to check out some version of this panel whenever you can.
For further musings from Joshua Stone, follow him on the Twitter @1NerdyOne