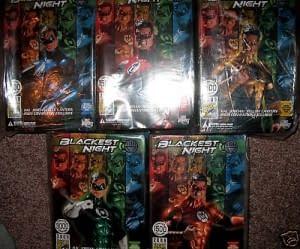 Going to San Diego Comic Con can be expensive. The travel, the hotel, the bar bills, the pedicabs, the strippers, it all adds up. Thankfully there are all sorts of ways to ameliorate those costs… by picking up swag and selling it online.
Sadly, the most saleable and most desirable swag brings the most potential customers and the longest/hardest lines to get into. You could find yourself queuing for half the day – and missing out on whatever it was you actually came to see.
Nevertheless, eBay is awash with such stuff already. Here's a Top Twenty.
20. The Cobra Crimson Comander GI Joe doll from Sideshow was selling on the floor for $30 but on eBay has hit $169. I like Sideshow. I accidentally gatecrashed their pool party and ate hotdogs. Sorry guys.

19. Dunny Lucky Cat by Shane Jessup. I don't understand, I don't want to understand and I certainly don't want to pay $250
18. The Sideshow Han-and-Luke-as-Stormtroopers figures that… well, what would you do with them? $250 for the pair now.
17. Ghost Whisperer cards. Bits of costume and autographs on them. And going for $410 for the 9 card set. I have not the words.
16. You knew this would be here somewhere. The Chew Art Book, limited to 100, one copy on eBay, it sold for $61.
15. Marvel Vs Capcom 2 record on vinyl. 200 in total, 30 given out at San Diego, $255 on eBay.
14. The Street Fighter IV TE Fightstick. Smacks onto eBay for $450, 250 made for the xBox, 250 for the PS3.
13. True Blood glass from the True Blood party. Perfect for blood wine and a snip at $31. Well, they were free after all.

12. The Whilce Portacio sketchbook gets an impressive $48,
11. The Iron Man 2 panel promo T-Shirts featuring Stark Expo '74 go for $20 now,
10. The True Blood Hotel Door Tag./ Made available to San Diego hoteliers, the con was awash with thse. But who thought to keep their and put it on eBay? Not many. As a result, these have been selling for $20. Oh good, I've still got mine. Also the Blackest Night #0 which, after being given away at San Diego, is now worth $10. Wish I'd loaded up…
9. The Dollhouse Blu Ray, featuring the missing episode and pilot, a letter from Joss Whedon and, basically, the fact that it's only out at con until next week, makes this a $155 item. Double that if you got it signed by Whedon/Eshku.

8. The Transformers Soundwave with-four-cassette-Transformers set. Oh they ran for this 25th Anniversary figure. And if you want one now, you've got to find $300.
7. Masters Of The Universe Art Book from Mattel, the first of a series of books looking behind the workings of various projects through the decades and exclusive to Comic Con this fetches up to $150 on eBay right now.
6.The Harry Potter Stinks Button Prop card, one of 33, with a prop from Goblet of Fire. Going from around $610.
5. Just pick up everything you can and put it in a bag. Then sell it for $500.
4. Okay, this is insane. Have you seen the size of these exclusive Lego Star Wars figures? And they really go for $80 each? Limited to 300 items, a set of all six hits over $600.
3. Leinil Francis Yu's Sketchbook. It's hit a a whopping $69.99 from an original $20 price, the biggest jump of all the con sketchbooks.
2. The $2000 Harry Potter Trading Card. I know, I know. Only 9 of these were made, each with a piece of material from Harry Potter's First Task costume from the film Goblet Of Fire, featuring an eyelet. Framed naturally. For $2000, I would think so.
1. The Blue Lantern Hal Jordan Blackest Night figure. These Blackest Night figures from DC drew the most consistent crowds, selling Hal in a different colour each day (although some of the poses seemed very familiar). There were various issues with people getting these figures and, dare I say it, the value may even go up when people start to realise this. Despite there being double the number of Green Lanterns, that it was only available on Preview Night hasn't affected its value much. Expect to pay up $80 for that figure a little more for the other colours, but the large audience for the show, and the haphazard ticket allocations for Friday mean that the Blue Lantern has hit the $100 mark repeatedly. A set of all five will set you back up to $400.
0. The destroyed Frank Cho sketchbook is now priceless (featuring as it did the America, Fuck Yeah! Captain America image and unseen pages of Ultimates). If you can find the skip they all went into, or maybe snag Frank cho's only personal copy, you could name your price. And pay for your flights for the next few years…
Enjoyed this article? Share it!