The Whedon Threeway: A New Dark Horse #1 For $1 (Yes, That's Really The Title)
Dark Horse's "#1 for $1.00 Program" has been underway for some time and you might have seen some of those inexpensive first issues in your local shops. The idea behind the key first issues at a discount price is, of course, to give readers a chance to check out a new series and see if they'd like to continue with it, all in all giving more options for new reading for comics fans. But actually, there's a rather intricate timing behind their releases which you might not have noticed. They're being released at the same time as key trade editions specifically to clue readers in about a series before they make up their minds about whether to make that even bigger investment in a trade collection. Often that first issue is contained in the trade itself, so it's a test-drive.
Clever retailers, picking up on this, invented a method of expanding on Dark Horse's intentions in a way you have to give them credit for. Quite a few retailers began to add an extra incentive–they told customers that if they read the #1 for $1.00 and liked it, coming back for the trade, they could then get a $1.00 discount on the trade itself. Not a bad idea. So, for instance, this week, the #1 for $1.00 is Dragon Age, as pictured here: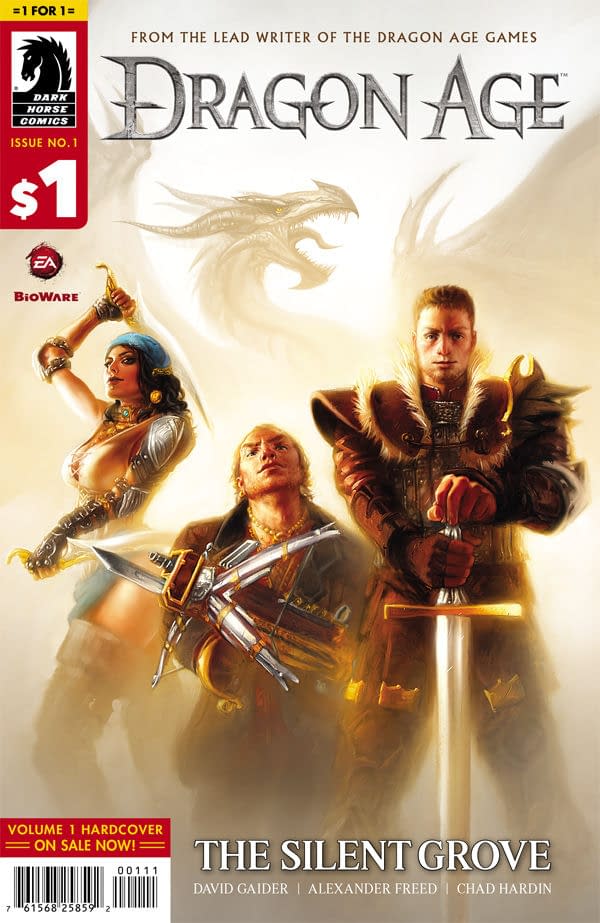 And this #1 is being timed to the release of the Dragon Age Library Edition, Volume One, being released on June 4th. Previous #1 for $1.00 issues have included Itty Bitty Hellboy around the time of the hardback release of the collection, and B.P.R.D. Hell on Earth tied to the collection of the same title.
But things have gotten much bigger for the #1 for $1.00 program in a lateral move that there's no way any fans were expecting. Dark Horse have announced that an upcoming #1 for $1.00 will actually include three titles in a jumbo issue for the same price, and it's going to be Whedon themed, including the first issue of Buffy: Season 10, Angel & Faith, and Serenity: Leaves on the Wind. The title of this jumbo issue really is The Whedon Threeway. The art just came in for the cover of this book, by Georges Jeanty, designed and colored by Dave Nestelle, and we have it here:
There's no easy way to explain the title except to tell a story that Dark Horse Editor-in-Chief Scott Allie has allowed out of the bag. Allie says the conversation with Joss Whedon that resulted in the title went like this:
We wanted a title that covered all of it, and so I went to Joss. He's of course pretty busy right now, so we didn't get to talk, but he did give me a great name. Today I sent him the cover with the title on it, and he replied:

Good god, you actually called it that.

Cool.

It is cool, isn't it?
In fact, Whedon claimed he'd been only "joking" when he suggested the title, but when Allie sent him the finished cover art, there was no stopping a title like that.
I've also gotten a peek at what #1 for $1.00 tie-ins are coming up at Dark Horse, not yet formally announced, and I'll share a few with you here: The Strain, Ghost, Axe Cop, and Brain Boy, among others. Wonder what titles those are going to have? People are going to have to outdo Whedon somehow…