Things To Do In New York This Week If You Like Comics
Monday, October 27th Forbidden Planet NYC will host a "Meet the Misfits and Osaka Popstar" event from 7 to 9PM. They say: "Forbidden Planet will be enjoying the haunting season the fright way… with a maniacal Misfits Records in-store event! Meet Jerry Only, Dez Cadena and Eric "Chupacabra" Arce of the The Misfits and John Cafiero of Osaka Popstar. What makes October 27th so special? Well it's the release date for the Expanded Edition of Project 1950 which the fiends will have on hand for you to get signed! But that's not all… we're gonna have more Misfits and Osaka Popstar related CDs, vinyl, toys, and merch than you can shake a devilock at and yes the guys will sign it all for you!".
Tuesday, October 28th The 105th meeting of the NY Comics & Picture-story Symposium will be held on Tuesday, October 28, 2014 at 7 pm at Parsons The New School, 2 West 13th Street, in the Bark Room (off the lobby). Free and open to the public. Please note 7 pm starting time.
The presentation will be by Eddy Portnoy on "A Brief History of Yiddish Cartooning". He says: "Jews and cartoons have an unusual relationship. Initially, Jews were the victims of a particularly virulent anti-Jewish caricature, and did not engage the form within the context of their own culture until the second half of the nineteenth century in the Yiddish press. Though little known, the cartoons of the Yiddish press serve as a pre-history to subsequent activity in the field by Jewish artists".
Wednesday, October 29th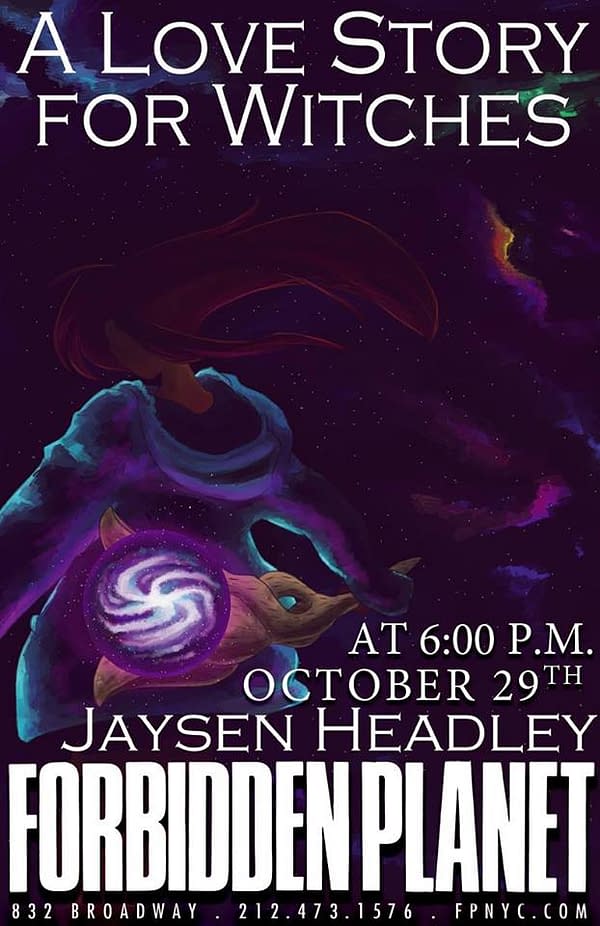 Forbidden Planet NYC will host a signing by Jaysen Headley of his new novel A Love Story For Witches from 6 to 8PM. Headley says: "On October 29th, I will be signing and selling A Love Story for Witches at Forbidden Planet Comics, NYC. Make sure to come on down and get a copy of the book and say hi! The event starts at 6PM".
Thursday, October 30th Forbidden Planet NYC will host the Suicide Girls signing Geekology at 6PM. They say: "Forbidden planet is being invaded by the Suicide Girls to celebrate the release of their new book Geekology. New books, beautiful people, do I need to say more?".