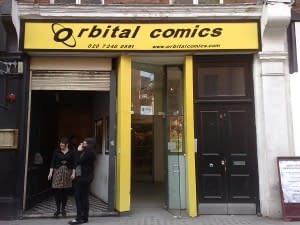 Today from 4pm onwards, at Orbital Comics, 8 Great Newport Street, London, there's an Avatar/Bleeding Cool signing at Orbital Comics. Crossed's Jacen Burrows, Freakangels' Paul Duffield (with the third Freakangels TPB to boot), Kieron Gillen, Si Spurrier (both upcoming Avatar creators, talking about their new stuff), William Christensen (Avatar publisher and EIC) and me (signing any Bleeding Cool printout you care to bring along)
—
As an aside in a Hollywood Reporter piece on Eagle Eye screenwriter Dan McDermott returning to television, it mentions that McDermott is attached to adapt Antony Johnston's comic book Three Days In Europe as a movie. This is the project to which Hugh Jackman and Jennifer Garner have been attached to. But this is the first time Dan McDermott has been mentioned in regards to this adaptation.
Three Days In Europe was a series from Oni by Antony Johnston and Mike Hawthorne that detailed a couple forced to go on different holidays by their surprise holiday plans for each other, before twisting into a sex'n'crime thriller. The film deal was announced eighteen months ago, but there hasn't been a great amount of movement since.
—
The Meiji University in Tokyo is set to open one of the world's largest comics libraries, the Tokyo International Manga Library, housing over two million comic book titles. Scheduled to open in 2015, the library is exhibiting a small sample of their planned collection at the university this week.
As well as the comics collection, accessible to researchers in Japan and abroad, the TIML will also exhibit animation drawings, video games and other aspects of memorabilia. While manga infuses Japanese culture and society, it doesn't have a serious literary archive. This will be first, and on an immense scale.
Manga reading prime minister Aso had pledged over eleven billion yen to set up a manga museum, but this was ditched after he was deposed in August.
—
Phill Jupitus talks about how he was introduced to Forbidden Planet, comic books not-just-for-kids and specifically V For Vendetta by singer/songwriter/campaigner Billy Bragg, and his love for the medium.
—
And Sean T Collins finds the antidote to Con War – Shelton Drum and Mike Broder.
—
And here's one of those nothing-to-do-with-comics yet everything-to-do-with-comics, a pottery sculptor believes his designs are stolen by another, and the alleged thief then sues him for stealing the designs.
—
And to play us out, one more new Evony ad… Enjoyed this article? Share it!