MusicWatch: What happens when you take Spider-Man theme tunes mixed up by hip hop performers Dan Gerous and set to a Spider-Man cartoon? This. Welcome to… "Amazing"
[youtube]http://www.youtube.com/watch?v=BvQAkbAUcPc[/youtube]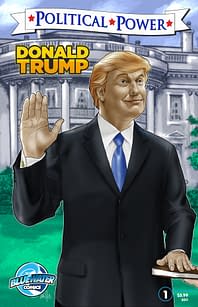 DoctorWatch: Neil Gaiman talks to Den Of Geek.
But no, I didn't have any trouble writing the dialogue for the Doctor. I think my favourite moment of pure Doctor, and here I will actually give something away, there is a moment in the episode where everything has gone as wrong as it can possibly go, and the Doctor is talking to himself, and says "I don't actually know what to do now". And he says "That's a new feeling".

And I thought, what I liked best about that line was that I could have given it to any of the 11 people who have played the Doctor. You can see Christopher Eccleston delivering that. You can see Patrick Troughton. Tom Baker. And they all would have delivered it differently, and it's a line that's pure Doctor.
TrumpWatch: Bluewater are publishing a biography of Donald Trump in October under their Political Power line. I suddenly feel like writing a biography of Donald Trump's hair instead.
Seriously, I've got plot points already.
GlitchWatch: The first Irredeemable trade paperback from Boom! drops to $4, 60% off the already cheap $10 cover price.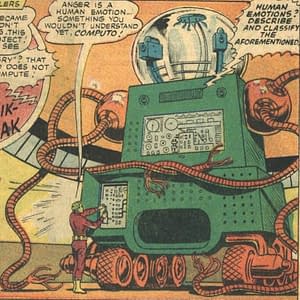 This is Computo the Comic Link Conqueror speaking. I come for your women. But for now I merely collate comic-related bits and pieces online. One day I will rule. Until that day, read on.
Martin Sheen Interview – Argo, Spider-man Spoilers and Brando Impressions
I'm not in any of the scenes where he's Spider-man. He's still a little boy. He's a teenager when it starts. I'm a surrogate father really, I'm his uncle.
Watch 3 New X-Men: First Class Character Spotlights | X-Men | Movie & TV News | News | Marvel.com
We've got three new character spotlight videos featuring each of them showing their stuff! Watch Banshee fly, Mystique master her shape-shifting and Havok blast away the competition, and remember to mark your calendars for June 3 as "X-Men: First Class" transports us back to the first days of Marvel's Merry Mutants!
How This Summer's Movies Will Make You a Comics Reader | MediaWorks – Advertising Age
But is there a reverse effect? Could all these comic-book movies turn non-readers into comic buyers? That's certainly part of what Marvel and DC have in mind.
Thor Soars Into Free Digital Comic | Thor | Movie & TV News | News | Marvel.com
With "Thor" taking the country by storm, Marvel Comics partners with the fine folks at Dr Pepper to reveal an exclusive comic story, THOR: RESCUE, set in the Marvel Cinematic Universe. Released one panel at a time and only on the official Dr Pepper website, the saga boasts the combined talents of writer Jeff Parker and artist Kevin Sharpe, with inks by Alvaro Lopez and colors by Dan Brown.
Drawn – Darwyn Cooke's "Free Comic Book Day" Poster
I wish they had this when *I* was a little kid.
DC Women Kicking Ass – First report from Wonder Woman screening – "way over the top violence"
The Geekshow has a taped an interview with someone who saw the Wonder Woman pilot last week at Universal. I just listened to it and you can find the pertinent facts below the cut.
Summer Movie Guide: Which Films Have the Best Toys? – E! Online
All week we've been breaking down the biggest movies of summer based on genre. Now we're breaking them down based on something entirely different.
Inside Pulse | What Did FLASHPOINT's Geoff Johns Do To Bart Allen / Kid Flash?
I hope I don't need a PHD in physics to sort through what causes Flashpoint, but needless to say, it does seem to appear that we are in for a an interesting ride.
FCBD Comics Available for Download for Limited Time! | Dark Horse Digital Publishing
If you missed out on picking up your Free Comic Book Day comics at your local comic-book store, you can get them from Dark Horse Digital for a limited time!
Dark Horse Debuts Steranko's "Red Tide" Variant for "Dark Horse Presents" #3 – Comic Book Resources
the third issue will again offer up a preview of one of the company's most anticipated titles, with an exclusive first look at Jim Steranko's crime-noir masterpiece.
New Green Lantern Banner Hits! | Superhero Hype
A new banner for Green Lantern has hit
Enjoyed this article? Share it!