Upgrading my Soul with Ezra Claytan Daniels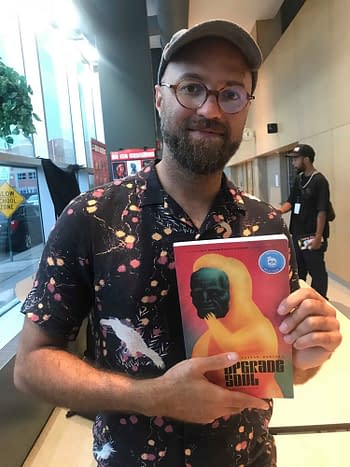 Ezra Claytan Daniels is a writer and illustrator based in Los Angeles, CA. His critically acclaimed graphic novel series, The Changers, began a unique career peppered with a number of collaborative multimedia projects ranging from video games to animation to feature documentaries. Daniels' latest graphic novel, Upgrade Soul, began life as a pioneering immersive serialized graphic novel for iOS in 2012. Upgrade Soul was collected in print by Lion Forge Books in 2018. It was the recipient of the Dwayne McDuffie Award for Diversity in Comics, nominated for an Eisner Award for Best Graphic Album, and was named one of the best books of 2018 by Publishers Weekly, Vulture, The Library Journal, and Paste.
I got to hang out a bit with Daniels last weekend in Detroit for MECCAcon and decided to ask him a bit about his book and background.
GREG ANDERSON ELYSÉE: Your series Upgrade Soul is critically acclaimed with an Eisner AND Harvey Award nomination! And was a winner of the Dwayne McDuffie Award. With all the recognition this series has been getting, how are you feeling right now?
EZRA CLAYTAN DANIELS: I feel vindicated! At least to a degree. I spent so much time working on that book fully expecting to self publish it and have it make a tiny splash in the indie scene.
ANDERSON ELYSÉE: I read somewhere that Upgrade Soul was rejected multiple times. What pushed you to keep working on this and not give up?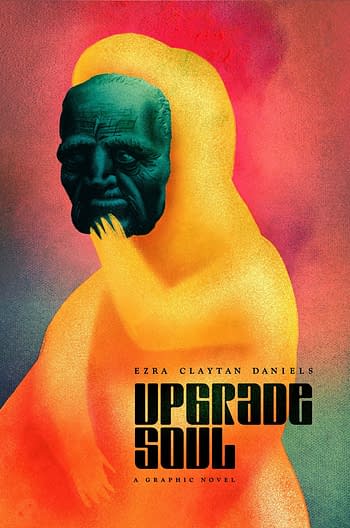 DANIELS: That's true. I tried to pitch the story for a good 10 years and nobody wanted to touch it. But I loved the story and characters enough not to stand by their side, in sickness and in health, [laughs]. After a while the book became kind of a security blanket. I wasn't bored for 15 years because I always had this mountain to chip away at.
ANDERSON ELYSÉE: Can you tell us about Upgrade Soul? The title by itself is a little trippy, especially looking at the cover as well.
DANIELS: It's a head-y sci-fi story about an elderly couple that is accidentally cloned. The clones are severely disfigured but intellectually and physically vastly superior to the originals. So the story is all about the question of which body is the truer vessel for the individual's identity—the one that looks like the person we recognize, or the one that's better in every way but the way they look.
ANDERSON ELYSÉE: Wow, what the heck inspired that?! What was going on in your life and head to break that down onto paper?
DANIELS: The original idea hit me when I moved away from my home town in Iowa to go to art school in Portland, OR. I was kinda the star art kid in my town, but when I went to art school I was suddenly faced with kids who were better at everything that I was always the best one at—things that I completely built my identity around. So the idea of being made obsolete by someone who is better at being you than you are yourself, was the inspiration for the story.
ANDERSON ELYSÉE: Gah! I've definitely been there. I went through something similar in art school. I understand your story also has some themes about race as well?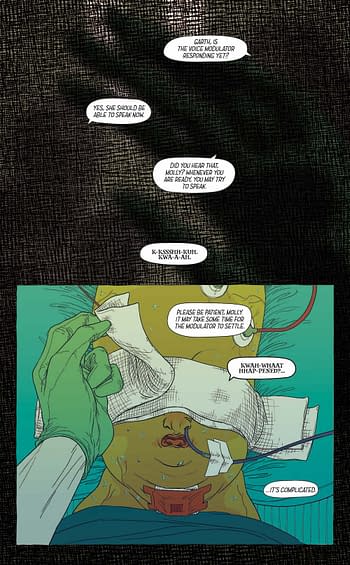 DANIELS: The story is fundamentally about the way society places obstacles before us based on the way we look. In this story, that means looking at racism, sexism, ableism, ageism, and the intersection of all those things. But the other side of that idea of that these obstacles come to fundamentally define us. If you removed my experiences as a person of color living in a white supremacist society, I'd be a fundamentally different person. The question in Upgrade Soul is, would that person be better, or worse?
ANDERSON ELYSÉE: Was comics always something that you wanted to do? What made you decide that this was going to be your career?
DANIELS: Comics was always in my life, even since I discovered my uncle's stash of 70's era Marvel comics. I consider myself a writer first and foremost, but I'm lucky enough to be able to draw, so comics became the most efficient way for me to tell the stories I want to tell.
ANDERSON ELYSÉE: Can you tell us a bit about the style of US? It's non-traditional compared to what we're used to seeing in comic books.
DANIELS: My day job while I worked on Upgrade Soul was as a trial graphics consultant. I created medical and technical illustrations and graphs and charts for high-stakes court cases. The key to that job was visual clarity. I had to distill incredibly complex ideas and concepts into images that a layperson juror could make sense of at a glance from 30 feet across the room. With Upgrade Soul I wanted to challenge myself to create unease without relying on any of the typical "tricks" of the horror genre. There are no black fields in the book, so nothing is ever hidden in shadow. I just wanted the art to feel very sterile, like an instruction manual, which meant all the horror had to come from the expressions and gestures of the characters, rather than camera angles of distress textures.
ANDERSON ELYSÉE: Seriously, looking through the book now, it's strangely beautiful. What are inspirations for you as a creator?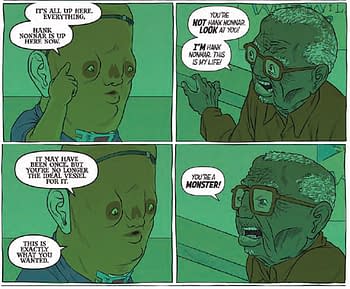 DANIELS: I'm a huge movie nerd, so I take a lot of inspiration from movies and TV shows. I read a ton of comics—mostly indie comics. Being an active consumer of culture is definitely a huge part of being a creator for me.
ANDERSON ELYSÉE: Tell us about this app! I was blown away, quite frankly, when you showed it to me!
DANIELS: Upgrade Soul was actually originally designed as an interactive iOS app. The main feature of the app is a contextual score that keeps track with your progress through the story. It's actually incredibly immersive, and since the comic was designed for that platform, it feels completely native. The app has been defunct for a few years, just because it was really expensive to update. But since Upgrade Soul has gotten so much attention, we're relaunching the app for current devices in time for Halloween. We're also releasing the amazing soundtrack, by composer Alexis Gideon, on vinyl from FPE Records. The app and album will be released on October 25th.
NOTE*: You can now preorder the Upgrade Soul soundtrack on THIS LINK HERE. Available are the digital and vinyl versions among other options.
ANDERSON ELYSÉE: What other books do you have going on? What's in the future for Mr. Ezra Claytan Daniels?
DANIELS: I'm juggling a bunch of projects right now, but I can't really talk about any of the big stuff yet. The one thing I can talk about is a new monatomic I just self published called "Are You at Risk for Empathy Myopia." It's a 64-page square bound little manual-style book that's a non-fiction political essay about the evolutionary origins of empathy. I debuted the book at SPX and sold out, but it'll be available through Radiator Comics Distro as soon as I print more copies.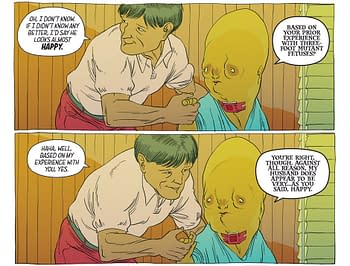 ANDERSON ELYSÉE: You're currently on a book tour, correct? What are your next shows and where can people come through to find you?
DANIELS: I'll be at CXC/SolCon in Columbus, OH, [September 28th] and I'll be doing a few signings at NYCC. Later this year I'll be at Short Run in Seattle and CALA in Los Angeles. Follow me on Twitter or IG at @ezracdaniels for schedules and future appearances!