Next week, Torchwood: Children Of Earth transmits every day on BBC1, with quick retransmission on the likes of BBC America and other channels around the world. Lots of hype, lots of fuss, lots of attention.
But hiding in the medium of radio, lie three other Torchwood episodes, transmitted on BBC Radio 4 this week.
Asylum Wednesday 1 July 2.15pm-3pm
When PC Andy arrests a teenager for shoplifting, he thinks it is going to be a routine case. Then he sees the weapon she is carrying and decides to call in the Torchwood team.
By Anita Sullivan. Golden Age Thursday 2 July 2.15pm-3pm
The Torchwood team are led to Delhi on the trail of a dangerous energy field.
By James Goss.
The Dead Line Friday 3 July 2.15pm-3pm
When a Cardiff hospital is inundated with patients who have fallen into coma – like trances, Torchwood move in to investigate.
By Phil Ford.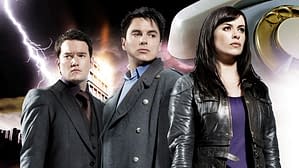 The times are in GMT – deduct 5 hours for East Coast, 8 hours for West Coast USA. Radio 4 streams internationally at www.bbc.co.uk/radio4 and the episodes should be available for timeshift listening for the next week.
You know, the special effects are always better on radio…
Enjoyed this article? Share it!