With new showrunner Angela Kang in place, Andrew Lincoln and Lauren Cohan preparing to depart, and Norman Reedus stepping into a lead role, The Walking Dead is going through a lot of changes – living up to what fans have been hearing about the new season for some time: the ninth season of the AMC series will make fans feel like they're watching an entirely new show.
Now with the series set to return on Sunday, October 7th, we're getting a quick look behind the scenes at production on the season – where Khary Payton is concerned about outtakes; Norman Reedus apparently didn't have time to make it over to the craft services table; and Reedus, Lauren Cohan, Danai Gurira, and Greg Nicotero find a little time to laugh: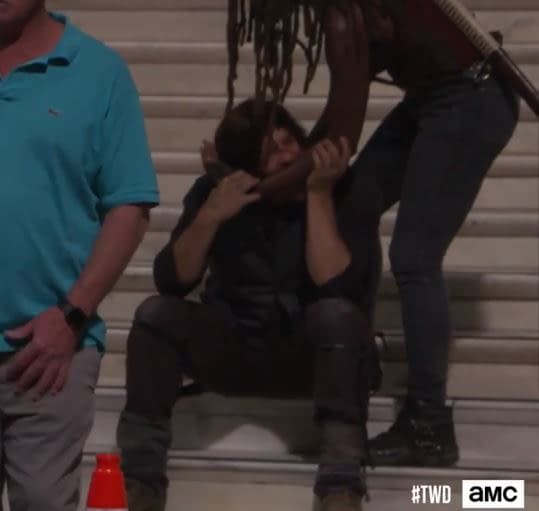 When The Walking Dead returns to AMC for its ninth season, fans are going to be introduced to a number of new and major players in the Walking Dead universe, beginning with deadly Whisperers' leader Alpha (Samantha Morton), her second-in-command Beta (Ryan Hurst), and daughter Lydia (Cassady McClincy).
The Alexandria/Hilltop community will gain potential new citizens in the forms of Nadia Hilker as Magna, Angel Theory as Kelly and Lauren Ridloff as her sister Connie (first deaf character in the series), Eleanor Matsura as Yumiko, and Dan Fogler as Luke.
Other additions to the cast include: Brett Butler as "salt-of-the-earth" Hilltop resident Tammy Rose (clashes with Carl and Maggie in the comics); John Finn's Earl is the Hilltop's blacksmith and Tammy's devoted husband. (he winds up serving as a father figure and mentor for Carl); Rhys Coiro's Jed is described as a rebellious Savior who refuses to fall in line with the new community; Zach McGowen's Justin is a hostile Savior who isn't interested in working together with other communities.
"We're seeing graffiti in the Sanctuary for the first time since the war: 'Saviors Save Us.' After all the misery we saw at the Sanctuary when the Saviors were in charge, this is a surprising message for our people to see in the aftermath of the war. 'We Are Still Negan' is a nod back to the way the Saviors used to call themselves Negan, written in response to the call for help. In working on this story, the writers' room discussed the appeal of authoritarian governments as a reaction to chaos and war.

Andrew Lincoln picked up on that immediately when he saw this moment in the script and said, 'Well, it's the rise of fascism, isn't it?' (Read that in a British accent.) We don't tend to write in reaction to current events because we start breaking our stories 10 months or more before the season starts to air, but we do look to history for lessons about how civilizations react to war, pestilence, natural disaster, etc. This season, we're reflecting the way the characters in the comic book looked to the past to create a future, so it's especially valuable for us now!" – Angela Kang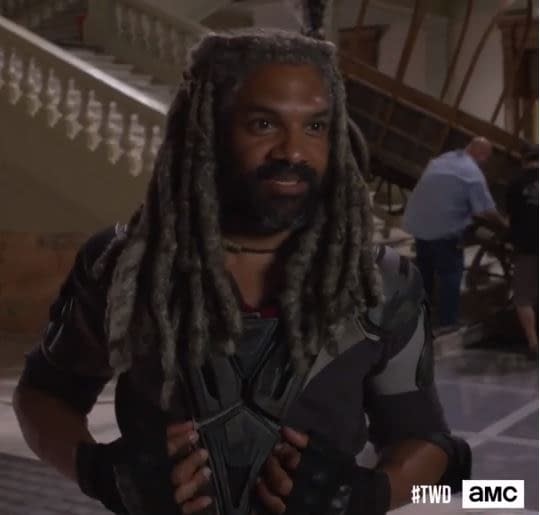 Enjoyed this article? Share it!