The Walking Dead Season 9: With One Tweet, Skybound Has 'Dead' Fans Questioning Everything The Walking Dead creator Robert Kirkman's multimedia entertainment company (and franchise home) Skybound Entertainment continues to be a treasure trove of news items and teases for the AMC series' upcoming ninth season. With still a little over three months to go before the expected season 9 premiere, our friends over at "The House of the Dead" have decided to have some fun twisting the screwdriver in Dead fans brains with a single, five-word tweet that might make some of our friendly neighborhood conspiracy theorists out there consider an extra layer of tinfoil when/if they go out:
So first impressions? It has something to do with Rick (Andrew Lincoln) and Maggie (Lauren Cohan); and that they're going to be a lot more involved with the series than what's being reported. Specialized contracts that make them available for future appearances with no set commitments, possibly? More specifically, it's most likely push-back against online reports based on images and a single leaked script page that Rick would be killed in the season's fifth episode.
Let's not forget some other series mainstays are coming to the ends of their respective deals – like Danai Gurira (Michonne) – so it might relate to that, also. And then there's that issue of Jon Bernthal's Shane returning… Maybe it has nothing to do with The Walking Dead – maybe it's a reference to Fear the Walking Dead and that Madison (Kim Dickens) might still be alive. It's possible that it has everything to do with the comic book series and nothing to do with any of the television, online or video game projects. For now, we're left to speculate – though we might get a little clarity from Skybound this week:
Personal theory: Madison becomes The Whisperer's Alpha, and Rick leaves the series the Game of Thrones/Ned Stark route by replacing King Ezekiel (Khary Payton) in another, more tragic way.

Here's a look at what we learned from Skybound's most recent "mailbag" about the upcoming season: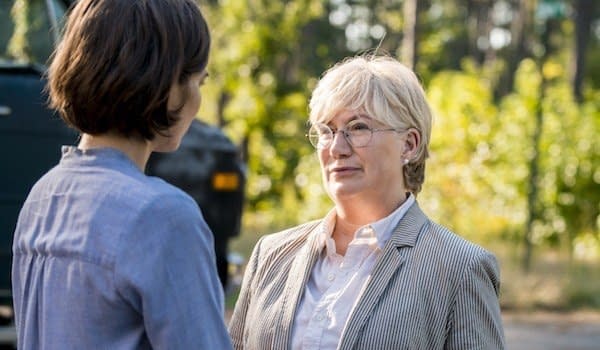 ● As we've seen online from set pics, Maggie is definitely putting Georgie's (Jayne Atkinsonre) building plans to good use but not all of the communities will be back up and running when the series returns — and some will experience more growth than others.
● While there will be a much greater emphasis on rebuilding and societal conflict in season 9 as opposed to what we've seen the previous two seasons, it also looks like a number of main characters will be travelling a lot more next season.
● Rick will "face a lot of challenges" in what's expected to be the actor's final season, and that the resentment Maggie, Daryl (Norman Reedus), and Jesus (Tom Payne) feel towards his decision to spare Negan (Jeffrey Dean Morgan) will "cause problems" for Rick.
● The television version of King Ezekiel will continue diverging from his comic book counterpart in the ninth season; though some similarities will remain, viewers should be prepared to for "some surprises."
● We also got some ominous-sounding teaser responses to several topics, including: what's going on with Maggie's baby ("You'll see."); Aaron (Ross Marquand) and Enid (Katelyn Nacon) spending more screen time together ("In a way, yes."); who helps Jadis-now-Anne (Pollyanna McIntosh) transition to the new community ("Father Gabriel, surprisingly enough. And let's get in the habit of referring to Jadis by her given name, Anne."); and will we find learn more about the mysterious helicopter ("You absolutely will.").
● When asked for a hint about the upcoming season, "time" was the one-word response that looks to play an important role in the big storylines.
● Finally, if The Walking Dead Season 9 was a song then it would be a mashup of 'Brand New Day' by Morrison; 'Just Like Starting Over' by John Lennon; and "Live and Let Die" by Guns 'N Roses — so start analyzing those lyrics now before The Walking Dead's anticipated October 2018 return to AMC.
Fans will also be expecting clues about the futures of both The Walking Dead and Fear the Walking Dead when both series return to this year's San Diego's Comic-Con International on Friday, July 20, in Hall H: from 11:15 a.m. – 12:15 p.m. (Fear the Walking Dead); and from 12:15 p.m. – 1:15 p.m. (The Walking Dead).