Warren Ellis And Jason Howard Are Working On Something Else Between Trees…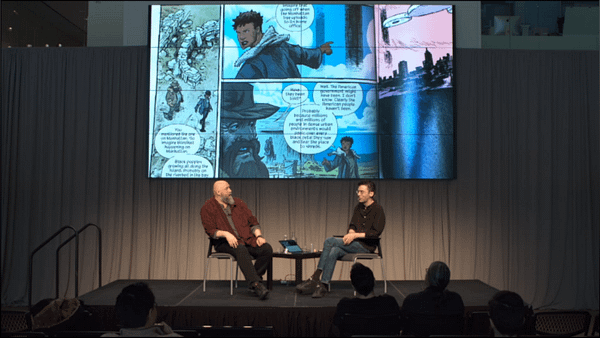 At the MIT Media Lab yesterday, Warren Ellis was been interviewed by Kevin Slavin about his life, work and thoughts about stuff as part of a series entitled Mythophysics Of The New Normal.
Along the way, he also made mention that he and Jason Howard are taking a break between the second and third volume of his Image Comics title Trees, in order to write the TV adaptation of the comic.
It had previously been announced that it had been optioned and was in development as a TV show for NBCUniversal International Studios with Thomas Hardy's production company Hardy Son & Baker.
So we knew that he was involved with it. Didn't know that he was writing it though.
I checked in with Warren and he clarified further. "What I meant to say was that the break happened to coincide with writing the pilot – Jason and I have been working on something else in the interim."
As Warren said during the talk, "Sometimes you've just got to rub drugs in your typewriter's anus".