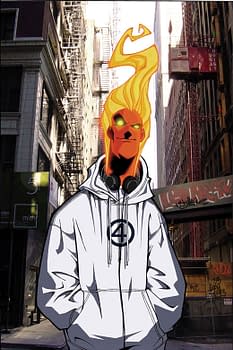 A quick trip down the Amazon often provides for a surprising catch.
It looks as if April may be bringing us one of those weekly event books from Marvel, according to this Amazon listing for a collection, What If? Age of Ultron by Joe Keating and Raffaele Ienco. Presumably showing what would have happened if Age Of Ultron happened a different way, as with last year's What If AVX…
Runaways get a new edition, Runaways: The Complete Collection Volume 1 –  could this be ahead of a revival? Or just the return of Under The Dome?
And Marvel bump up the Guardians Of The Galaxy-related releases with Steve Englehart and Chris Claremont's Star-Lord, Abnett and Lanning's War of Kings, Marvel Universe Guardians of the Galaxy: Cosmic Team-Up which will contain classic stories and the Free Comic Book Day edition, it seems, as well as work from the Avengers: Earth's Mightiest Heroes cartoon creator and comic writer, Joshua Fine, and a complete collection of Karl Kesel and Skottie Young's Human Torch.
And rather than Planet X, the next arc of Uncanny Avengers gets a new title, Uncanny Avengers Volume 4: Avenge the Earth
Enjoyed this article? Share it!