In the back of last week's X-Men comic books, senior editor Mark Paniccia gave a few teases for X-Men comics to come. Anyone fancy translating?
We got five words, possibly suggesting five characters.
Red, Switch, Mother, Negative and Seance.
Five is the number of the original X-Men, and while Red and Seance may suggest Jean Grey and the Beast, the others do not.
What other theories may folk have?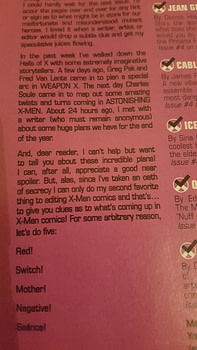 Marvel Comics currently publishes three central X-Men books, the twice-monthly titles X-Men Gold and X-Men Blue as well as the monthly rotating artist Astonishing X-Men, with spinoff titles Generation X, Weapon X, All-New Wolverine, Jean Grey, Cable, Iceman and Old Man Logan, which represents more X-titles at once for quite a few years, as part of the ResurrXion relaunch earlier in the year. Could these names represent yet another title?