IDW revealed in a press release today that Road of Bones creative team Rich Douek and Alex Cormack will reunite for another horror story, but this time, instead of being set on a road, it's set on a boat! Called Sea of Sorrows, the five-issue miniseries follows a salvage crew seeking treasure on a sunken U-boat, but if you guessed they'll actually find horrors beyond their imagination, you guessed correctly!
IDW also officially announced the previously known Canto & the Clockwork Fairies and Bermuda for May publication as well. Check out the press release for Sea of Sorrows below:
Building upon the success of last year's hit horror series Road of Bones, the creative team of writer Rich Douek and artist Alex Cormack reunite to bring readers a deep sea adventure with a horrific twist: the five-issue Sea of Sorrows!

In the aftermath of the Great War, the North Atlantic is ripe for plunder by independent salvage crews. When a former naval officer hires the SS Vagabond, he leads the ship to a sunken U-boat, and a fortune in gold. Tensions mount as the crew prepares to double cross each other, but the darkness of the ocean floor holds deeper terrors than any of them have bargained for!

"Alex and I are excited to put the same twisted imaginations that brought you Road of Bones to work on new places, new characters, and of course, new heights of unspeakable terror," says Douek. "Get ready for another dark journey into the horrors that lurk within the pages of history!"

"The ocean is a terrifying and mysterious place," says Cormack. "Sea of Sorrows reveals the isolation and horror of being in an alien world on our own planet, facing threats that should be impossible, chasing you through an inescapable setting. With the character designs and especially the story, this would be a book I'd draw just for myself. Rich is a talented writer and great collaborator. I'm happy to be along for the ride!"

Sea of Sorrows #1 will be available with Cover A by Alex Cormack, plus a Retailer Incentive variant edition by Katie Sawatsky.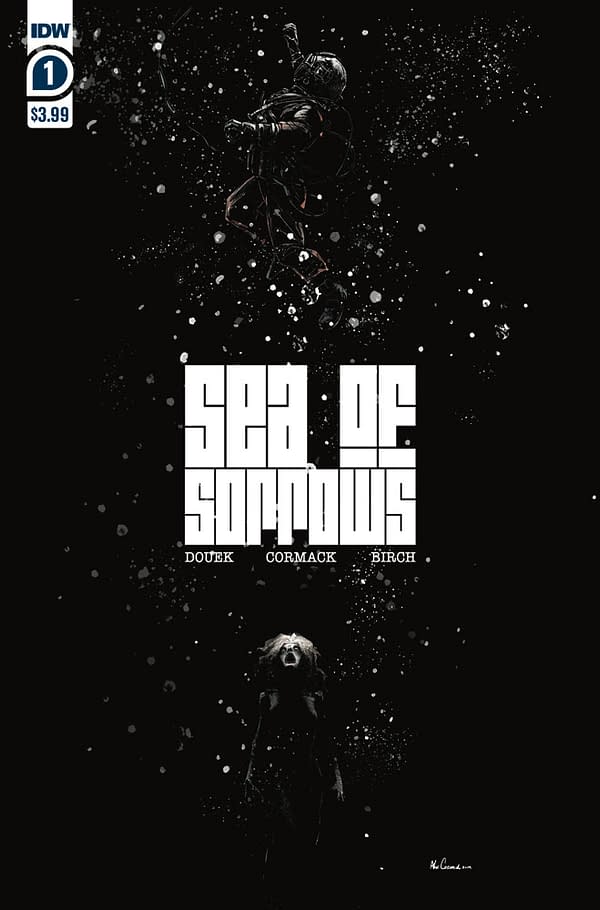 Enjoyed this article? Share it!